Routes In Brief: Rolling Daily Updates (W/C May 9, 2022)
David Casey
May 13, 2022
Welcome to our rolling daily coverage of new routes alongside services that are scheduled to resume.
Do you have a story you would like us to feature? Let us know your network news.
May 13
Swoop has launched its inaugural flight to Saint John Airport (YSJ) from Toronto Pearson (YYZ). The route will be served four times per week. Earlier this week, the ULCC marked its first flight into New Brunswick with an inaugural service between Hamilton and Moncton, and later this summer, the airline will launch service from Moncton to Edmonton. "We know that affordable air travel is integral to the restart and recovery of tourism and are pleased to expand our presence across Atlantic Canada this summer," Swoop head of commercial and finance Bert van der Stege said.
---
Irish carrier Aer Linus has restarted nonstop flights to Los Angeles (LAX) for the first time since March 2020. The airline will serve the city daily from Dublin (DUB). "Los Angeles is a hugely popular and important route for Aer Lingus and now with daily connections to both Los Angeles and San Francisco, Aer Lingus are the only carrier connecting customers to the West Coast of US reaffirming our commitment to building our transatlantic connections," CCO Susanne Carberry said.
---
Canada's Air Transat has operated its first service from Quebec (YQB) to London Gatwick (LGW). The route will be served once a week using Airbus A321neos until late September. YQB president and CEO Stéphane Poirier said: "The people of the Greater Québec City area have been calling for access to more European destinations. By offering a second direct route to Europe, in addition to Paris, Air Transat is answering that call."
---
Sweden's government has blocked Aeroflot's application to fly between Moscow and Stockholm. In a statement, the government said it has worked together with the European Union to impose harsh sanctions on Russia following its invasion of Ukraine and the rejection of the application is in line with those sanctions. It added that Aeroflot also has unpaid air fares to the Swedish Transport Agency and lacks the approval from the EU aviation safety authority EASA required for a third country operator to be allowed to operate commercial air services to and from the EU.
---
May 12
UK regional carrier Loganair has restarted operating two direct services from Edinburgh (EDI) to Routes Europe 2022 host Bergen (BGO) and Stavanger (SVG) in Norway. The routes were last served before the pandemic. Flights to Bergen will operate on Wednesdays, Saturdays and Sundays, while Stavanger service will be on Tuesdays, Thursdays and Sundays. Additional flights from Aberdeen (ABZ) to Oslo Gardermoen (OSL) will also commence in September to further strengthen connectivity between Scotland and Norway. "As we start to see European travel strengthen as summer approaches, it is the ideal time to bring back two services that were, pre-pandemic, incredibly popular for both leisure and business travellers looking to enjoy all that Edinburgh, Bergen and Stavanger have to offer," Loganair CCO Kay Ryan said.
---
Aeromexico plans to increase the number of flights it operates at the recently inaugurated Felipe Angeles International (NLU) in Mexico City. By the end of October, the carrier plans to reach 30 daily operations, offering 1.5 million seats during the coming calendar year. "We will shortly provide details of the additional flights we will serve," the airline said. OAG data shows Aeromexico currently provides 14 flight departures from NLU per week, flying to three destinations.
---
Jet2.com has commenced service between Belfast International (BFS) and Verona (VRN). The Italian city will be served weekly on Wednesdays until Sept. 21. Verona is one of 21 destinations being served from BFS by the leisure carrier during the summer 2022 season.
---
May 11
Air Arabia Abu Dhabi is launching seasonal flights to Sarajevo (SJJ), the capital city of Bosnia and Herzegovina, starting June 15. Flights from Abu Dhabi (AUH) will be offered once a week on Wednesdays using Airbus A320s.
---
Starting Dec. 9, SAS Scandinavian Airlines will offer nonstop service between Luleå (LLA) in Sweden and London Heathrow (LHR). Flights will be on Monday and Friday until March 13, 2023. "The fact that SAS, which is a key operator in the Scandinavian travel industry, has chosen to add a route between Luleå Airport and London is really a feather in our cap, not just for the airport but for the entire region, which is experiencing strong growth," said Ann-Christin Viklund, airport director at Luleå Airport.
---
Jazeera Airways is doubling it number of routes to Oman. The airline plans to connect Kuwait (KWI) with Salalah (SLL) three times per week, starting on June 16. "We look forward to start operating our newest route to Oman and offer our customers even more choices to enjoy memorable holidays during the summer season," CEO Rohit Ramachandran said. Flights will operate on Mondays, Thursdays and Saturdays.
---
Ryanair has launched its summer schedule from Bologna (BLQ) in Italy. The ULCC is basing 11 aircraft at the airport and operating 72 routes, six of which are new. The route additions are to Agadir, Fez, Nuremberg, Santiago, Stockholm and Zaragoza. Ryanair said it plans to operate more than 700 weekly Bologna flights during peak summer 2022—up by about 190 on pre-pandemic levels.
---
Australia's flag-carrier Qantas is returning to Chile in October. The airline suspended its Sydney (SYD)-Santiago de Chile (SCL) route in March 2020 at the onset of the pandemic. The route is now scheduled to return on Oct. 31, operating 4X-weekly using Boeing 787-9 aircraft.
---
May 10
Loganair is ending its Teesside (MME)-London Heathrow (LHR) service in two weeks, blaming rising oil prices and take-off and landing charges at Heathrow. The airline's Teesside-Southampton (SOU) route will also cease as the carrier is reducing its Teesside base from two aircraft to one. A statement said rising costs across the industry have meant that the London route is no longer viable and not something that could be supported without passing the increase on to passengers.
---
Emirates and Royal Air Maroc have launched a codeshare partnership, providing more travel options and connection choices for customers of both airlines between Dubai and Casablanca, and beyond. Effective later this month, both airlines will place their marketing codes on each other's flights between Casablanca (CMN) and Dubai (DXB) to a total of 209 combined destinations. "We are delighted to enhance our partnership with Royal Air Maroc to a codeshare and offer our customers an unparalleled selection of destinations across Morocco, and a huge choice of onwards points in Africa," Emirates CCO Adnan Kazim said.
---
Istanbul-based Freebird Airlines has launched its first scheduled service to the UK. Flights from Antalya (AYT) to Manchester (MAN) are initially operating once a week, increasing to 2X-weekly from May 25. The airline also plans to commence flights to London Gatwick (LGW) on May 24 from Antalya, as well as a 2X-weekly service from Bodrum (BJV).
---
May 9
Angolan airline TAAG is launching a new route from the country's capital Luanda to Madrid in Spain. Flights will depart from Luanda's Quatro de Fevereiro (LAD) to Madrid (MAD) from June 27, operating 2X-weekly using Boeing 777-300ERs. Madrid will become the 10th international destination for TAAG.
---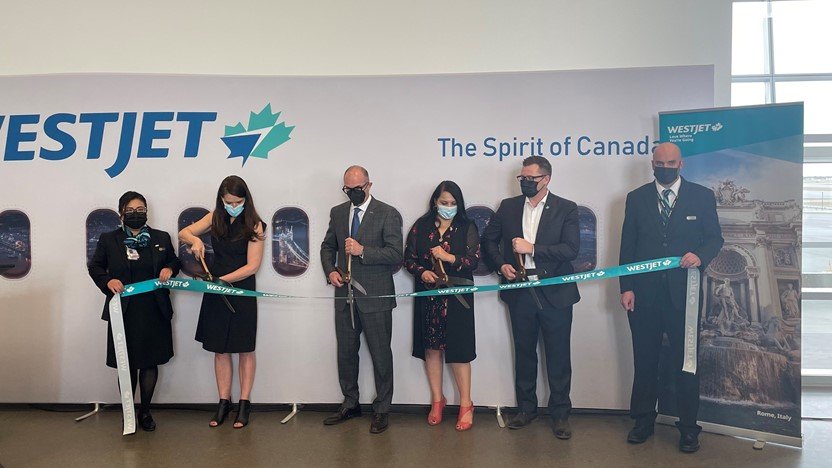 WestJet has launched a new service to Rome Fiumicino (FCO) from Calgary International (YYC). The route will be served three times per week during the peak summer 2022 season using 320-seat Boeing 787 aircraft. The route is part of the airline's plans to increase transatlantic connectivity from Alberta to Europe by 43% compared with 2019. As well as serving Rome from Calgary, WestJet also offers flights to Dublin (DUB), London Gatwick (LGW), London Heathrow (LHR) and Paris Charles de Gaulle (CDG). The YYC-FCO route was originally set to launch in May of 2020 but was postponed due to the pandemic.
---
Brazil's GOL Linhas Aéreas has restarted flights to Bolivia after a hiatus of more than two years because of the pandemic. Service between São Paulo-Guarulhos (GRU) and Viru Viru International (VVI) in Santa Cruz will initially be four times per week, increasing to 5X-weekly in August. The resumption comes as GOL plans to celebrate the 17th anniversary of the route on July 11.
---
Latvian carrier airBaltic has launched direct flights between Riga (RIX) hub and Batumi (BUS) in Georgia. The route will operate twice a week onboard Airbus A220-300 aircraft. Located in Georgia and bordered by the Black Sea, Batumi is a port city and popular leisure destination.
---
American Airlines has resumed flights to Dublin (DUB) from Charlotte (CLT), Dallas-Fort Worth (DFW) and Chicago O'Hare (ORD). The three daily routes will complement the airline's existing year-round daily flights from Philadelphia (PHL). OAG data shows the carrier plans to offer 13,650 weekly seats between the US and Dublin during the summer 2022 season, compared with about 14,000 three years ago.