Paris 2019: Rolling news and order updates
David Casey
June 20, 2019
Paris Air Show 2019 takes place from 17-23 June. The show is a week-long, biennial event that combines a major trade exhibition for the aerospace and defence industries with a public air show. Paris hosts the show every other year, alternating with the Farnborough Air Show in the UK.
Key stories:
British Airways owner puts faith in beleaguered 737 Max jets
A321XLR 'puts on the afterburners' with Indigo Partners order
'Game-changing' EU-ASEAN open skies deal nears
Qantas eyes longer narrow-body routes with Airbus deal
American's A321XLR order to open new route possibilities
JetBlue to evaluate more European routes after Airbus order
---
Thursday 20 June
JetBlue selects XLR for European push
JetBlue is converting 13 aircraft in its existing Airbus A321neo order book to the XLR version for delivery scheduled to begin in 2023.
The airline said the newly launched long-range aircraft would allow it to implement further expansion to additional European destinations from Boston and New York, while also providing added fuel efficiency.
"The incredible extended range of the A321XLR allows us to evaluate even more overseas destinations as we think about JetBlue's expansion into European markets plagued by high premium fares and subpar service," said Robin Hayes, chief executive, JetBlue.
The airline also announced it is exercising its option to add ten additional A220-300 aircraft to its order with delivery beginning in 2025.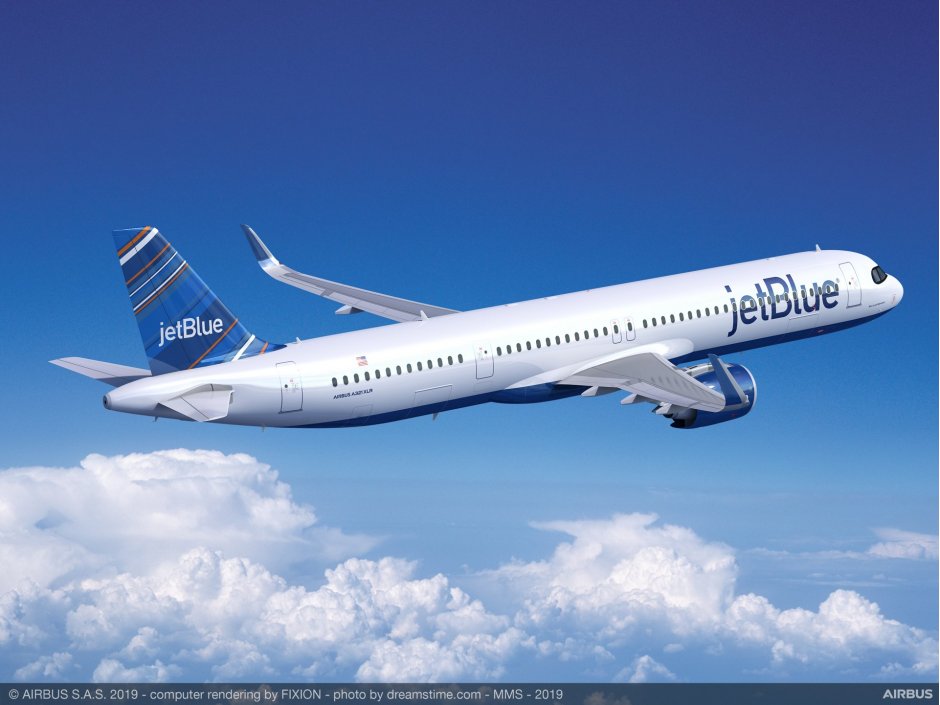 ---
Wednesday 19 June
Embraer secures KLM order
KLM Royal Dutch Airlines intends to buy up to 35 E195-E2 jets, with 15 firm orders and purchase rights for a further 20 aircraft of the same model.
The aircraft will be operated by the airline's regional subsidiary KLM Cityhopper.
This intention, which still requires a purchase agreement, has a value of $2.48bn based on Embraer's current list prices.
"With a fleet of 49 E-Jets, KLM is already the largest Embraer operator in Europe and adding KLM to the E2 family of operators would be a huge vote of confidence in Embraer, our after sales care, and the E2 programme," said John Slattery, president and chief executive of Embraer Commercial Aviation.
KLM president and chief executive Pieter Elbers added: "Embraer has been a key partner for KLM and Cityhopper over the past ten years. Our customers appreciate the E190 and E175's.
"The E2 would be a welcome addition to the KLM fleet, giving us greater capacity flexibility and help to manage down costs."
American's A321XLR order to open new route possibilities
American Airlines is eyeing growth from its US East Coast hubs to new destinations in Europe and South America after agreeing to acquire 50 of Airbus' new A321XLR aircraft, the longer-range version of the A321neo.
It is converting 30 existing A321neo orders and buying an additional 20 of the new longer-range version.
The airline is the largest Airbus operator in the world with 422 aircraft. Including this deal, which was made at the Paris Air Show, it has outstanding orders for 115 A321neos and A321XLRs from Airbus.
American's president Robert Ibsom said the A321XLR would bring added flexibility to its network. The aircraft has a range of around 8,700 km, which is 15 per cent longer than the A321LR.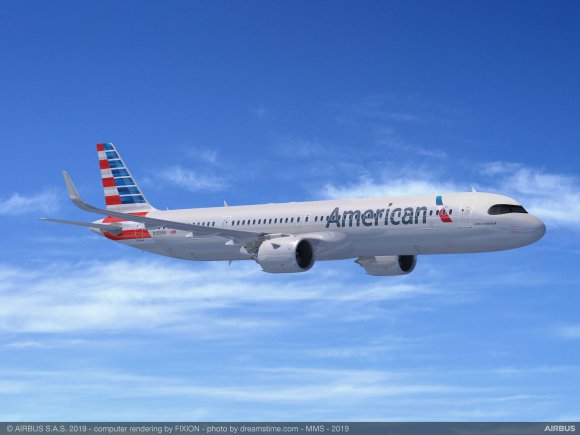 "When I take a look at where we're heading, we've got a great fleet of 777s - 200s and 300s - mashed with the 787s," Ibsom told American's Tell Me Why podcast.
"Adding in some 321XLRs, I think is going to really give us an opportunity to do things we haven't done in the past.
"I take a look at places like JFK [New York John F Kennedy], Philadelphia, Charlotte, and even DFW [Dallas/Fort Worth]. Opening up some new markets that will help the network and will help us serve our customers better."
The first A321XLR delivery is expected in 2023 when eight will join American's fleet. A further 22 will be delivered in 2024 and 20 in 2025.
Turkmenistan Airlines to order fourth 777-200LR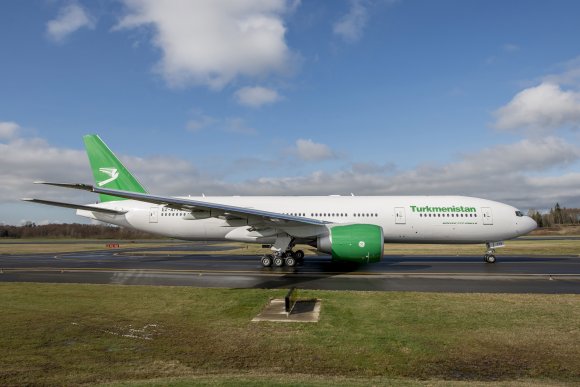 Turkmenistan Airlines has signed a commitment to add a fourth Boeing 777-200LR to its fleet as it seeks to grow its international network.
The commitment, valued at $346.9m at list price, will be reflected on Boeing's order book once it is finalised.
Ihssane Mounir, senior vice president of commercial sales and marketing at Boeing, said it was the right model to help the carrier "grow its international operations in Europe, Asia and beyond".
The airline currently has a fleet of 25 aircraft in service, comprising eight Boeing 737-800s, four 737-700s, four 757-200s, three 777-200LRs and five Ilyushin IL-76TD cargo aircraft.
The 777-200LR has a maximum range of 15,843km (8,555 nmi) and can seat up to 317 passengers in two-class configuration.
Turkmenistan Airlines is the only airline of Turkmenistan in Central Asia, offering domestic and international passenger and cargo services. In 2018, its largest international markets were Turkey, Russia, India, the UK and Thailand.
However, in February 2019 the European Aviation Safety Agency (EASA) suspended flights by the carrier to and from the European Union, pending confirmation that it meets international safety standards.
The decision meant flights to Frankfurt, Paris-Charles de Gaulle, Birmingham and London Heathrow were immediately suspended.
Since then, Turkmenistan Airlines has worked with Lufthansa Consulting to develop "corrective action plans" and has begun to implement them. A progress meeting with EASA is scheduled for July.
Lessor Accipiter places first new aircraft order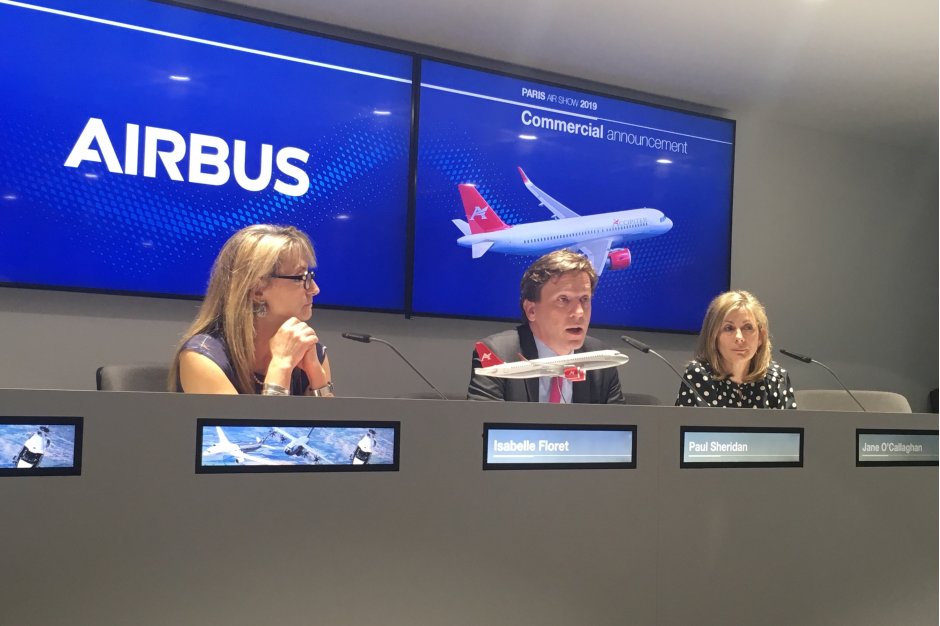 Irish leasing company Accipiter Holdings has placed its first-ever new aircraft order, opting for 20 Airbus A320neo aircraft.
The order, announced during the Paris Air Show, was agreed in March 2019 but listed in the order books as undisclosed.
Paul Sheridan, chief executive of Accipiter, said deliveries would begin from 2024 onwards. As the deal was sealed before the launch of the A321XLR, it contains conversion rights to the A321neo but not to the A321XLR.
However, Sheridan admitted the company could see a place for the long-range variant in its fleet.
He said: "The A320 and A321neo are very flexible aircraft. From what we've seen of the XLR it's a very interesting aircraft and we're definitely interested in talking about it more."
Accipiter is based in Dublin and has a fleet of mainly narrow-bodies placed with 37 airlines around the world. Among them are Wizz Air, Indigo, Frontier, Cathay Pacific and Spirit.
The company is wholly-owned by Hong Kong's CK Asset Holdings. Together with Vermillion, its joint venture with Mitsubishi Corporation subsidiary MC Aviation Partners, Accipiter manages a portfolio of almost 150 owned and committed aircraft.
The order came as Taiwan's China Airlines signed a Memorandum of Agreement for 11 A321neo aircraft, as well as 14 of the type on lease.
The 25 aircraft will join the Airbus fleet at the airline currently comprising 23 A330s and 14 A350 XWBs. It also has 19 Boeing 737-800s, 22 747-400s and ten 777-300ERs.
Air Tahiti confirms ATR order
Air Tahiti has confirmed an order for two ATR 42-600S, the new version of the ATR 42.
The ATR 42-600S is a STOL (short take-off and landing) version of the ATR 42-600 which has been enhanced to reduce the required take-off and landing distances, down from 1,050 metres at present to just 800 metres. Thanks to this upgrade, several hundred more airports will be accessible by ATR.
Manate Vivish, general manager of Air Tahiti, said: "I am so happy to be part of the launch of this new version of the ATR. This turboprop has already earned worldwide recognition for its high-quality performance, especially for island networks.
"The ATR 42-600S will enable us to use higher-capacity aircraft for destinations which until now had only been accessible with much smaller aircraft. This is excellent news, both for the inhabitants of the archipelago and for the tourists who visit us."
ATR said it has now secured 75 order commitments at the Paris Air Show so far.
A321XLR 'puts on the afterburners' with Indigo Partners order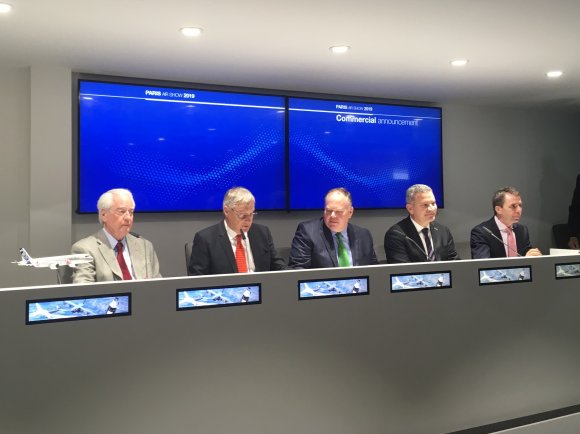 Paris Air Show continues to get better and better for Airbus' newly-launched A321XLR, with Bill Franke's private equity firm Indigo Partners becoming the latest customer.
The US firm has signed a commitment for 50 of the long-range aircraft. The Memorandum of Understanding includes the conversion of 18 existing A321neo family orders, plus 32 new orders for the single-aisle variant.
Indigo has major stakes in four ultra low-cost carriers (ULCCs): Wizz Air, Frontier, JetSMART and Volaris. Twenty of the A321XLRs will be allocated to Wizz Air, 18 to Frontier and 12 to JetSMART.
The four carriers now operate a combined 295 Airbus aircraft and have a huge 636 on order.
"We are big fans of the Airbus product," Franke told reporters at the Paris Air Show. "As we looked at the XLR and the opportunity it would provide to the network of these three carriers, we became convinced this was the aircraft that we needed to add to the portfolio.
"We are anxious to see the airplane in service. It expands the network opportunity for our carriers dramatically and that's important strategically to the airlines relative to the market and the competition."
The A321XLR has a range of around 8,700 km, which is 15 per cent longer than the A321LR. Depending on cabin configuration it can carry up to 244 passengers.
Barry Biffle, chief executive of Frontier, said the addition of the long-range variant would enable it to fly from east to west coast in the US and reach Hawaii with a full density, as well as exploring international opportunities in Europe and South America.
"We cannot go coast-to-coast in the United States. The furthest we can fly is Philadelphia to Las Vegas. The range of this aircraft enables us to go from New York, Boston and Miami to all points in the western US and Hawaii."
Chilean carrier JetSmart's CEO Estuardo Ortiz added the aircraft offers a "tremendous opportunity" to open routes not possible before, with the US, Mexico and destinations across the Caribbean now within range.
"These are markets which are very attractive and have high potential for stimulation," Ortiz said.
József Váradi, the CEO of Wizz Air, echoed the comments of his fellow chief executives, saying the aircraft type gives the Central and Eastern Europe airline an opportunity to extend its network.
"If you look at our network, it spans the Canary Islands to Astana [Nur-Sultan], Reykjavik to Dubai. It's a huge geography and we believe the XLR will bring unique opportunities to extend the operating model."
Franke said no A321XLRs are destined for Mexican ULCC Volaris because the high altitude of Mexico City's Benito Juárez International Airport means the aircraft adds no additional range.
The A321XLR was launched on Monday and has already secured 36 orders from Qantas, up to 28 from International Airlines Group and 31 from Cebu Pacific among others.
Airbus chief commercial officer Christian Scherer expressed his delight at how well the model has been received: "It's had a great take off so far and is now putting on the afterburners."
Qantas eyes longer narrow-body routes with Airbus order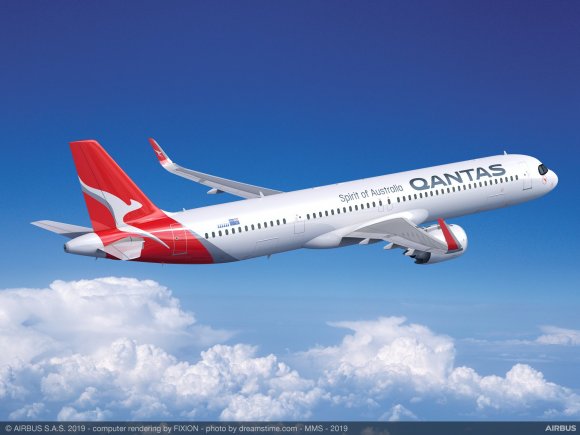 Qantas has become the latest airline to order the newly launched Airbus A321XLR, which will enable the airline to fly much longer routes than its current fleet of narrow-bodies.
The Australian flag carrier is converting 26 of its existing A321neo orders to the longer-range variant and placing ten new orders. This means the airline now has 109 A320 Family aircraft on order.
Qantas Group chief executive Alan Joyce said: "We already know the A320 is a great aircraft and this new variant can fly further and more efficiently than any other single aisle jet on the market.
"It can fly routes like Cairns-Tokyo or Melbourne-Singapore, which existing narrow-bodies can't, and that changes the economics of lots of potential routes into Asia to make them not just physically possible but financially attractive."
The A321 XLR has a range of around 8,700 km, which is 15 per cent longer than the A321LR. Depending on cabin configuration it can carry up to 244 passengers.
'Game-changing' EU-ASEAN open skies deal nears
A comprehensive air transport agreement between the European Union and the Association of Southeast Asian Nations (ASEAN) is nearing completion, which would provide a significant boost to air traffic and connect a combined population of 1.2 billion.
Speaking to Routesonline at the Paris Air Show 2019, the European Commission's director general for mobility and transport Henrik Hololei (pictured right) confirmed that 37 of the 38 EU and ASEAN countries involved are already in agreement. He said that an open skies deal was now a matter of 'when' rather than 'if'.
"We hoped that we would have already initialled the agreement by now, but we will get there sooner rather than later," Hololei said.
"There is just one country not on board. But there are no more negotiations, just some clarifications which we need to complete. I am very hopeful because it will be a game-changer. It will be very beneficial for both of the regions."
Proposals for an open skies deal between the EU and ASEAN were first announced in February 2014. The agreement would go beyond traffic rights to encourage cooperation on safety, security and air traffic management. An EU report released in 2016 estimated it could generate economic benefits of €7.9bn during the first seven years.
Once implemented, Hololei said it would become the first block-to-block accord. He added: "ASEAN is the fastest-growing aviation market in the world and we want to make sure we can open up the market so that it will benefit people and businesses."
When pushed for a timescale, Hololei said he hoped it would be in place before the end of the year at the latest.
The impending deal with ASEAN comes just weeks after the European Commission initialled an aviation pact with Qatar, the first such agreement between the EU and country in the Gulf region. The deal, which includes provisions on fair competition, is expected to be concluded later this year.
However, Hololei confirmed that there are currently no plans to start negotiations with the United Arab Emirates (UAE). Planned talks over an open skies deal were scrapped earlier this year.
---
Tuesday 18 June
Airbus books more orders
Atlantic Airways, the Faroe Islands flag carrier, has signed a purchase agreement with Airbus for two A320neo aircraft. The engine selection will be made at a later date.
With this new order, Atlantic Airways intends to further develop its European network. The airline, an Airbus customer since 2008, already operates a fleet of three A320 Family aircraft.
Delta Air Lines, meanwhile, has ordered five additional A220-100 aircraft, bringing to 95 the total number of orders placed, including both the A220-100s and A220-300s.
The US airline is the first to select the new increased maximum takeoff weight option for its entire fleet from 2020.
British Airways owner plans to buy 200 737 Max jets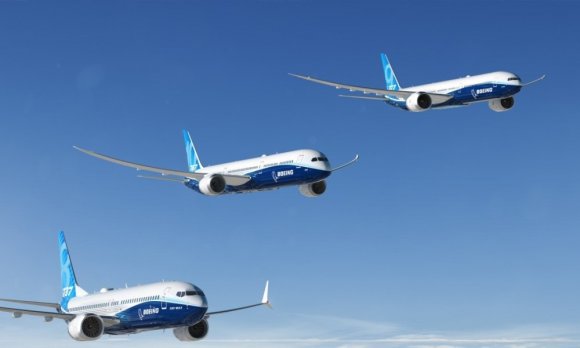 Boeing's grounded 737 Max jet has secured a massive boost after British Airways owner International Airlines Group (IAG) signed a letter of intent to buy 200 of the aircraft model.
The tentative agreement, inked at the Paris Air Show, would be valued at more than $24bn based on current list prices.
The mix of 737-8 and 737-10 aircraft would be delivered between 2023 and 2027 and spread across IAG's airlines including Vueling, LEVEL and British Airways.
"We're very pleased to sign this letter of intent with Boeing and are certain that these aircraft will be a great addition to IAG's short-haul fleet," said Willie Walsh, IAG chief executive.
"We have every confidence in Boeing and expect that the aircraft will make a successful return to service in the coming months having received approval from the regulators."
IAG's intention to buy the jets is a massive shot in the arm for Boeing, which started the Paris Air Show by apologising for the two crashes of 737 Max jets that together killed 346 people.
The aircraft were grounded in March, but Boeing hopes its software fix will ensure the jets are flying again before the end of the year.
IAG opts for A321XLRs
Airbus has secured another order for its newly-launched A321XLR aircraft, this time from International Airlines Group (IAG). The group is ordering eight A321XLRs for Iberia and six for Aer Lingus, plus 14 options.
The airlines will be among the launch customers for the extra long-range narrow-body aircraft with their first deliveries scheduled for 2023.
Willie Walsh, IAG chief executive, said: "The A321XLR has the same unit cost as a widebody longhaul aircraft which will enable profitable network expansion.
"This will strengthen both Dublin and Madrid hubs providing new transatlantic routes and additional flexibility for connecting passengers. These aircraft will also bring further cost efficiencies and environmental benefits."
IAG added these aircraft will enable Aer Lingus to launch new routes beyond the US East Coast and Canada.
Embraer forecasts "steady" demand in sub 150-seat market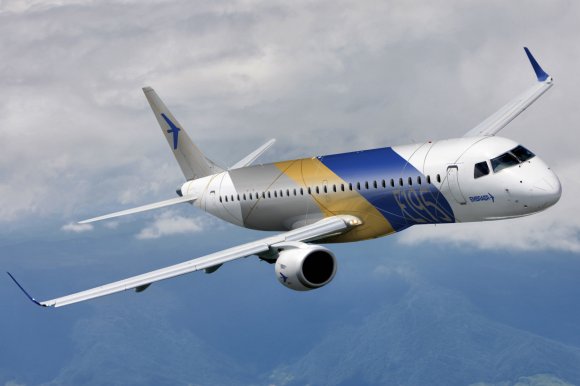 Embraer has forecast worldwide demand for 10,550 new aircraft with up to 150-seats over the next 20 years, a figure unchanged from its projection last year.
Releasing the outlook at the Paris Air Show, the manufacturer said replacement aircraft would represent 45 percent of new deliveries, with 55 percent comprising market growth. The total value of the new aircraft required is about $600bn.
The report added that more than one billion passengers are estimated to have flown on an aircraft in the sub 150-seat sector in 2018, showing the relevance of the segment.
John Slattery, president and CEO of Embraer Commercial Aviation, claimed that the market would be further strengthened in the future by airlines' pursuit for profitability.
"Despite great results that have been shown by the industry since 2015, when the EBIT margin touched the unprecedented level of 8.6 percent, we have seen those margins falling, systematically: 8.5 percent in 2016, 7.5 percent in 2017, 5.8 percent in 2018," he said.
"For sure, those numbers are still strong, but it's quite reasonable to consider that the peak of this great cycle is behind us."
The market outlook was released as Embraer announced that Japan's Fuji Dream Airlines had placed a firm order for two E175 jets, configured in a single-class layout with 84 seats. The airline currently operates three E170s and 11 E155s.
In addition, Spanish carrier Binter has firmed up an option to take an additional two E195-E2s. It placed a firm order for three E195-E2 jets at the Farnborough Air Show 2018, with purchase options for two more.
NAC orders up to 105 ATR-600s
Regional aircraft leasing specialist NAC has signed a letter of intent for 35 ATR-600s, with options for a further 35 and purchase rights for another 35.
Deliveries of the initial 35 aircraft will begin in 2020 and run up to 2025.
NAC chairman Martin Møller said: "To plan for a successful future, it is vital for us to invest in the very best technology, so that we can offer flexible and efficient solutions to our clients. The ATR72-600, with a significant fuel burn advantage drives lower costs and emissions making it the optimal choice for many of our clients.
"Aviation is moving towards a sustainable future and with this 100+ aircraft deal, we are making a strategic decision to ensure that airlines can lease and operate the most modern and eco-responsible regional aircraft available in the market."
ALC buys more Dreamliners
Air Lease Corporation (ALC) is to purchase an additional five 787-9 Dreamliners, valued at $1.5bn at list prices.
"Demand for reliable, versatile, and fuel-efficient airplanes is at an all-time high," said Steven Udvar-Házy, executive chairman of ALC. "These five Boeing 787-9 aircraft are required by our airline customers to satisfy strong ALC lease placements of the 787."
The 787-9, a stretch of the 787-8, can fly 296 passengers 7,635 nautical miles (14,140 km) in addition to carrying more cargo.
"We are thrilled that ALC has decided to add more 787 Dreamliners to its elite portfolio of airplanes that they place with customers across the globe," said Ihssane Mounir, senior vice president of commercial sales and marketing at Boeing.
Airbus secures another A321XLR order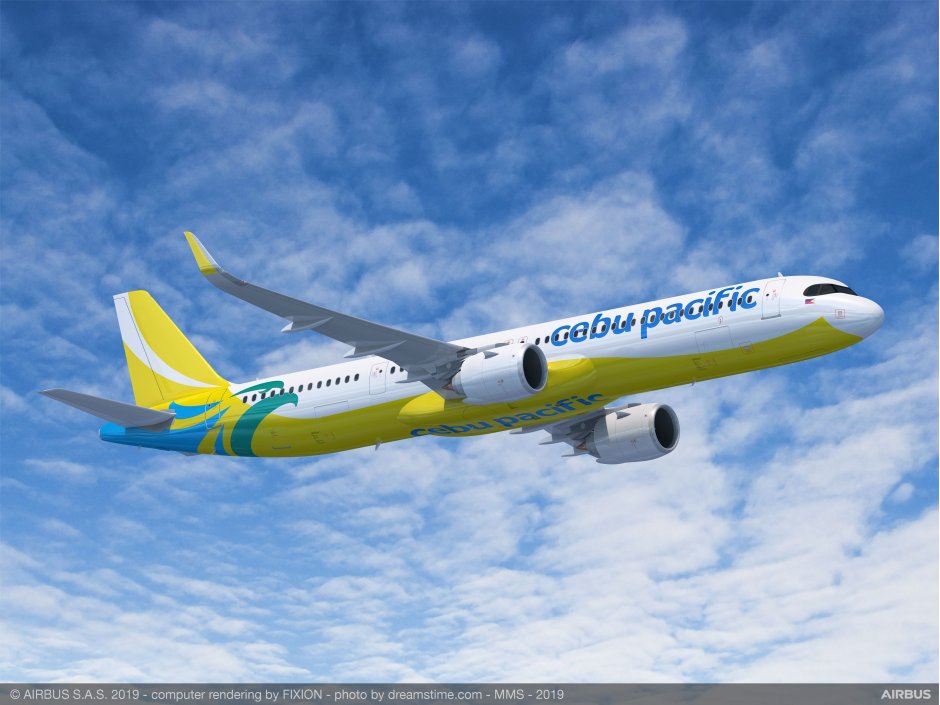 A day after launching the A321XLR, Airbus has secured another order for its longest-range single-aisle aircraft.
Philippines-based low-cost carrier Cebu Pacific has signed a Memorandum of Understanding (MOU) for 31 Airbus aircraft at the Paris Air Show, which includes ten A321XLRs. The order also comprises 16 A330neos and five A320neos.
Airbus unveiled the long-awaited A321XLR on Monday, with the first publicly announced commitment coming from Air Lease Corporation (ALC). The lessor signed a memorandum of agreement for 27 aircraft.
With a range of up to 4,700 nm - about 700 nm more than what the LR offers - the A321XLR will allow Cebu Pacific to fly non-stop to destinations in India and Australia.
The airline's A330neo aircraft will be a higher capacity version of the A330-900, with 460 seats in single class configuration. Its A320neo aircraft will be the first of the type to feature 194 seats in a single-class layout.
AirAsia becomes largest A321neo customer
AirAsia is converting 253 orders for the A320neo to the larger A321neo version, becoming the largest customer for the single-aisle aircraft type.
The carrier has placed orders for 592 A320 Family aircraft, with 353 A321neos on order. It currently has 230 A320 Family aircraft in service, flying out of its hubs in Malaysia, Thailand, Indonesia, the Philippines, India and Japan.
AirAsia Group Berhad executive chairman Datuk Kamarudin Meranun said: "We have spent a number of years reviewing what the future of our operations will look like and today, we're proud to become the world's largest customer for the A321neo.
"With its numerous efficiency benefits and the operational flexibility this aircraft brings, the A321neo will be the new backbone of our operations as we continue to expand to meet growing air travel demand across Asia."
Korean Air expands long-haul fleet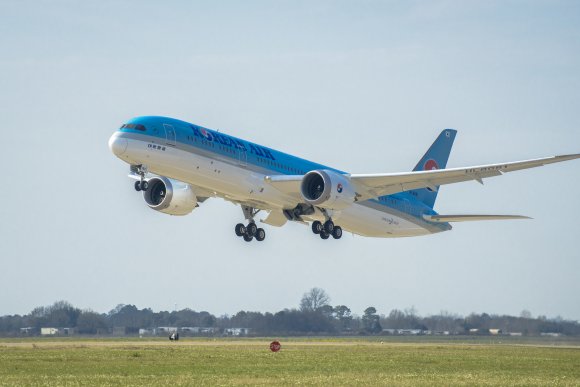 Korean Air is to add 30 Boeing 787 Dreamliners to its fleet, with a commitment to purchase ten 787-10s and ten additional 787-9s. It will also lease ten 787-10s from Air Lease Corporation.
The order, announced at the Paris Air Show 2019, will quadruple the Korea flag carrier's fleet of 787s and be listed on Boeing's Orders and Deliveries website once it is finalised.
"As we continue to innovate our product offering, the 787 Dreamliner family will become the backbone of our long-haul fleet for many years to come," said Walter Cho, chairman of Korean Air.
"In addition to 25 percent improved fuel efficiency, the stretched 787-10 offers around 15 percent more space for passengers and cargo than our 787-9s, which will be critical to our long-term business goals."
The 787-10 aircraft is 68 metres long and can accommodate 330 passengers in a two-class configuration, about 40 more than Korean Air's existing fleet of 787-9s.
The SkyTeam member currently operates a fleet of 168 passenger and cargo aircraft, according to CAPA Fleet Database, 119 of which are Boeing.
---
Monday 17 June
AirAsia X plans European routes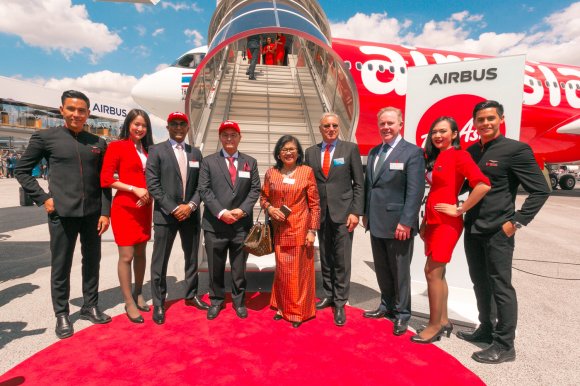 AirAsia X has set its sights on opening new non-stop routes to Europe and the US after unveiling its first Airbus A330neo at the Paris Air Show.
The aircraft will be based at Bangkok's Don Mueang International Airport in Thailand, entering service early next month.
The low-cost carrier previously operated routes to a number of European destinations, including London Stansted and Paris Orly from Kuala Lumpur. However, it ended its last service in 2012.
AirAsia X chief executive Nadda Buranasiri said: "With 66 aircraft on direct order and two on lease, the A330neo is the future of our long-haul operations delivering an enhanced guest experience including the latest design features and new modifications to make medium - long haul value air travel more comfortable than ever."
He added that the A330neo's arrival brings "new destinations into play".
"Direct flights to Europe and the US are now possible, and we are working on many exciting network and product plans to take full advantage of the opportunities offered by this aircraft's extended range and significant cost efficiencies, which will be announced in due course," Buranasiri said.
United orders up to 39 E175s
United Airlines has ordered up to 39 Embraer E175s, with 20 firm orders and 19 options in a 70-seater configuration. The order is valued at $1.9bn based on current list prices.
Deliveries are expected to begin in the second quarter of 2020, replacing older 70-seat aircraft currently operated by United's regional partners.
Gerry Laderman, chief financial officer of United Airlines, said: "As we focus on providing our customers the utmost comfort and convenience, we will rely on aircraft like the E175 to help us achieve our goal of delivering the best experience in the sky."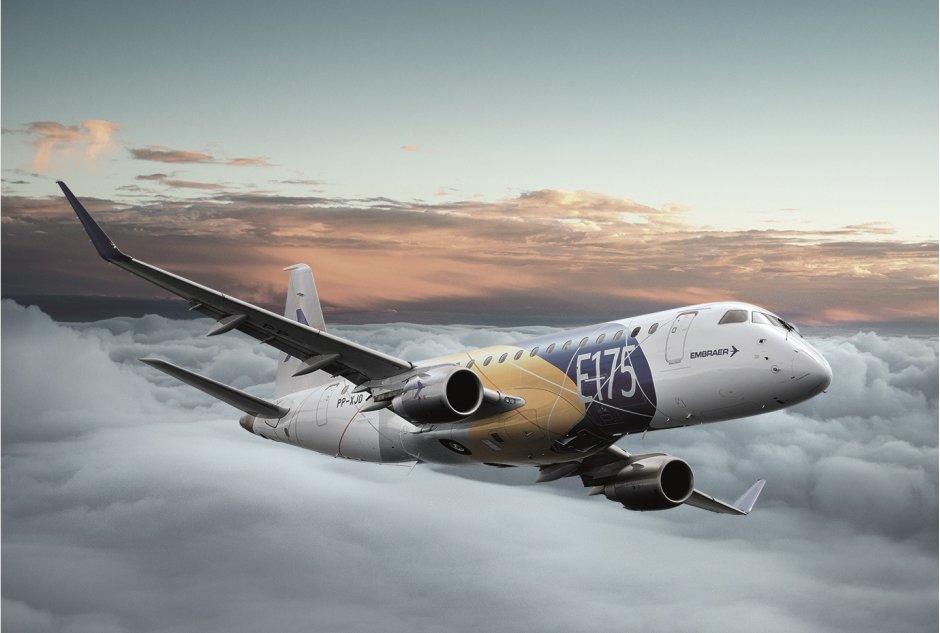 Boeing raises market outlook on growth forecasts
Growing passenger volumes and increasing airplane retirements will drive the need for 44,040 new aircraft, valued at $6.8trn, over the next two decades.
That's according to the latest Boeing Commercial Market Outlook for 2019, which was released at the Paris Air Show on Monday.
Of the new aircraft deliveries, the report said 44 percent would go towards replacing aging aircraft while the rest will accommodate traffic growth.
Factoring in the new jets and those that will remain in service, the global commercial fleet is expected to reach 50,660 aircraft by 2038. This is the first time the projected fleet has topped the 50,000 mark.
"Time and again, commercial aviation has shown itself to be extremely resilient," said Boeing Commercial Marketing vice president Randy Tinseth.
"Notwithstanding some recent moderation in passenger and cargo traffic growth, all indications are pointing to our industry sustaining its unprecedented streak of profitable expansion.
"In fact, we see a market that is broader, deeper and more balanced than we have seen in the past."
A321XLR to open new secondary long-haul markets
Airbus launched the long-expected A321XLR on the opening day of the Paris Air Show and expects airlines to operate "hundreds" of the aircraft over time as new secondary long-haul markets are developed.
Airbus made the decision on the back of several launch orders that are expected to be unveiled at the show later his week. The first publicly announced commitment came from Air Lease Corporation (ALC).
The lessor signed a memorandum of agreement for 27 aircraft. The company also committed to buying 23 A321neos that can be converted to the LR version of the aircraft and 50 A220-300s.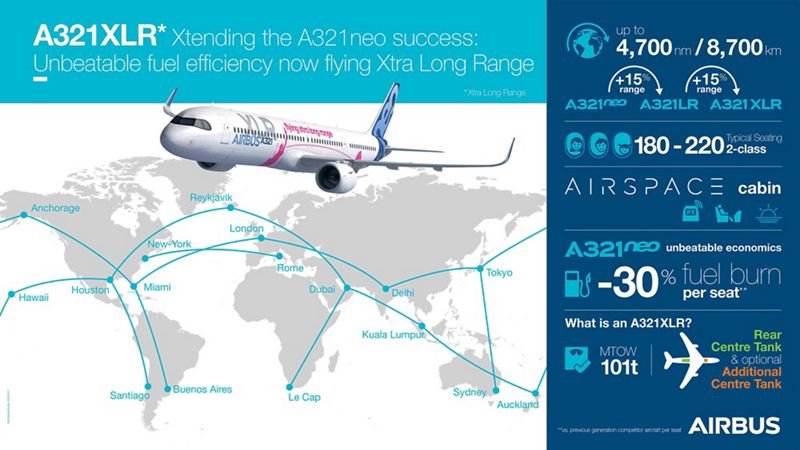 ALC will receive the first A321XLR "at the back end of 2023" according to executive chairman Steve Udvar-Hazy. That would be around two years ahead of the earliest conceivable entry-into-service date of the proposed Boeing new mid-market airplane (NMA).
ALC chief executive John Plueger sees "a potential for 50 new airlines [ordering the XLR] in the next five years at least." The aircraft will be a "formidable competitor" for the planned NMA, he said. "And it will be available many years earlier."
Airbus is using the A321neo variant as a tool to make the NMA's addressable market as small as possible. The launch is now adding pressure on Boeing to move ahead with the NMA to avoid losing too much of the segment.
Airbus chief commercial officer Christian Scherer pointed out that ALC is "a reference for many [airlines] in their fleet decisions."
Airbus wins Virgin Atlantic A330neo order
Virgin Atlantic has selected 14 A330-900s to replace its A330ceos from 2021. The firm order is for eight aircraft and six additional on lease from Air Lease Corporation. It also has a further six on option.
The deal was signed at the Paris Air Show by Shai Weiss, Virgin Atlantic chief executive and Guillaume Faury, Airbus chief executive.
"The acquisition of 14 A330neos will play a pivotal role in our fleet transformation and it is testament to our sustainability commitment; by 2024, we will have improved the fuel efficiency of our aircraft by 32 per cent," said Weiss.
In addition to announcing new aircraft, Virgin Atlantic will welcome its first Airbus A350-1000 this summer.
The carrier is launching two new routes this year, with flights to Tel Aviv and Mumbai are due to commence in September and October 2019 respectively. It has also announced plans to begin service to São Paulo, its first venture into South America.
Boeing admits "work to do" to regain Max trust
Senior executives from Boeing have stressed that the company is "dedicated to do whatever is needed" to regain the trust of airlines, pilots and passengers following the worldwide grounding of the 737 Max jets.
Speaking at a press conference at the Paris Air Show, Kevin McAllister, the chief executive of Boeing Commercial Airplanes, admitted that Boeing has "work to do" to restore trust. However, he refused to be drawn on when the aircraft would return to service.
"Company-wide our first priority is doing absolutely the right thing and doing everything to get this airplane safely returned to service," he said.
"I've been in the industry for 30-plus years and this is the most trying of times. But without a doubt, this is a pivotal moment for all of us. It's a time for learning and to be introspective. It's a time for us to make sure that accidents like this never happen again."
The global grounding of the Max jets in March 2019 in the wake of two deadly crashes is already having an impact on the world's aviation route development.
More than 375 of the aircraft were operating on nearly 1,000 routes when the decision was made to ground the fleet following the Ethiopian Airlines crash in Addis Ababa, which happened in the same month, killing all 157 people on board.
"This is also a challenging time for our customers," said McAllister. "I am sorry for the disruption this has had to their passengers and to their operations, especially during the peak summer season."
He added: "Our regulators will decide when the MAX returns to service and I won't speculate on a date."
Speaking at the same press conference, McAllister said Boeing continues to make progress on the development of its new 777X aircraft, despite engine issues. The first flight is set to be delayed after problems were identified with the General Electric engines fitted to the aircraft.
The delay comes as Emirates is understood to be in talks with Boeing to stretch out deliveries of the 777X over a longer period of time. The Gulf carrier bought 150 777Xs in 2015.
Airbus launches the A321XLR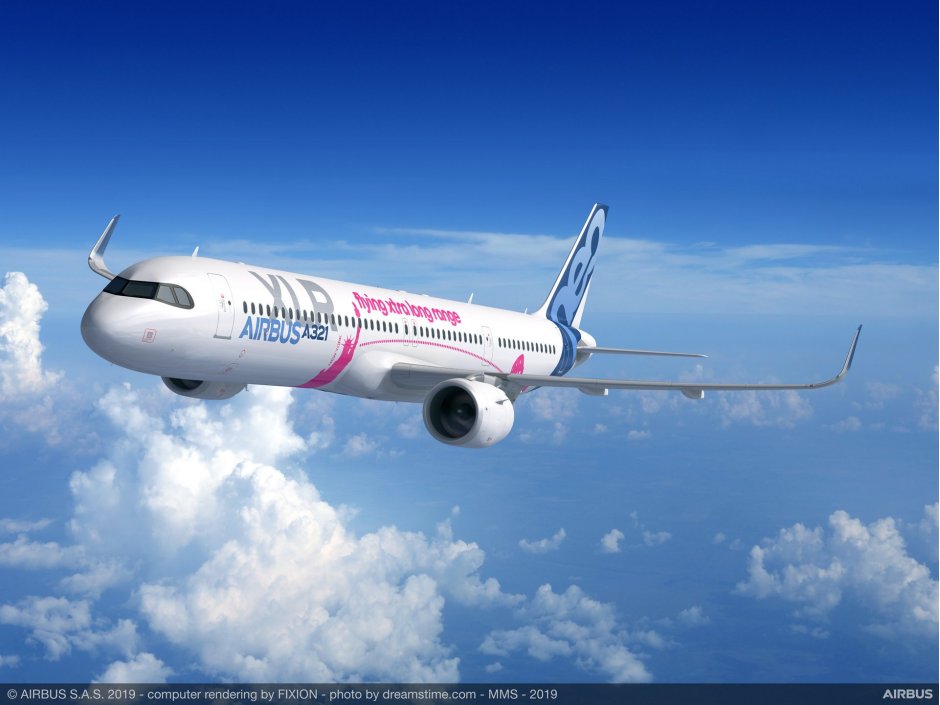 Airbus has launched the A321XLR aircraft and secured its first order for the type.
Air Lease Corporation (ALC), the Los Angeles-based aircraft leasing company, has signed a Letter of Intent (LoI) for 100 Airbus aircraft, including 27 A321XLRs and 50 A220-300s.The agreement also includes an incremental order for an additional 23 A321neos.
Founded in 2010, this latest order takes ALC's cumulative orders to 387 Airbus aircraft, making it Airbus' third largest lessor customer.
From 2023, the Airbus said A321XLR will offer a range of up to 4,700nm – 15 percent more than the A321LR and with 30 percent lower fuel burn per seat compared with previous generation competitor aircraft.
It expects this will enable airlines to operate a lower-cost single-aisle aircraft on longer and less heavily travelled routes.
Paris Air Show 2019 opens
The 53rd Paris Air Show 2019 is underway. For one week 322,000 visitors will see 150 aircraft and meet at 26 national pavilions. Overall aircraft sales are expected to be down from last year's show at Farnborough in the UK, where Boeing secured commitments for 528 aircraft valued at $79bn, while Airbus won 431 commitments worth $62bn.
IBA Group, a specialist data intelligence provider, has predicted that orders could be as low as half of 2018's yield. Dr Stuart Hatcher, chief operating officer, MD-aviation services for IBA, said that firm and MoU orders combined could be as low as 450.
He added that Airbus will potentially launch the A321XLR, and Boeing will not launch the NMA but will set out the re-entry programme of the 737 MAX in more detail.
"To set the scene, 2019 is not shaping up to be a good year on the order front which is not particularly surprising given the headwinds," said Hatcher.
"Already, year to date, we have an unprecedented number of aircraft returning from failed operators as traffic growth slows, yields continue to soften from an historical low point, fuel costs increase across the medium term and forex is far from ideal. Aside from these economic points, 737 MAX grounding and the China-US Trade problems add to the woes."