The A350-1000 takes flight, but where does the A350 currently fly?
Richard Maslen
November 24, 2016
The first test Airbus A350-1000 took off on the morning of November 24, 2016 for its maiden flight from Blagnac Airport in Toulouse, France at 10:42am local time. This marks the start of a less than one year certification programme involving three aircraft that will culminate in the type's certification and entry into airline service in the second half of 2017.
The first flight lasted four hours and 18 minutes during which time the prototype aircraft traversed south-western France as the flight crew and engineers explored the aircraft's handling and flight envelope. "We have seen today the world's most modern and efficient passenger aircraft – the A350-1000 – in action for the very first time, adding soon to the successful A350 Family," said Fabrice Brégier president and chief executive officer, Airbus.
This first prototype (MSN059) will explore of the flight envelope, handling qualities, loads and braking. The second (MSN071), will also be tasked with performance evaluation, which will encompass braking, powerplant, systems and autopilot. The third and final aircraft to fly (MSN065) will be equipped with a cabin and will evaluate the cabin and air systems. This latter aircraft will also perform the "early long flights" and route-proving.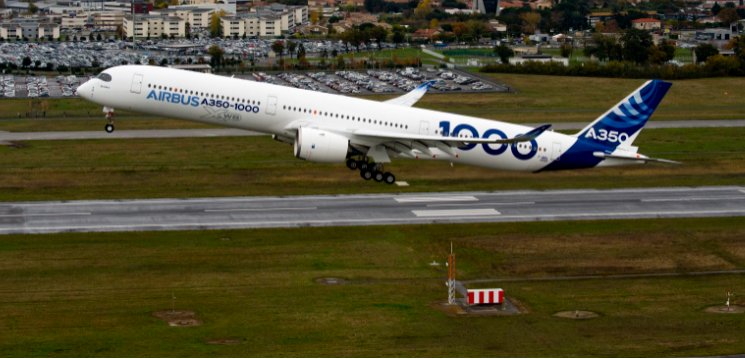 The A350-1000 is Airbus' largest and most powerful twin-engined airliner ever and has the second largest capacity offering in its portfolio below the A380 Superjumbo. With a similar fuselage length to the Boeing 777-300ER, the A350-1000 will accommodate around 40 more passengers than the current in-service A350-900 variant.
The aircraft also features a modified wing trailing-edge, new six-wheel main landing gears and more powerful Rolls-Royce Trent XWB-97 engines. To date eleven customers from five continents have placed orders for a total of 195 A350-1000s, including deals with Air Caraibes, Asiana Airlines, British Airways, Cathay Pacific Airways, Etihad Airways, Japan Airlines, LATAM Airlines, Qatar Airways, United Airlines and Virgin Atlantic Airways.
The initial A350 variant, the smaller A350-900, made its first flight in June 2013 around six-and-a-half years after the European manufacturer received the go-ahead for the industrial launch of the medium capacity long-range extra wide-body family. After the type certification the first delivery to launch customer Qatar Airways took place in December 2014 and scheduled commercial service with the A350 started on January 15, 2015 on the Doha – Frankfurt city pair.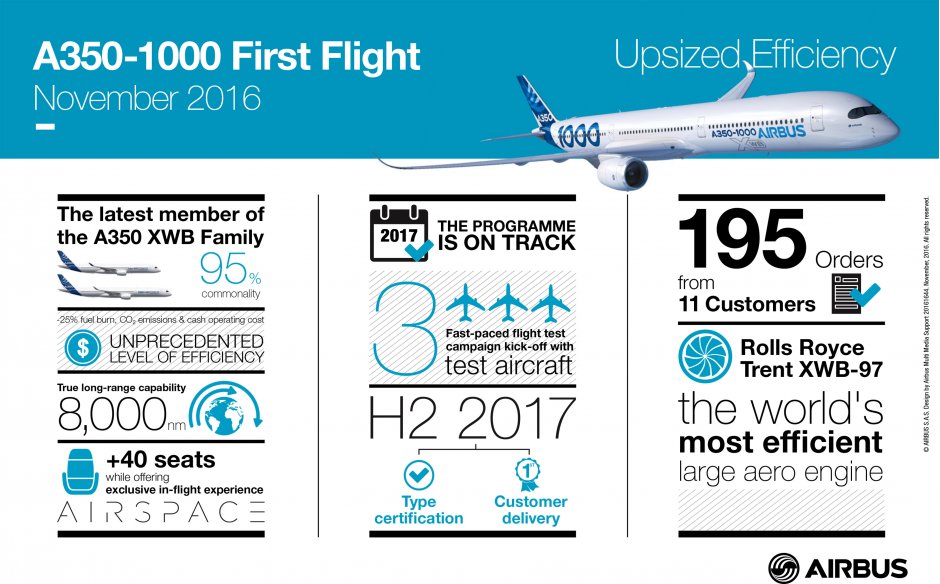 As at the end of October 2016, Airbus had secured 810 firm orders for the A350 family, comprising 16 -800s, 599 -900s and 195 of the new -1000. At this point there were already 45 A350-900s in commercial service as production schedule has ramped up from one aircraft in 2014 to 14 in 2015 and up to 30 across the first ten months of 2016.
These aircraft are flying with Cathay Pacific, Finnair, LATAM Brasil, Qatar Airways, Singapore Airlines and Vietnam Airlines, while in the last couple of months China Airlines, Ethiopian Airlines and Thai Airways International have also introduced the type. But, where do they all fly?
A quick download from OAG Schedules Analyser shows that the aircraft are fulfilling their role on serving longer routes, including the up to 17 hour 15 minute sector for Singapore Airlines' new non-stop link between San Francisco and Singapore. However, there are some exceptions. The European launch customer for the aircraft, Finnair, for example, alongside long-haul missions is using the aircraft on flights between Helsinki and both London and Brussels, a block time of just over three hours.
"It's partly to do with efficient scheduling to maximise utilisation, but the aircraft also helps us to deliver additional cargo capacity into two important cargo hubs and support additional imports and exports via Helsinki in and out of Asia," Pekka Vauramo, chief executive officer, Finnair told Routesonline earlier this month. "We could even see the aircraft deployed on domestic sectors such as Helsinki – Rovaniemi during the peak winter holiday season."
Our analysis of the schedule data shows that in just under two years of scheduled operations the average sector length for A350 operations has been just under 5,000 miles, while more than a third of flights of have been across block times of less than four hours. This data is however, heavily skewed by the short-haul familiarisation flights that airlines have been operating to train crews on the new aircraft type and build up flying hours and expertise with the aircraft.
A closer look at A350 network deployment by airline show significant variations between operators. LATAM Brasil is averaging 7,242 miles per rotation, Finnair 6,549 miles and Qatar Airways 5,800 miles, while the likes of Vietnam Airlines (3,909 miles), Ethiopian Airlines (3,782 miles) and Cathay Pacific (2,518 miles) have been using the aircraft on a more regional basis. New operators such as Thai Airways International (1,367 miles) and China Airlines (805 miles) highlights how the aircraft has initially been used on local flights for training purposes.
Since its entry into service the A350 has flown an estimated 109.3 million miles on scheduled flights, almost 230 return trips between to the moon. But, where is it flying this winter? Here's our breakdown by airline…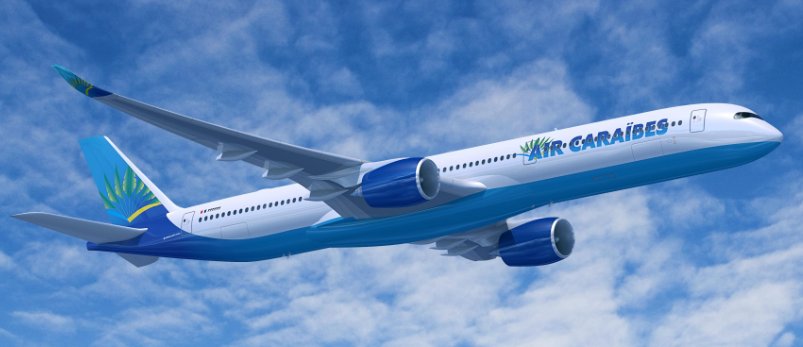 Air Caraibes (TX)
Paris (ORY) – Fort de France (FDF)
Paris (ORY) – Pointe-a-Pitre (PTP)

Cathay Pacific (CX)
Hong Kong (HKG) – Auckland (AKL)
Hong Kong (HKG) – Bangkok (BKK)
Hong Kong (HKG) – Dusseldorf (DUS)
Hong Kong (HKG) – Ho Chi Minh (SGN)
Hong Kong (HKG) – London (LGW)
Hong Kong (HKG) – Melbourne (MEL)
Hong Kong (HKG) – Manila (MNL)
Hong Kong (HKG) – Osaka (KIX)
Hong Kong (HKG) – Paris (CDG)
Hong Kong (HKG) – Rome (FCO)
Hong Kong (HKG) – Singapore (SIN)
Hong Kong (HKG) – Taipei (TPE)

China Airlines (CI)
Taipei (TPE) – Amsterdam (AMS)
Taipei (TPE) – Beijing (PEK)
Taipei (TPE) – Guangzhou (CAN)
Taipei (TPE) – Hong Kong (HKG)
Taipei (TPE) – Osaka (KIX)
Taipei (TPE) – Rome (FCO)
Taipei (TPE) – Shanghai (PVG)
Taipei (TPE) – Shenzhen (SZX)
Taipei (TPE) – Singapore (SIN)
Taipei (TPE) – Vienna (VIE)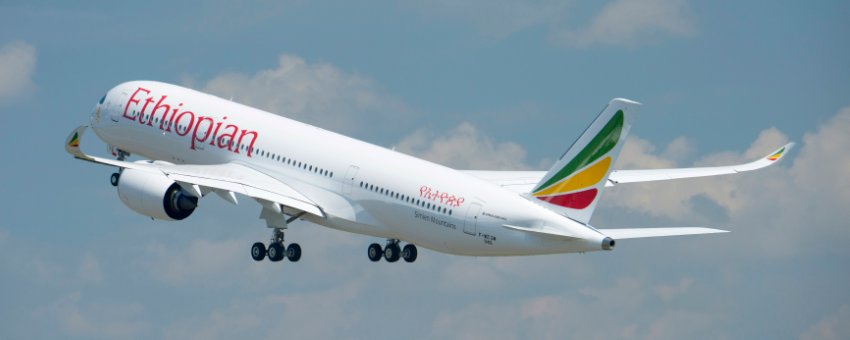 Ethiopian Airlines (ET)
Addis Ababa (ADD) – Abuja (ABV)
Addis Ababa (ADD) – Dubai (DXB)
Addis Ababa (ADD) – London (LHR)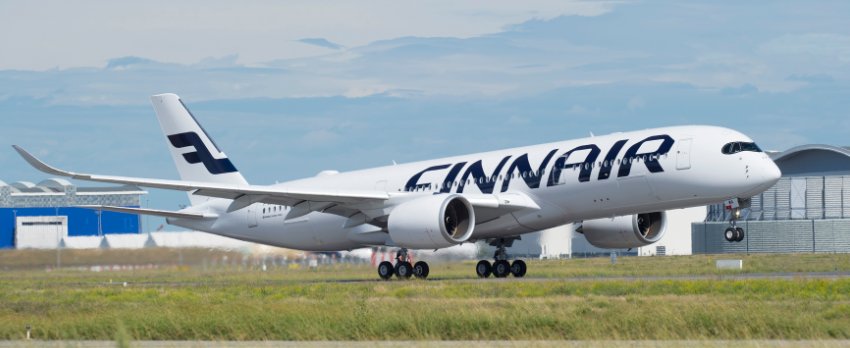 Finnair (AY)
Helsinki (HEL) – Bangkok (BKK)
Helsinki (HEL) – Beijing (PEK)
Helsinki (HEL) – Ho Chi Minh (SGN)
Helsinki (HEL) – Hong Kong (HKG)
Helsinki (HEL) – London (LHR)
Helsinki (HEL) – San Francisco (SFO)
Helsinki (HEL) – Seoul (ICN)
Helsinki (HEL) – Singapore (SIN)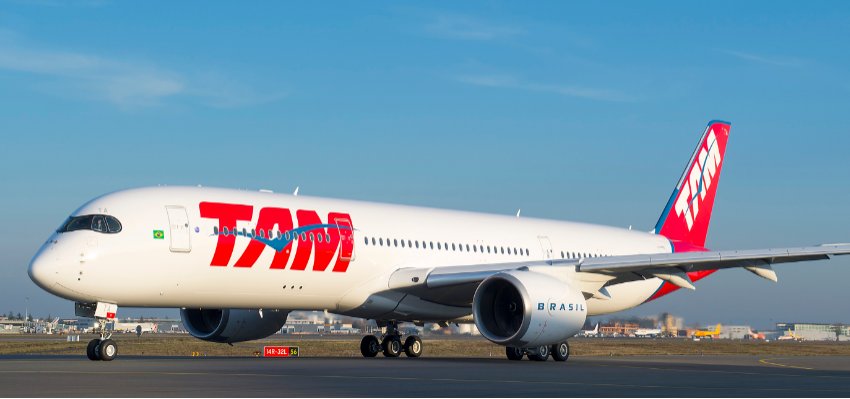 LATAM Airlines (JJ)
Sao Paulo (GRU) – Madrid (MAD)
Sao Paulo (GRU) – Miami (MIA)
Sao Paulo (GRU) – Milan (MXP)
Sao Paulo (GRU) – Orlando (MCO)
Sao Paulo (GRU) – Paris (CDG)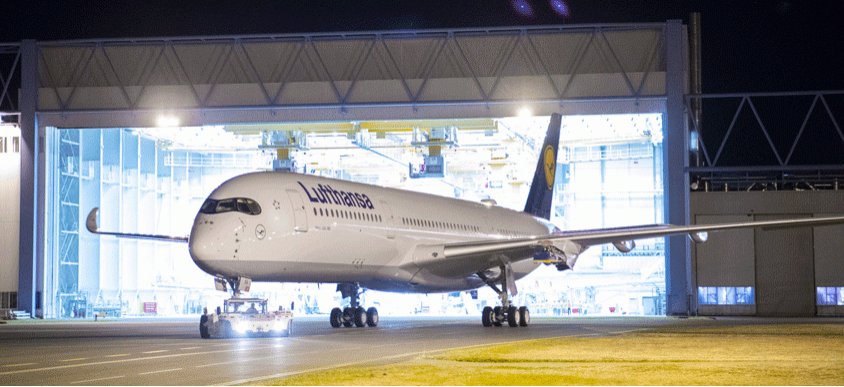 Lufthansa (LH)
Munich – Boston (BOS)
Munich – Delhi (DEL)

Qatar Airways (QR)
Doha (DOH) – Adelaide (ADL)
Doha (DOH) – Amman (AMM)
Doha (DOH) – Bahrain (BAH)
Doha (DOH) – Boston (BOS)
Doha (DOH) – Cairo (CAI)
Doha (DOH) – Dubai (DXB)
Doha (DOH) – Frankfurt (FRA)
Doha (DOH) – Jeddah (JED)
Doha (DOH) – London (LHR)
Doha (DOH) – Madrid (MAD)
Doha (DOH) – Munich (MUC)
Doha (DOH) – New York (JFK)
Doha (DOH) – Paris (CDG)
Doha (DOH) – Philadelphia (PHL)
Doha (DOH) – Riyadh (RUH)
Doha (DOH) – Singapore (SIN)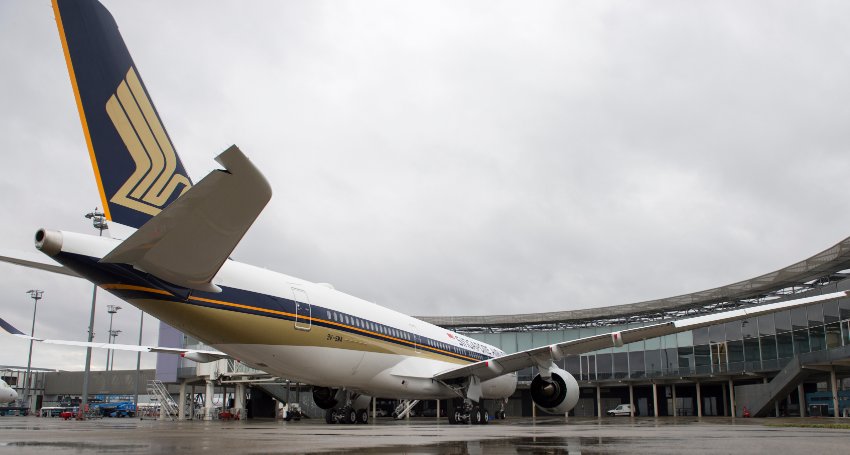 Singapore Airlines (SQ)
Singapore (SIN) – Amsterdam (AMS)
Singapore (SIN) – Dusseldorf (DUS)
Singapore (SIN) – Jakarta (CGK)
Singapore (SIN) – Johannesburg (JNB) – Cape Town (CPT)
Singapore (SIN) – Moscow (DME)
Singapore (SIN) – San Francisco (SFO)
Singapore (SIN) – Tokyo (HND)

Thai Airways International (TG)
Bangkok (BKK) – Beijing (PEK)
Bangkok (BKK) – Chang Mai (CNX)
Bangkok (BKK) – Dubai (DXB)
Bangkok (BKK) – Melbourne (MEL)
Bangkok (BKK) – Milan (MXP)
Bangkok (BKK) – Rome (FCO)
Bangkok (BKK) – Singapore (SIN)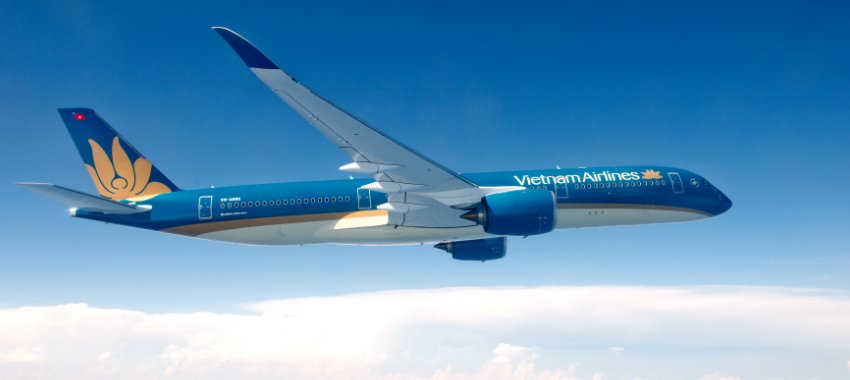 Vietnam Airlines (VN)
Hanoi (HAN) – Paris (CDG)
Hanoi (HAN) – Seoul (ICN)
Ho Chi Minh (SGN) – Hanoi (HAN)
Ho Chi Minh (SGN) – Osaka (KIX)
Ho Chi Minh (SGN) – Paris (CDG)
Ho Chi Minh (SGN) – Seoul (ICN)
Ho Chi Minh (SGN) – Shanghai (PVG)
Ho Chi Minh (SGN) – Tokyo (NRT)