Routes In Brief: Rolling Daily Updates (W/C March 28, 2022)
David Casey
April 01, 2022
Welcome to our rolling daily coverage of new routes alongside services that are scheduled to resume.
Do you have a story you would like us to feature? Let us know your network news.
---
April 1
Tunisia's flag-carrier Tunisair has launched flights between Tunis (TUN) and London Stansted (STN). The route will operate twice a week on Mondays and Thursdays using Airbus A319 aircraft. It is Stansted's first scheduled service to and from Tunisia's capital. Flights depart TUN at 1.50 p.m. and arrive in the UK capital at 4.15 p.m. The return service leaves STN at 5.55 p.m. and arrives in Tunis at 8.55 p.m.
---
Wizz Air has relaunched its route from Katowice (KTW) in southern Poland to Malmö (MMX) in Sweden. During the summer season, the airline will have two weekly departures, on Mondays and Fridays, until the end of October. The ULCC launched three new routes from Malmö in 2021 to Banja Luka, Sarajevo and Tirana. With the resumption of Katowice, it now offers 14 routes from Malmö to destinations in central and eastern Europe.
---
---
Air France said that during the peak summer season, it will serve up to 196 destinations on five continents, with a flight schedule representing on average 90% of the capacity deployed at the same period in 2019. To the US, the airline plans to operate close to 200 weekly flights to 14 destinations—representing a 20% increase on summer 2019. On its short and medium-haul network, three new routes are being launched from Paris Charles de Gaulle (CDG) to Zakynthos (ZTH)), with 2X-weekly flights from July 9, Tirana (TIA)), with 2X-weekly flights from July 9, and Tenerife (TFS)) as a continuation of the winter season. New routes from Paris-Orly (ORY) include Algiers (ALG), which will be 3X-daily subject to the country's reopening conditions, and Tunisia (TUN), which will be 1X-daily from May 29
---
Irish ULCC Ryanair has inaugurated its Venice Marco Polo (VCE) base with three new aircraft and the introduction of 17 new routes. In total, the airline will connect the airport with 24 destinations in 11 European countries this summer. The new routes are to Comiso, Copenhagen, Cork, Crotone, Gdansk, Helsinki, Katowice, Lisbon, Madrid, Marseille, Menorca, Nuremberg, Santander, Stockholm, Toulouse, Trapani and Vienna.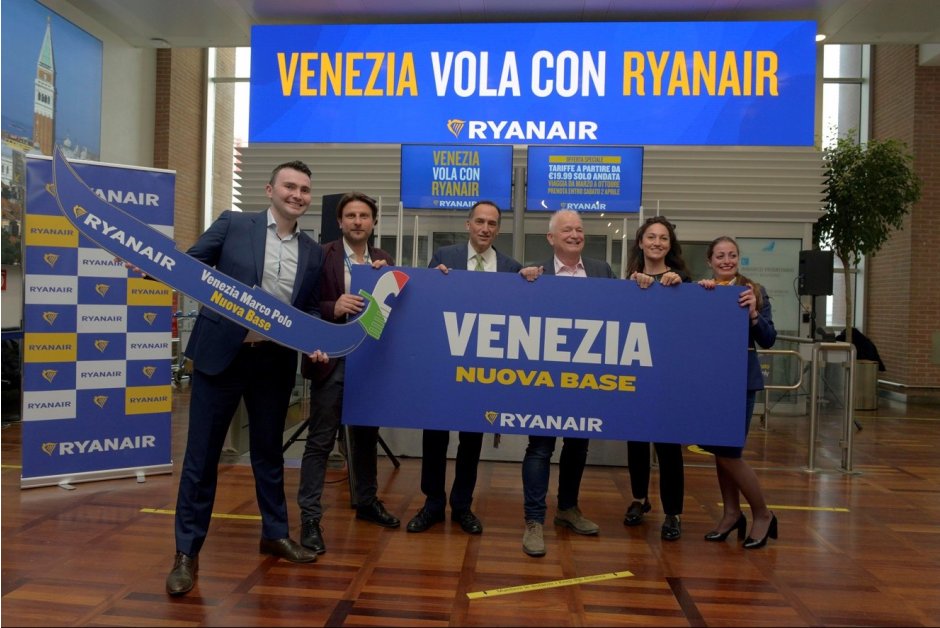 ---
Qantas has resumed service between Brisbane (BNE) and Los Angeles (LAX) after a two-year hiatus. The 5X-weekly route will operate using Airbus A330-200s, with flights departing BNE at 10:00 a.m and departing LAX at 10:20 a.m. Brisbane Airport Corporation CEO Gert-Jan de Graaff said the return of the US market was another important step in restoring, and growing, Queensland's direct connections with the world. He added the US market would be vital to the state's recovery from the impacts of pandemic on the tourism, trade and freight sectors.
---
March 31
Aerolineas Argentinas is launching a new domestic route on June 2 connecting Ezeiza International (EZE) in Buenos Aires with Tucumán (TUC) located in the northwest of Argentina. Flights will operate three times per week on Mondays, Thursdays and Sundays. The carrier said the flight times offer connecting opportunities for passengers traveling from TUC via EZE. Aerolineas Argentinas president Pablo Ceriani said the route would act as a "great stimulus" to promote domestic tourism.
---
Ryanair is adding three new summer connections from Genoa (GOA) in Italy to Lamezia, Manchester and Vienna. The ULCC said it intends to operate 12 routes from the airport, offering 40 weekly frequencies. "We are grateful to Ryanair for its investment in our territory, which will have greater and greater benefits on connectivity and the local economy," said Paolo Odone, president of Genoa Airport.
---
Gol Linhas Aéreas has restarted flights from Florianópolis International (FLN) in Brazil. The airline will serve Buenos Aires Aeroparque (AEP) 3X-weekly on Tuesdays, Thursdays and Saturdays.
---
Star Alliance member Lufthansa has inaugurated two new long-haul routes from Munich (MUC). Flights have now started to Rio de Janeiro Galeao (GIG) in Brazil and San Diego (SAN) in the US. The German carrier resumed flights to the Brazilian city from Frankfurt (FRA) last December but service from MUC launched for the first time on March 27. Five flights per week will be available using A350-900s. The MUC-SAN link started on March 30 and is 3X-weekly.
---
March 30
British Airways (BA) has resumed short-haul flying from London Gatwick (LGW) after suspending service at the onset of the pandemic. Services will initially operate under BA's air operator's certificate, before moving under new subsidiary BA Euroflyer later in the year. The first flights linked the UK airport with Larnaca, Amsterdam, Paphos and Tenerife.
---
UK leisure carrier Jet2.com is expanding its Greek network, including launching flights to Athens (ATH) for the first time. The airline will serve Greece's capital from Manchester (MAN) and Birmingham (BHX) twice a week from April 14. In total, the airline plans to offer 1.1 million seats from the UK to Greece this summer—up by 86% on summer 2019.
---
Gulf carrier Emirates will re-introduce pre-pandemic flight frequencies to its destinations in India from April 1. The airline will be operating 170 weekly flights to nine cities in the country. The move comes on the back of the decision by the Indian government to restore international flights to and from the country in line with established bilateral agreements. Emirates plans to operate the following flight frequencies:
Mumbai – 35X-weekly flights
Delhi – 28X-weekly flights
Bengaluru – 24X-weekly flights
Chennai – 21X-weekly flights
Hyderabad – 21X-weekly flights
Kochi – 14X-weekly flights
Kolkata – 11X-weekly flights
Ahmedabad – 9X-weekly flights
Thiruvananthapuram – 7X-weekly flights
---
Tunisian airline Nouvelair has relaunched flights between London Gatwick and Tunis (TUN). Flights were suspended in 2020 and initially restarted in July 2021 but were halted shortly afterwards due to travel restrictions imposed by the UK government. Flights will initially be operated 2X-weekly, with a third weekly frequency being added in May. Nouvelair will also commence flights from Manchester (MAN) to Monastir (MIR) in May with a weekly service, increasing to 2X-weekly in July.
---
LCC IndiGo has commenced flights between Bhopal (BHO) and Chennai (MAA). It is hoped the new route from Bhopal will enhance connectivity between central and southern India. Flights will operate 3X-weekly on Tuesdays, Thursdays and Saturdays. "The direct flight to Chennai will cater both business and leisure travellers and prove to be a bridge between the two regions," said IndiGo chief strategy and revenue officer Sanjay Kumar.
---
March 29
Egyptair has launched flights between Cairo (CAI) and Kinshasa (FIH), the capital of the Democratic Republic of the Congo. Service will be 3X-weekly on Sundays, Wednesdays and Fridays using Boeing 737-800s. The airline becomes the sole provider of nonstop flights between Egypt and the Democratic Republic of the Congo, data provided by OAG shows.
---
London City (LCY) has today welcomed the return of flights to Milan Linate (LIN). ITA Airways will operate up to three times per day between the airports, catering for leisure and business demand. The latest figures indicate that LCY is on track to have its busiest month since the pandemic began, welcoming another post-COVID record of 44,000 passengers last week.
---
LEVEL has opened a route between Barcelona (BCN) and Los Angeles (LAX). Flights will initially be 3X-weekly on Mondays, Thursdays and Saturdays, with a Wednesday service set to start from June 1. In addition, the LCC has resumed a 4X-weekly route to San Francisco (SFO) and flights to Boston (BOS) will commence on May 1. "Both Los Angeles and San Francisco are two major key cities for tourism, as well as Catalan companies looking for business opportunities on the West Coast, and for American companies interested in getting to know and investing in Barcelona," LEVEL commercial director Lucía Adrover said.
---
Colombia's Avianca has inaugurated three new routes from Cartagena (CTG). Operations to New York John F Kennedy (JFK) and Miami (MIA) in the US will be daily, while San Jose (SJO) in Costa Rica will receive four flights per week. The additions increase the number of departure seats offered by Avianca from CTG to about 30,562 per week—up from around 27,000 this time three years ago before the pandemic.
---
Eurowings has opened its new base at Stockholm Arlanda (ARN), becoming its 11th base in Europe and fifth outside Germany. "Sweden is a market that fits perfectly with our orientation as a value airline for Europe," Eurowings CEO Jens Bischof said.
---
March 28
Eurowings Discover has launched flights between Munich (MUC) and Las Vegas (LAS). The route opened on March 27 and operates on Fridays and Sundays using Airbus A330-300s. The Lufthansa subsidiary is also opening long-haul routes from Munich to Cancun (CUN) in Mexico and Punta Cana (PUJ) in the Dominican Republic.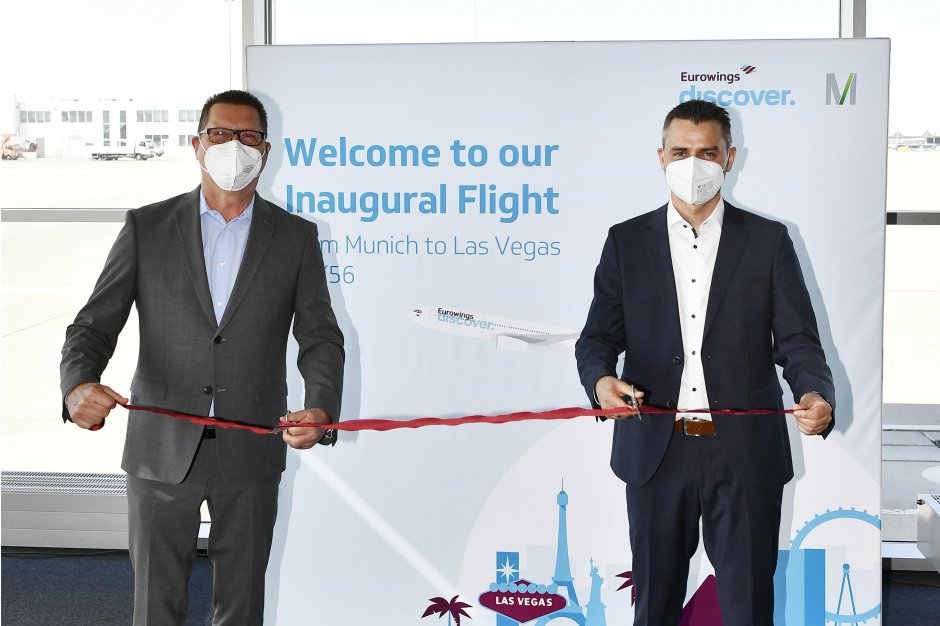 ---
Atlanta-based Delta Air Lines is back in Brussels (BRU) after two years away. The US carrier restarted flying nonstop from New York John F Kennedy (JFK) on March 27, initially operating 5X-weekly. Frequencies will increase to daily from May 10. "As post-covid travel restrictions ease, we're seeing increased demand for travel as Belgians rediscover the US while Americans enjoy Belgium's picturesque cities and beautiful countryside or reconnect with colleagues on business trips," said Nicolas Ferri, Delta VP of Europe, Middle East, Africa and India.
---
Air New Zealand has resumed Auckland (AKL)-Singapore (SIN) flights following the reopening of New Zealand's international borders. The carrier will initially serve the route four times per week, while alliance partner Singapore Airlines operates a daily service. "Early response and demand since the announcement on the reopening of borders have been positive for the flights both in and out of Singapore," said Jonathan Zhang, general manager of asia operations at Air New Zealand.
---
Canada's WestJet has launched its inaugural flight from Calgary (YYC) to London Heathrow (LHR). The new 4X-weekly service complements the airline's existing flights to London Gatwick (LGW), meaning it will offer up to nine flights per week between Calgary and London this summer. "This new route not only strengthens Alberta's travel and tourism pipeline but creates new opportunities for our guests to benefit from access to one of the most connected global aviation hubs," WestJet VP network and alliances Chris Hedlin said.