Welcome to our rolling daily coverage of new routes alongside services that are scheduled to resume.
Do you have a story you would like us to feature? Let us know your network news.
---
Jan. 14
Singapore Airlines is restoring daily flights from Newark (EWR) on March 28, operating nonstop to Singapore (SIN) onboard an all-premium Airbus A350-900 aircraft. With this reinstatement, the carrier will serve the New York metro area with three daily flights, including nonstops from both Newark and JFK to Singapore, and A380 service from JFK to Singapore via Frankfurt (FRA). "Expanding for the first time to triple-daily service from the New York area is a key example of our commitment to both rebuild and grow our US route network," SIA regional VP for the Americas Joey Seow said.
---
Spanish carrier Volotea this summer plans to launch three routes between Greece and France. Flights between Athens (ATH) and Bordeaux (BOD) will be operated twice a week on Tuesdays and Saturdays from May 28, while service between Athens and Nantes (NTE) starts a day later and will also run 2X-weekly on Wednesdays and Sundays. The third new route will connect Zakynthos (ZTH) and Nantes from June 2 with one scheduled flight per week on Thursdays.
---
Aeroflot has restored flights to Ulaanbaatar (ULN), the capital of Mongolia, effective Jan. 14. The route from Moscow Sheremetyevo (SVO) will operate once a week using Boeing 737-800s in a two-class configuration. OAG data shows Aeroflot last operated the service in March 2020.
---
UK regional carrier Eastern Airways is launching flights between Humberside (HUY) and Jersey (JER) on May 21. Flights will run through late September and operate once a week on Saturdays. Operated in partnership with CI Travel Group and Premier Holidays, the service from Eastern's home base will complement the Aberdeen (ABZ) service that has operated continuously from Jersey since 1997. "Given recent new network additions, such as Newquay from London-Gatwick and Leeds-Bradford, restoring and adding further services at hubs we already serve are another crucial part of increasing connectivity and aiding economic recovery where sustainable," Eastern MD Adam Wheatley said.
---
Avelo Airlines has launched flights between Sarasota Bradenton (SRQ) and Southern Connecticut's Tweed-New Haven Airport (HVN). The route will operate three times per week on Tuesdays, Thursdays and Sundays. Sarasota Bradenton becomes the sixth destination launched by the airline from HVN in the last three months. "We've been blown away by the overwhelmingly positive reception Avelo has received and the staggering amount of passengers who have come through our doors since November," said Sean Scanlon, Executive Director of Tweed-New Haven Airport Authority.
---
Jan. 13
---
AirAsia is expanding its domestic network in Malaysia, saying the latest additions strengthen its tourism footprint and provide "more options for international visitors to travel between the states." On Jan. 27, the LCC will launch a Penang (PEN)-Sibu (SBW) route, operating 2X-weekly, followed by a 1X-weekly service between Johor Bahru (JHB) and Bintulu (BTU) the following day. Flights between Kota Kinabalu (BKI) and Kuala Terengganu (TGG) start on Jan. 30, operating once a week. AirAisa has also started a fourth new domestic service this month, with 2X-weekly Kuching (KCH)-Langkawi (LGK) service opening on Jan. 5. "We look forward to continuing our work to explore even more new routes across Malaysian airports from other parts of our Asean network," AirAsia Malaysia CEO Riad Asmat said.
---
Air Nostrum, Iberia's franchised airline for regional flights, has been awarded the tender to operate a public service obligation route between Madrid (MAD) and Strasbourg (SXB) for an eighth time. The carrier has been operating the route since 2001 and the latest tender will run until April 2025. It said 500 two-way seats per week would be offered between the destinations, rising to 700 during periods when there are sessions of the European Parliament. Air Nostrum will serve the route using 50-seat CRJ-200s.
---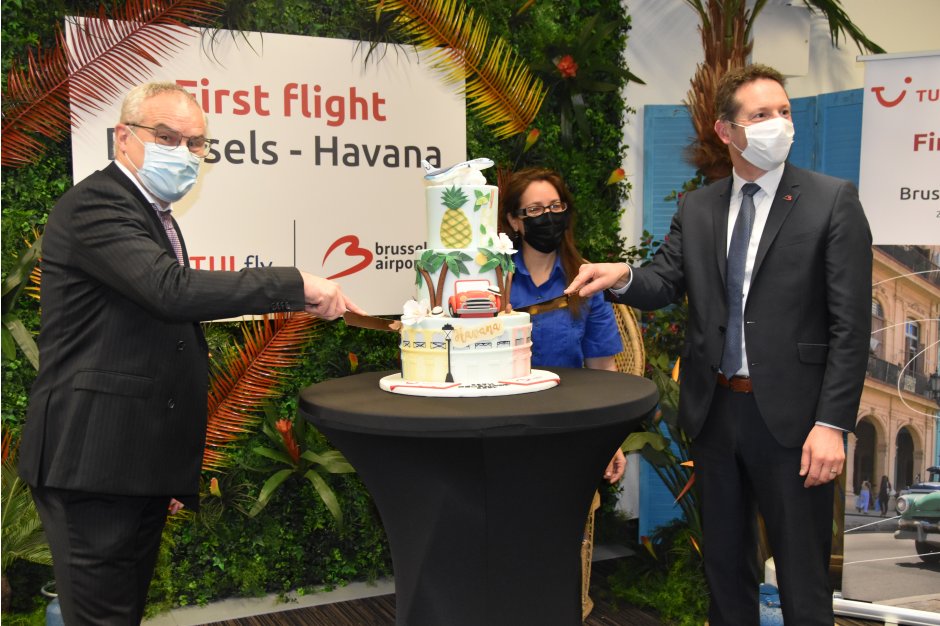 Pictured: The inauguration of TUI fly's first service from Brussels (BRU) to Havana (HAV) in Cuba on Dec. 24, 2021. Ahead of the maiden flight, the airport organised a cake cutting ceremony. Pictured from left to right are: Erik Follet, director of aviation planning at TUI fly; Yaira Jiménez Roig, ambassador of the Republic of Cuba in Belgium; and Piet Demunter, chief business development officer at BRU. TUI fly will serve BRU-HAV once a week using Boeing 787s. The city becomes the second Cuban destination served by the airline from Brussels in addition to Varadero.
---
St. Pete-Clearwater (PIE) in Florida has said it ended 2021 connected to a record 65 destinations. The airport secured two new airline partners during the year in Swoop and Sun Country, while 11 new destinations were added to its route map. Nine of the additions were by Allegiant. PIE's overall passenger traffic grew to 175,123 in December 2021—up by 2% on December 2019.
---
Jan. 12
Three new routes are being launched by Transavia France from its Paris-Orly (ORY) base. The Air France subsidiary plans to begin domestic service to Pau (PUF) and Perpignan (PGF) from March 27, flying 12X-weekly and 14X-weekly respectively. In addition, a 2X-weekly service to Moscow Vnukovo (VKO) will begin on March 28. The LCC also intends to resume Montpellier (MPL)-Rome (FCO) on April 21 and Montpellier-Berlin (BER) on April 22. Both will be 2X-weekly. Finally, Transavia is extending its seasonal service to Budapest (BUD) from its base in Lyon (LYS). Up to two flights a week will be provided from Feb. 11 through Oct. 28.
---
Australian LCC Jetstar has today operated its first flights to Thailand since March 26, 2020. The airline is serving Phuket (HKT) from Sydney (SYD) three times per week on Mondays, Wednesdays and Saturdays, and twice weekly from Melbourne (MEL) on Thursdays and Sundays. The routes are operating using Boeing 787-8 aircraft. "Thailand has consistently been one of our most popular overseas holiday destinations since we started flying there in 2007, and our research tells us that Phuket still remains high on the list of places Aussies want to go," Jetstar CEO Gareth Evans said.
---
Russia's Nordwind Airlines is starting a route to Cuba's capital Havana (HAV) on Jan. 15. Service from Moscow Sheremetyevo (SVO) will be once a week onboard 777-200/200ER aircraft. Aeroflot also serves the SVO-HAV market nonstop, flying twice a week using Airbus A350-900s.
---
Jan. 11
Brazil's GOL Linhas Aéreas has resumed service to a fifth international destination since it began restoring overseas routes in November 2021. Flights have restarted between Belém International (BEL) and Paramaribo-Zanderij International (PBM) in Suriname. The route will operate once a week on Sundays using Boeing 737-800 aircraft. GOL said that it plans to resume two more international destinations over the coming four months. Service to Asunción (ASU), the capital of Paraguay, will begin on April 9, followed by flights to Santa Cruz de La Sierra (VVI) in Bolivia from May 5.
---
LOT Polish Airlines has announced the planned resumption of two routes from Rzeszów (RZE) in southeastern Poland and the launch of two new services. Operations to Newark (EWR) in the US are scheduled to resume on March 28, followed by Zadar (ZAD) in Croatia on June 18. Both will be served once a week. In addition, a new 1X-weekly route to Odessa in Ukraine will begin on June 12 alongside a 2X-weekly domestic service to Olsztyn-Mazury (SZY) on June 18.
---
British Airways is temporarily suspending three nonstop US services from London Heathrow (LHR). OAG data shows flights to Nashville (BNA), Baltimore Washington (BWI) and New Orleans (MSY) will be paused from Jan. 18 onwards. However, MSY is scheduled to resume from late April followed by BWI and BNA in May.
---
---
Transavia France has inaugurated a new seasonal route between Paris-Orly (ORY) and Ivalo (IVL) in Finland. The LCC will offer one flight a week on Saturdays until March 12. The airline said the launch follows strong demand from customers wishing to explore Lapland. "Ivalo is an original and ideal destination for an exotic winter vacation with family or friends," Transavia France deputy general manager commercial and marketing Nicolas Hénin said.
---
Jan. 10
Irish startup Emerald Airlines has been awarded a public service obligation (PSO) route between Donegal (CFN) and Dublin (DUB), to be operated under the Aer Lingus Regional brand. A temporary contract on the route was awarded to Amapola Flyg last June following the collapse of Stobart Air, the previous operator of Aer Lingus Regional flights. However, the contract expires on Feb. 25. Emerald will therefore take over the three-year contract from Feb. 26, with the option of a 12-month extension. The carrier plans to offer up to 2X-daily CFN-DUB services using 72-seater ATR 72-600s. "Not only will this be a huge boost for travel between Donegal and Dublin but it will also re-establish vital tourism connections to Donegal on the wider Aer Lingus network," Emerald CEO Conor McCarthy said.
---
IndiGo plans to cut its schedule by about 20% in response to the latest wave of COVID-19 cases across India. The airline has not announced the routes that will be affected but said cancellations would be made at least 72 hours in advance. "Owing to the increasing number of omicron infections, large numbers of IndiGo customers are changing their travel plans," the LCC said in a statement. OAG data shows that the carrier has scheduled about 1.6 million domestic seats this week (w/c Jan. 10, 2022) across some 9,400 flights, accounting for 51% of the total domestic capacity on offer.
---
Air Canada has canceled all passenger flights between Canada and Hong Kong (HKG) effective Jan. 7. Flights from Vancouver (YVR) are currently slated to resume on March 1, while service from Toronto Pearson (YYZ) will restart two days later. The airline blamed the cancellations on "government entry requirements, travel advisories, crew constraints and local movement restrictions."
---
Air Mauritius resumed commercial flights to Johannesburg (JNB) on Jan. 9 after restrictions were lifted on air service between Mauritius and South Africa. The carrier will operate five flights per week from Mauritius (MRU) during January on Mondays, Wednesdays, Thursdays, Fridays and Sundays using a mix of Airbus A350-900s and A330-900neos. The route will increase to daily frequencies from February.