Revealed: the fastest-growing major airlines in the world
David Casey
January 16, 2019
A Thai low-cost carrier (LCC) has grown its seat capacity at a faster rate than any other major airline in the world during 2018 after increasing its aircraft fleet and adding a string of domestic and international destinations to its network, research by Routesonline has revealed.
The list of fastest-growing airlines was compiled by ranking the top 100 carriers in the world by available capacity during 2018, based on figures provided by OAG Schedules Analyser.
The data was then compared to 2017's capacity figure and ordered by year-on-year percentage growth. All of the top 100 had more than 1 million available seats per month during 2018.
The ten major carriers that grew capacity the quickest are profiled below.
The data is supplied by OAG using its OAG Schedules Analyser tool, unless stated.
10. Frontier Airlines
2018 capacity: 23,412,340
YOY growth: 18.1 percent
US carrier Frontier Airlines is currently undergoing a phase of rapid expansion led by its owner, private equity firm Indigo Partners, which is seeking to triple its size over the next decade.
The airline currently operates an all-Airbus fleet of 84 aircraft, according to Aviation Week's Fleet Discovery platform, but has 183 jets on order.
Frontier operated from 105 departure points in 2018, 98 of which were domestic. New routes added from its Denver hub last year included flights to Harrisburg, Portland, Maine and Syracuse.
However, while the LCC predominantly operates domestic services, its international footprint is growing. In 2018 it added Calgary to its network and this year plans to open routes from Philadelphia to Montego Bay and St Louis to Punta Cana.
Frontier also began a codeshare agreement with sister airline Volaris in August 2018, covering more than 200 routes across the networks of both carriers. Frontier said the codeshare meant it was now selling 40 non-stop routes operated by Volaris between the US and Mexico.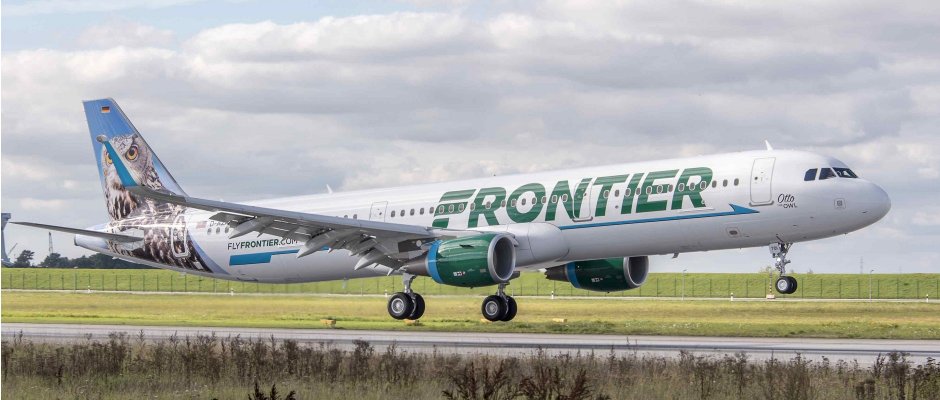 9. Eurowings
2018 capacity: 36,731,238
YOY growth: 18.5 percent
Lufthansa's low-cost subsidiary Eurowings recorded capacity growth of 18.5 percent in 2018, compared with the previous 12 months, after taking over a large chunk of the former Air Berlin business.
It integrated 77 former Air Berlin aircraft into its fleet over a nine-month period, boosting its workforce by about 3,000 staff in the process. The capacity rise has given it a number one at three new airports - Hamburg, Nuremberg and Hanover - in addition to Cologne, Düsseldorf and Stuttgart.
During its summer 2018 schedule, more than 19 million passengers flew with Eurowings, about 17 percent higher than the same period a year earlier.
However, the rapid expansion of the carrier has hit its bottom line. In the first nine months of 2018, the carrier reported a loss of €65m, a €210m decline on the prior-year period. Lufthansa chief executive Carsten Spohr admitted the year had been financially challenging, but said the acquisition of Air Berlin was a "historic opportunity".
8. Citilink Indonesia
2018 capacity: 18,255,600
YOY growth: 20.3 percent
Founded in 2001 as a low-cost brand of Garuda Indonesia, Jakarta-based Citilink Indonesia added more than three million available scheduled departure seats last year.
The growth came as the carrier continued to expand its footprint in the rapidly-growing Indonesian domestic market and began to spread its wings internationally. Domestic seat capacity rose by 17.2 percent to 17.7 million, while international capacity jumped by 600 percent to 551,700.
Figures from OAG Schedules Analyser show that Citilink now has a 10.4 percent share of Indonesia's domestic market, up from 5.0 percent five years ago.
Although the airline started from a much lower base, its international growth in 2018 was also impressive. During the year, Citilink launched a string of new routes including services from Jakarta Soekarno-Hatta to Jeddah and Penang, and from Denpasar-Bali to Kunming and Wuxi.
7. Alaska Airlines
2018 capacity: 54,574,295
YOY growth: 20.9 percent
US major Alaska Airlines, owned by Alaska Air Group, enjoyed a growth spurt in 2018 as the integration of Virgin America's operations continued.
On 11 January 2018, the carrier received a single operating certificate from the Federal Aviation Administration (FAA), which meant the FAA now recognised Alaska Airlines and Virgin America as one airline.
Virgin continued to operate its own flights until 24 April, at which point the two integrated their passenger-service systems and began to operate under the Alaska Airlines brand.
Prior to this step of the integration process, Alaska Airlines operated an all-Boeing 737. However, it has now taken possession of Virgin America's fleet of Airbus aircraft. The airline now has fleet of 162 Boeing 737 aircraft, 71 Airbus A320 family aircraft, 39 Bombardier Q400 aircraft, and 26 Embraer 175 aircraft.
Despite the 20.9 percent growth for Alaska Airlines in 2018, growth across the wider Alaska Air Group was more modest during the year.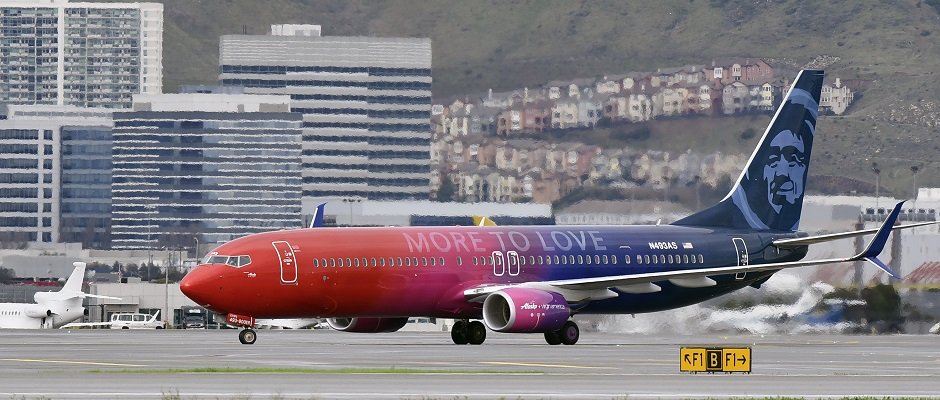 6. Spring Airlines
2018 capacity: 22,518,540
YOY growth: 21.5 percent
Spring Airlines, the Shanghai-based LCC, has domestic bases at both of the city's airports – Hongqiao and Pudong – as well as Shenyang, Shijiazhuang, Shenzhen, Yangzhou, Ningbo and Jieyang.
The carrier also has a Japanese subsidiary, Spring Airlines Japan, which operates under a separate IATA code. However, it is the main Chinese operation which has grown rapidly over the past 12 months.
The airline offered 22,518,540 two-way seats in 2018, up from 18,527,220 in 2017, and a sharp rise from the 2,373,480 available just ten years ago. Its domestic and international operations are split approximately 74/26.
Thailand and Cambodia were standout international markets over the past 12 months, growing 44.2 percent and 47.1 percent respectively. New routes added included a three-weekly Guangzhou – Chiang Mai service and a four-weekly Ningbo – Shantou – Phnom Penh service.
5. IndiGo
2018 capacity: 74,570,054
YOY growth: 24.3 percent
It was an eventful year for aviation in India during 2018 as a weak rupee, rising fuel costs and intense pricing competition put pressure on many operators. Indigo was not immune and in October reported a quarterly loss for the first time since its listing three years ago.
However, the LCC continues to dominate India's domestic market and has been steadily expanding its international operations. Overall, it increased its capacity share of total departure seats within/from India from 32.2 percent in 2017 to 35.0 percent last year.
New international routes launched in recent months include a six times per week Bangalore – Bangkok service and a four-weekly flight between Ahmedabad and Muscat.
In December, Indigo also took delivery of its first Airbus A321neo aircraft that will allow it to pursue its long-haul expansion goals. A total of 150 A321neos are on order.
During the same month it also signed its first codeshare agreement as part of its international expansion strategy. The airline has agreed a codeshare and mutual cooperation deal with Star Alliance member Turkish Airlines.
4. Go Air
2018 capacity: 14,720,400
YOY growth: 24.7 percent
India's Go Air topped the list of fastest-growing airlines during the first six months of 2018 and maintained a rapid rate of growth during the remainder of the year.
The Mumbai-based LCC, owned by the conglomerate Wadia Group, offered a total of 14,720,400 departure seats last year, up from 11,803,388 in 2017. This gave it an overall year-on-year growth rate of 24.7 percent.
In October, the airline began its first scheduled international services with a two-weekly New Delhi – Phuket flight and a three times per week service between Mumbai and Phuket. Both are operated by Airbus A320neo.
Since then it has added flights from Bengaluru to Phuket and Male in Maldives and has been approved to operate seven weekly flights to Muscat from Kannur, starting in February.
Go Air operates a fleet of 17 A320-200s and 30 A320neos. The airline has a further 114 A320neos on order, but could convert some to A321s.
https://twitter.com/goairlinesindia/status/1071706855938904064
3. Jet2.com
2018 capacity: 13,573,868
YOY growth: 26.7 percent
UK-based leisure carrier Jet2.com operates from its headquarters at Leeds Bradford Airport, while its largest base is at Manchester Airport. The airline is owned by listed parent Dart Group, which also owns package holiday specialist Jet2holidays and logistics provider Fowler Welch.
Total capacity grew by 26.7 percent last year to more than 13.5 million available seats as the airline expanded to 90 Boeing 737s and 757s for summer 2018, compared with 75 for the summer season a year earlier. According to OAG Schedules Analyser, Jet2.com is now the fifth largest airline in the UK by departure seats, compared with ninth largest five years ago.
Its biggest routes by capacity in 2018 were from Manchester to Alicante, Palma de Mallorca and Tenerife South. New routes launched in recent weeks include service from Birmingham to Budapest and Glasgow to Krakow, both of which are twice-weekly.
2. Vietjet
2018 capacity: 20,641,372
YOY growth: 27.1 percent
In just seven years, Vietjet has established itself as Vietnam's second-largest airline and continues to erode flag carrier Vietnam Airlines' market share.
The LCC grew domestic capacity by 19.9 percent in 2018 to 16.1 million available seats, while international capacity jumped by 62.0 percent to 4.5 million two-way seats.
Its biggest routes by capacity were between Hanoi and Ho Chi Minh City, Da Nang and Ho Chi Minh City, and Da Nang and Hanoi.
In November, Vietjet has placed a firm order with Airbus for an additional 50 A321neo single aisle aircraft, finalising a MoU signed at the Farnborough International Airshow in July.
The new purchase agreement increases the number of A320 Family aircraft ordered by Vietjet to 171, of which 46 have already been delivered. This leaves the airline with a backlog of 125 aircraft on order, comprising 120 A321neo and five A321ceo.
However, a large proportion of these are expected to be deployed to affiliates. Vietjet currently has just one affiliate, Thai VietJet.
1. Thai Lion Air
2018 capacity: 13,577,267
YOY growth: 40.7 percent
Taking top spot in the list of fastest-growing major airlines in the world is Thai Lion Air, an associate company of Indonesia's Lion Air, which increased year-on-year capacity by an impressive 40.7 percent.
The carrier, which turned five years old in December, follows more a hybrid rather than pure LCC model. It ended the year with a fleet of 35 aircraft and more than ten million annual passengers.
Thai Lion initially focused on the domestic market following its launch in 2013, where it now has about a 20 percent market share and is the second largest airline. However, it has been steadily expanding its international operations.
It began serving China in 2016 and has already become the largest airline from Thailand on routes to the country. New international services added in 2018 included Bangkok Don Mueang – Tokyo Narita, Bangkok Don Mueang – Denpasar and Bangkok Don Mueang – Shenzhen.
In the first quarter of 2019, a series of new routes to Japan will also be launched, with services from Bangkok to Fukuoka, Nagoya Chubu and Osaka Kansai planned.