Ural Airlines next to fly from Moscow's new Zhukovsky Airport
Richard Maslen
October 10, 2016
Ural Airlines will become the first Russian carrier to inaugurate scheduled flights from the new Zhukovsky Airport as it expands its offering in the Moscow area. It will be the second operator to serve the new commercial facility since its opening this summer and will provide links to four markets within the Commonwealth of Independent States during the forthcoming winter 2016/2017 schedule.
The Yekaterinburg-based carrier will offer eleven weekly flights from Zhukovsky, the newest airport for the Moscow region from October 31, 2016 with four weekly flights to Astana, Kazakhstan; three weekly services to Dushanbe, Tajikistan; and twice weekly flights to Khudzhand, Tajikistan and Osh, Kyrgyzstan. These flights will be operated by a single Airbus A320 which will be ferried across from Domodedovo between Monday and Saturday.
You can see the airline's full schedule here: Ural Airlines schedules Zhukovsky launch in W16
Ural Airlines already has a notable presence in the Moscow market and this summer has been providing direct flights to 62 destinations from Domodedovo Airport. Its summer 2017 schedule has comprised almost 10,000 flights from the Russian capital offering more than 1.7 million seats in each direction. This schedule has included flights from Domodedovo to Osh, although the three other markets being served from Zhukovsky will be new to its Moscow network.
Its expansion from Zhukovsky follows an agreement with Ramport Aero to make use of the new facility, which airlines are seeing as a low-cost alternative to the more congested Moscow airports. The facility is housed alongside the Gromov Flight Research Institute at the former test aerodrome and following two years of construction for commercial operations is capable of handling two million passengers per annum, but with plans to grow to 12 million passengers by 2020, when construction is complete, according to Russian media reports.
The airport was officially opened on May 30, 2016 by a high delegation of Russian politicians, including the chairman of the government Dmitry Medvedev, deputy chairman of the government Dmitry Rogozin, minister of transport Maksim Sokolov, minister of industry and trade Denis Manturov, and the head of the federal air transport agency Aleksandr Neradko.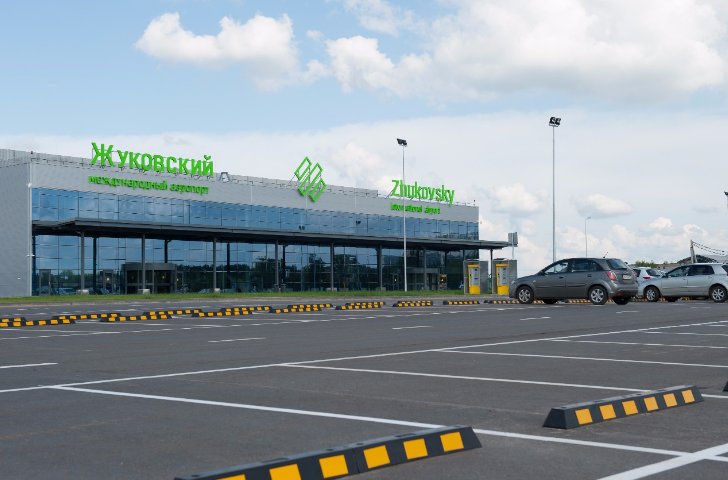 Dmitry Medvedev described the occasion as "an important event not only for Moscow, but for the whole country," while the governor of the Moscow region Andrey Vorobyov said the "significant project" would provide "keen and tough competition" and as a result "the prices for services will be falling".
Agreements are understood to have already been made for foreign carriers SCAT Airlines, Kazakhstan Air, Air Kyrgyzstan and Kyrgyz Airlines to begin passenger flights and for Aviastar-TU and start-up Sky Gates Airline to offer cargo services. Russian carrier Yamal Airlines is also expected to introduce international flights including services into Bulgaria.
Belarusian national carrier Belavia was the first to introduce regular flights into Zhukovsky when it debuted a new daily link from Minsk. The flight, which is in addition to the airline's existing link into Domodedovo is being flown using Embraer 175 regional jets, albeit the inaugural service on September 12, 2016 was flown by a Boeing 737-300.
The Minsk – Moscow market is highly competitive with the 575 PPDEA demand from the first half of this year being serviced by flights from Aeroflot Russian Airlines, Belavia and UTair into Moscow's three other international airports – Domodedovo, Sheremetyevo and Vnukovo.
It appears that Belavia plans to use its flight into Zhukovsky to stimulate the market and complement its current services into Domodedovo. Reports in the Belarusian press suggest that air fares will be around half the price of those being charged on its current flight. "A one-way ticket will cost €34, a return ticket - €63. The airfare to Domodedovo is €66, a round trip costs €135," it quotes the airline's press service as saying.
The arrival of regular flights at Zhukovsky International Airport, originally known as Ramenskoye Airport and named after a pioneer of modern aerodynamics research, Nikolay Yegorovich Zhukovsky, brings the Moscow airport system back to four commercial airports. It is located around 40 km southeast of central Moscow, not far from the old domestic Bykovo Airport which was closed to operations in 2010.
The airfield has served for a long-time as a major aircraft testing facility, with most of the major Russian OKBs having facilities there. It is also now used by the Ministry of Emergency Situations and was also used as a test site for the Soviet Buran Spacecraft with its 17,700ft (5,400m) long runway constructed to support its activities.
In the past Moscow's airports had distinct operations. The main gateway to the city was Sheremetyevo, home to national carrier Aeroflot, with Domodedovo used for international flights, Vnukovo for flights within the Commonwealth of Independent states (CIS) and Bykovo for local regional services. However, competition between airport operators, investment programmes and commercial deals mean that landscape has changed significantly.
The Russian aviation market has changed significantly over the past couple of years as international sanctions and an economic decline has seen Russian carriers grow in both the domestic and international markets as they have tried to exploit a reduction in capacity from international operators in the local market. The industry has also seen the collapse of the nation's second largest carrier, Transaero, further airline consolidation and the emergence of a stronger complementary Rossiya Airlines brand from national carrier Aeroflot.
The dominance of the Aeroflot operation means that Sheremetyevo has and remains the largest international gateway into Moscow. Although Domodedovo came close to overtaking the facility at the start of the decade having attracted many international operators, its own infrastructure constraints have restricted recent growth and market conditions have hit it harder than rivals.
Data from OAG Schedules Analyser shows that Sheremetyevo's share of international capacity from Moscow declined from a ten-year high of 62.9% in 2006 to less than 50% between 2010 and 2015 as both Domodedovo and Vnukovo grew. However, the changes in the industry has seen it reaffirm its position with a 57.8% international share forecasted for 2016, based on published schedules, its highest level since 2007.
The data also highlights how the market conditions have impacted international air connectivity in and out of Russia. Although Aeroflot has attempted to backfill lost capacity from foreign operators from Sheremetyevo, where capacity actually forecasted to rise 9.8 percent in 2016, international network capacity from Moscow will again decline in 2016 - down 7.0 percent versus 2015 following a 3.6 percent decline that previous year.