What a wonderful world - New Orleans lands dream route with BA London link
Laura Hamill
October 20, 2016
British Airways have announced their latest international route, with a direct link between London Heathrow to Louis Armstrong New Orleans International Airport. The service will operate four times weekly utilising Boeing 787-8 aircraft.
The announcement of this service to the busiest airport in Europe is huge news for the airport. A link with a full service carrier opens opportunities for high-paying visitors, which will diversify tourism within the city, especially as the link is to such a key European city and its hub airport. It has been no secret that this route has been on the airport's radar for a long time.
Speaking on the introduction of this international service, New Orleans Mayor Mitch Landrieu said: "For years, we have pursued bringing more direct international flights to Armstrong Airport and with the addition of British Airways it's clear our hard work is paying off.
"Now, travelling from London to New Orleans and likewise from New Orleans abroad will be more economical and save time, unleashing new economic ties and cultural exchanges for our region's businesses.
"Non-stop flights to London open a gateway to new international markets that will create jobs and new opportunity. In advance of our city's tricentennial in 2018 and the opening of new North Terminal project, New Orleans is poised for big things as we welcome more travellers from around the world to our world-class city."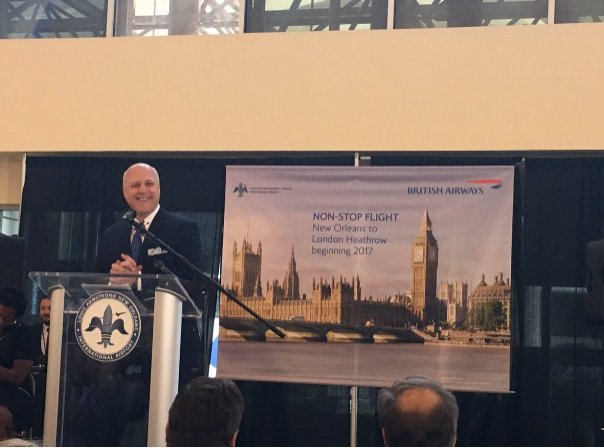 The service to New Orleans joins an extensive list of links to the United States offered by British Airways. In the early 1980s, British Airways previously served London Gatwick - New Orleans - Mexico City three times weekly with a Lockheed L1011 TriStar. This service was discontinued in 1982.
New Orleans' airport is predominantly used for domestic flights, with a well-connected network all over America, including Atlanta, Dallas and Oakland. This year has seen international routes at the forefront of New Orleans' network expansion – a seasonal link to Frankfurt, Germany will begin from May 2017. This link is the first non-stop flight to Europe since the 1980s from New Orleans.
This service offered through Condor will see a twice weekly link between the two cities, utilising Boeing 767-300ER aircraft, seating 259 passengers. The first flight departing from Frankfurt for New Orleans is scheduled for May 17, 2017 and this seasonal service is expected to continue through to September.
Along with the introduction of these international services, one-off services have also been announced. This winter, Thomas Cook will operate a one-time operation to New Orleans from London Gatwick on Airbus A330-200 aircraft. As shared on Routesonline, the flight will operate on a charter basis on December 23, 2016. This coincides with Thomson Airways' seasonal charter flights between the UK and New Orleans. Two round-trip flights are scheduled from Manchester using Boeing 787, as well as one link each from Birmingham and London Gatwick utilising Boeing 767 aircraft.
Copa's link to Panama City from New Orleans is going from strength to strength. Almost 7,500 additional passengers will use the airline's service to New Orleans this year compared to 2015. Growth has also taken place on Air Canada's service to Toronto Pearson International Airport, with more than 1,000 more seats available, whereas 1,623 extra seats are available between New Orleans and Cancun on Delta Air Lines' link.
In the last year (12 months to August 2016) an estimated 77,000 O&D two-way passengers flew between points in the UK and New Orleans, an average of 105 PPDEW. This demand is dominated by flows in and out of London Heathrow, but also includes around 14 PPDEW from Manchester and other domestic points served by BA in the UK. As the only hub operator linking New Orleans and Europe, BA is well placed to also take a sizeable share of the estimated 310,000 annual O&D passengers that flew between Louis Armstrong International Airport and the Continent in the last year, while also stimulating local flows through the non-stop offering.
Last year, the airport enjoyed its best figures in terms of passenger numbers in its history. In 2015, 10.7 million passengers were handled in New Orleans Airport. May 2016 saw more than one million passengers served by the airport, the first time they have passed such a milestone for a single month – a 10.6 percent increase.
Construction began at the start of the year on a brand new terminal building, costing $807 million. The terminal is due to be finished in October 2018, just a few months after New Orleans will celebrate its 300th anniversary.
The city of New Orleans are hoping to welcome 13 million visitors by 2018: with these new links, they could well reach their target.