Ryanair reveals rapid capacity growth at new Frankfurt base
Richard Maslen
March 01, 2017
Irish budget carrier Ryanair is to put further low-fare pressure on German national carrier Lufthansa by significantly expanding its operations at its new Frankfurt base in the winter 2017/2018 schedule. After initially launching flights this coming summer to four mainly leisure destinations in Spain and Portugal – Alicante, Faro, Malaga and Palma using two based Boeing 737-800s, the budget carrier will boost its Frankfurt fleet to seven units and expand its network to include 24 destinations, including many major city destinations.
For a long time Ryanair has served the greater Frankfurt market via its operations from Hahn Airport, a secondary facility around about 120 km (75 mi) from the city. However, as part of its business maturity and to boost premium traffic the carrier is now serving more major airports and its arrival into Frankfurt is a major part of this network project.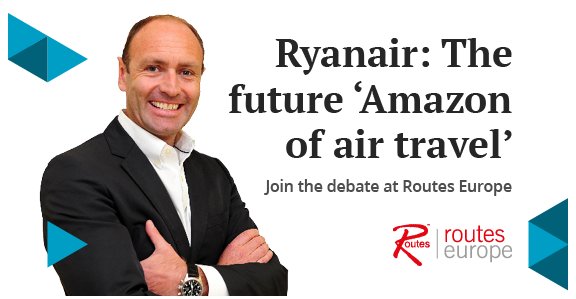 Its winter operation will include almost 130 weekly return flights, providing almost 50,000 weekly and over 2.5 million annual seats across a network that encompasses a mix of major business centres served on at least daily schedules and smaller markets served with less than daily frequencies. The airline says its summer schedule from Frankfurt has been "attracting record bookings".
Its new markets include daily flights to Athens, Barcelona, Glasgow, Krakow, Lisbon, Madrid, Milan, Porto, Valencia and Venice and twice daily flights to London. It will also offer a six times weekly link to Manchester; four times weekly services to Catania, Malaga, Palma and Toulouse; three times weekly flights to Alicante, Brindisi, Faro, Pisa, Seville and Tenerife and two flights per week to Gran Canaria and Lanzarote.
It is not just Ryanair that is seeking to take advantage of Fraport's growing interest in expanding its share in the low-cost sector. The company which operates Frankfurt Airport, has also negotiated a deal to bring Central and Eastern European carrier Wizz Air into the facility (daily to Sofia from May 22, 2017 and daily to Budapest from December 15, 2017), while anchor tenant, Lufthansa, is expected to react with its own low-cost operation, Eurowings starting flights in the future as it has at its other hub at Munich.
While activities at Frankfurt are dominated by the Lufthansa hub operation, which accounted for almost two thirds (64.6 per cent) of total capacity in 2016, low-cost operations are not actually new to Frankfurt. The likes of Onur Air, SunExpress, SunExpress Deutschland and TUIfly, while not always identified as low-cost operators, have provided low-fare services to predominantly leisure markets. More traditional budget carrier such as Niki and Pegasus Airlines have also served the airport for a number of years, while Vueling (2013), Air Arabia Maroc (2015), flynas (2016) and WOW air (2016) have added flights more recently.
Data from the Schedules Analyser tool from OAG shows that low-cost penetration at Frankfurt grew to its highest rate in 2016 at 2.8 per cent with 1.1 million seats. The arrival of Ryanair will grow that share to over four per cent, with the budget carrier becoming the second largest operator at Frankfurt offering almost double the capacity of Condor, part of the Thomas Cook Airlines Group, which currently holds that position.
Ryanair is taking an aggressive stance in the German market and is seeking to take advantage of ongoing issues at airberlin to become the main competitor to Lufthansa. Last year, Germany was the fifth largest capacity growth country market for the airline with departure capacity rising 39.5 per cent from 5.8 million seats in 2015 to just over 8.0 million in 2016. This was its largest annual activity in Germany exceeding a previous high of 7.2 million recorded in the first year of the decade.
The airline offered flights from 12 airports in Germany in 2016 having ended flights to Münster Osnabrück International Airport the year earlier. It grew capacity in six of these markets in 2016, including a massive 191.2 per cent rise in the capital city, Berlin, where its Schönefeld Airport operation now dominates its inventory and a similar offering to what it will fly annually from Frankfurt in terms of scale.
A near doubling of capacity (89.6 per cent) at Cologne Bonn Airport has positioned it as its second largest German operation in 2016 with 1.4 million departure seats, while it also offers schedules with more than one million seats from both Frankfurt Hahn and Weeze Airport, also known as Niederrhein Airport.
Ryanair is currently the third largest operator in the German international market behind local carriers Lufthansa and airberlin, but its own growth and a downsizing of the airberlin operations in 2017 could see leap ahead of the German carrier in the coming years. Its current flight inventory for the summer 2017 schedule is a round one fifth (19.5 per cent) larger than its offering last year.
---