Ryanair Boosts Winter Offering from Copenhagen
Richard Maslen
April 22, 2015
Irish budget carrier Ryanair has confirmed it will boost its network from its new Copenhagen Airport base to 12 destinations with the introduction of three new routes for winter 2015/2016. The new flights to Alicante and Malaga in Spain and Budapest in Hungary were revealed by chief executive officer, Michael O'Leary during a briefing at Denmark's largest air gateway this week.
Ryanair opened the Copenhagen base at the end of last month as it continues to develop its network offering from primary airports to support business as well as leisure demand. It is initially stationing a single Boeing 737-800 at the airport but expects a further three aircraft to arrive over the course of the year to support its network expansion.
Although Copenhagen is a new city market for Ryanair, the carrier does have experience in serving the destination and for a while had marketed its flights into Malmo, Sweden as also serving the Danish market thanks to the easy access between the two locations thanks to Øresund Bridge that the links them.
It launched services from Copenhagen on March 18, 2015 with a daily link to Dublin, while from March 26, 2015 a twice daily link to London Luton and daily flights to Bergamo and Warsaw Modlin were added. The carrier has already announced its intent to grow its operation to nine markets with new daily flights to Madrid and Rome Ciampino starting this autumn from September 2, 2015.
From the start of the winter schedules on October 25, 2015, Ryanair will also launch a twice daily link to Brussels Charleroi and a daily service to Cologne/Bonn, Stockholm Skavsta. At the same time its London Luton route will grow from two to three daily rotations and the Bergamo route will increase from a daily to double daily operation.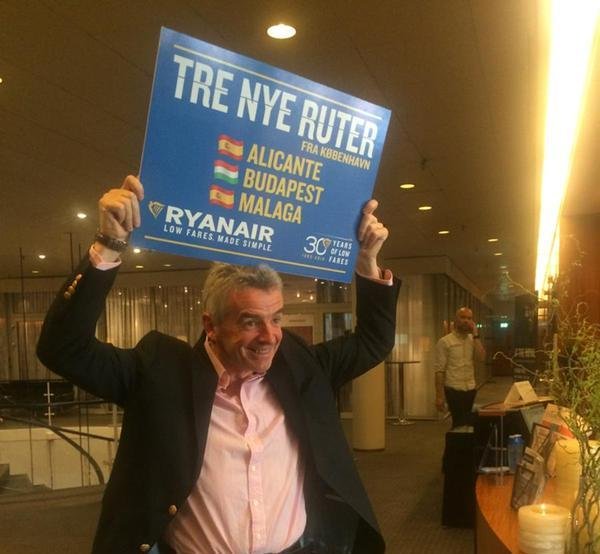 The latest network additions will see the introduction of a daily link to Budapest, a four times weekly service to Alicante and a three times weekly flight to Malaga from the end of October 2015. Ryanair expects to deliver around two million passengers per annum across its network from the Danish capital, its second base in the Scandinavian country.
In our analysis we look at the largest operators from Copenhagen Airport based on departure capacity this month. With its new base just in its infancy, Ryanair has just a 1.5 per cent share of available capacity from the airport, but will see this grow notably as it introduces an additional eight markets to its network before year-end.