Croatia Airlines cashes in on Heathrow's connectivity value
Richard Maslen
January 16, 2017
Croatia Airlines has pushed ahead with plans to sell its slots at London's Heathrow Airport but will retain four weekly slot pairs to enable it to continue to serve Europe's largest international gateway. The flag carrier has agreed to sell five slot pairs at the capacity-constrained hub airport to Delta Air Lines, with media reports valuing the transaction at $19.5 million, an average of just $3.9 million per slot pair.
According to reports, Croatia Airlines is selling its mid-morning slots on Tuesday, Wednesday, Thursday, Saturday and Sunday, retaining afternoon and evening slots on Monday, Wednesday, Friday and Saturday. The sold slots will pass to Delta Air Lines from April 1, 2017 and will enable the US major to grow its joint transatlantic network with Virgin Atlantic from London's largest airport.
The airline has nine slot pairs at London Heathrow and in the summer uses them to offer a daily return service from Zagreb and weekly flights from Rijeka and Split. In the winter the slots are used solely from and to Zagreb.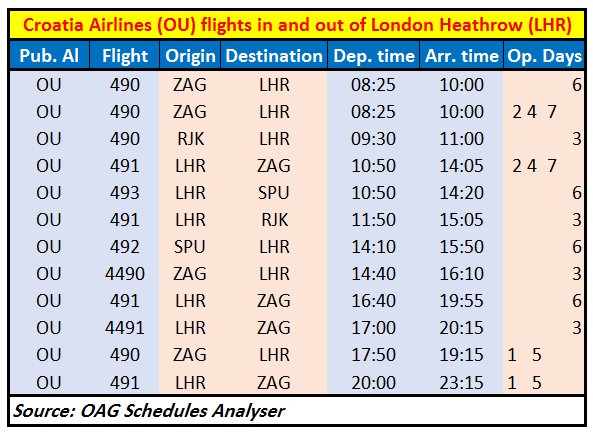 As the timetable information, above, from OAG Schedules Analyser shows, Croatia Airlines is selling four 10am arrival and 10:50pm departure slots (Tuesday, Thursday, Saturday and Sunday) and one 11am arrival 11:50am departure slot (Wednesday). This will leave it with a 3:50pm arrival and 4:40pm departure slot pair on Saturdays, a 4:10pm arrival and 5pm departure on Wednesdays and 7:15pm arrival and 8pm departure slots on Mondays and Fridays.
The Heathrow operation is complemented by flights into Gatwick Airport, where Croatia Airlines has had a presence for over ten years. It had offered flights from Dubrovnik, Pula, Split and Zagreb, but this has reduced the past four years to just a twice weekly summer offering from Split. This will grow to three times weekly for summer 2017.
Although Croatia Airlines' chief executive officer, Krešimir Kučko, is quoted as saying: "We are extremely satisfied with this business and achieved our goal", the purchase price is much lower than some recent transactions for Heathrow slots, especially the $75 million Oman Air paid Kenya Airways to introduce a second daily flight from Muscat, albeit this was for a more lucrative early morning slot which are more lucrative for airlines.
Croatia Airlines has been losing money on its flights into London and it has been suggested that it has lost €37.5 million on the Zagreb – London Heathrow route since 2002. The funds from the sale will reportedly be used to boost the airline's cash flow and invest in its fleet maintenance, namely the servicing of aircraft engines.
The Star Alliance member has come under increasing competition on flights between Croatia and the UK, especially with low-cost carriers entering the market. While British Airways and Croatia Airlines are the only year-round operators, the summer months can see as many as ten airlines offering flights between points in Croatia and the United Kingdom. These include easyJet, Flybe, Jet2.com, Monarch Airlines, Norwegian, Ryanair, Thomas Cook Airlines and Wizz Air.
The number of seats on offer between Croatia and the UK has grown 75.9 per cent since the start of the decade, according to OAG data, and Croatia Airlines has seen its share more than halve from 22.9 per cent in 2010 to 11.3 per cent last year. While the airline grew capacity in 2016 for a second successive year, its offering into the UK market was still considerably down on what it was offering in the late 2000s and into the early years of this decade.
In the Zagreb – London market there are two airlines competing with Croatia Airlines, comprising British Airways directly in and out of Heathrow with a daily flight and from this summer Monarch Airlines in and out of Gatwick with a three times weekly link. Wizz Air previously linked Zagreb to Luton up until February 2011, while easyJet offered flights between Zagreb and Gatwick from February 2011 until October 2014.
A closer look at MIDT data on Croatia Airlines' flights into London over the past year shows that they have been mainly serving local traffic, especially its more leisure dominated flights from Split. The Rijeka route makes the most use of Heathrow's onward connectivity with the largest share of traffic connecting on from London. This is likely due to the current limited alternative network options for passengers originating in Rijeka.
On its flights originating in Zagreb, much of the behind traffic is coming from other points in Croatia on its domestic network with the largest international flows originating in Sarajevo in Bosnia and Herzegovina and Skopje in the Republic of Macedonia. The largest onward flows from Heathrow are across the Atlantic with US cities comprising nine of the ten largest beyond markets.
All this suggests the connection options at Heathrow hold less value to the carrier than others and could, in the future, lead it to sell its remaining slots and move across to a cheaper alternative London airport should the value of its slots increase in value or if there is a need for additional funding.