WORLD ROUTES: Cebu Pacific Air Adds Dammam Link
Richard Maslen
September 22, 2014
The Philippines' largest airline Cebu Pacific Air revealed at a special briefing at World Routes earlier today that it is to expand its long-haul network in the Middle East, with the launch of direct flights into Saudi Arabia. The new destinations will add to its existing flights to Dubai, United Arab Emirates, Kuwait and most recent destination Sydney, Australia, which has been served since September 9, 2014.
The media briefing confirmed recent reports that Cebu Pacific Air will be inaugurating a three times weekly link between Manila's Ninoy Aquino International Airport and King Fahd International Airport in Dammam from October 5, 2014. This will be just days after the carrier makes its debut in the country with flights to King Khalid International Airport in Riyadh commencing on October 1, 2014.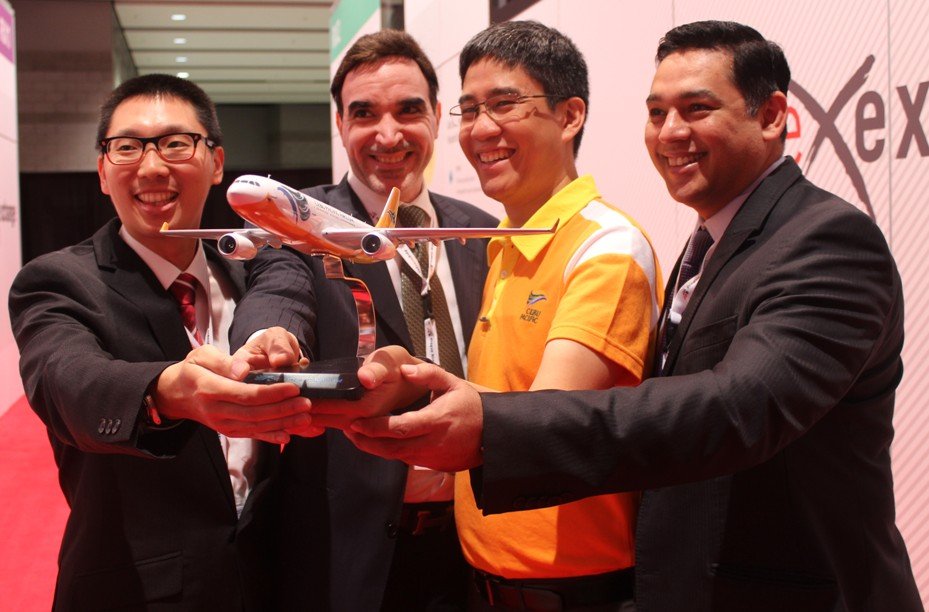 "This new route further strengthens Cebu Pacific's presence in the Middle East. Now, there are more affordable and faster flight options for guests who wish to explore a new destination or come home to the Philippines," said Alex Reyes, general manager for long-haul division, Cebu Pacific Air.
"We have long wanted to serve the substantial population of Global Filipinos in the Kingdom of Saudi Arabia. It will be our utmost pleasure to bring them home more often, on our extensive network and trademark low fares that are up to 35 per cent lower than other airlines," he added.
As per 2012 Commission on Filipinos Overseas estimates, there are over one million Global Filipinos based in the Kingdom of Saudi Arabia and Cebu Pacific Air is confident it will secure a sizeable share of this demand while also stimulating the market with its low-fares. It will be the first low-cost carrier on the route and expects to supplement point-to-point demand through feed from its domestic and regional operations into Manila.
The route will be served by the carrier's growing fleet of Airbus A330-300 widebodies which are configured in a high density 436-seat Economy layout. This arrangement includes 27 'premium' seats located in bulkheads or exit rows. Cebu Pacific Air currently operates five A330-300s with the latest aircraft being delivered from the Airbus factory in Toulouse, France on September 2, 2014. A sixth is due to arrive in 2015.
Speaking to The HUB in Chicago, Alexander Lao, vice president commercial planning, Cebu Pacific Air hopes the carrier will see a similar success in Saudi Arabia to that which it witnessed when it began flights to Dubai last year. "We have clearly stimulated demand on the Manila – Dubai pairing with traffic increasing 27 per cent between the first quarter of 2013, ahead of our launch, and the first quarter of 2014. We are growing the pie and not slicing it into smaller pieces," he said.
Cebu Pacific Air is now the prominent carrier in the Philippines accounting for around 35 per cent of all traffic and around half of the domestic market in 2013. It currently operates a fleet of 43 Airbus airliners (10 A319s, 28 A320s and five A330s) and eight ATR 72-500 turboprops. Between 2014 and 2021, Cebu Pacific will take delivery of eleven more brand-new Airbus A320, 30 Airbus A321neo, and 1 Airbus A330 aircraft.
According to Lao, the new A321neos, which will arrive from 2017, will permit the carrier to fly narowbodied aircraft as far afield as Perth, Australia and across all of India thanks to the jets 2,900 nautical mile range. The carrier's existing A320s are limited to reaching Darwin, Australia and eastern India.
But it is the arrival of the sixth A330-300 that is a focus of growth for the carrier and there is growing speculation it could be deployed on flights to the United States with the carrier already applying to the US Department of Transportation for approval to introduce flights into the country. The airline has confirmed publicly that it will initially serve Guam using its A320s and Honolulu with its A330s once all approvals are received.
For King Fahd International Airport, the arrival of Cebu Pacific Air next month continues a dramatic network growth over recent years that has seen sustained double-digit growth as 12 new airlines have begun commercial operations into the facility in the last five years, helping boost annual passenger traffic beyond 7.5 million last year.
The airport is now poised to launch a major expansion project in a matter of months that will triple capacity through an extension of both the North and South concourses of the existing passenger terminal, opening more gates and retail concessions.