Where Does the Sukhoi SuperJet Fly? - October 2013 Network Update
Richard Maslen
October 06, 2013
The launch of Sukhoi Superjet SSJ100 operations by Interjet on its domestic network in Mexico last month represents a key stage in the type securing recognition from other western operators. The Russian-built airliner made its entry into service in April 2011 with the now defunct Armenian national carrier Armavia but despite reported interest from airlines across Europe and the Americas, with the exception of Interjet sales have been limited to CIS and Asian markets.
After the launch of SSJ100 operations by Interjet on September 18, 2013, Nazario Cauceglia, chief executive officer of SuperJet International, said: "The SSJ100 is now flying also in the Americas. The entry in service with Interjet has opened the door to the Western market and the international aviation community has been carefully watching at this major step."
"After a start-up phase, the SSJ100 program is determined to become a competitive player in the regional aircraft segment. We are positive we will meet customers' expectations, through operational leasing alternatives and very attractive ECA Financing, supporting both start-up and legacy airlines. The SSJ100 has a great potential in the global market. Our forecast is for an addressable market of 1,000 aircraft in the next 20 years," he added.
Every month The HUB will provide an update on the current Superjet flight schedule and the routes the aircraft is being deployed upon. This list for October 2013 was compiled from OAG Analyser on October 1, 2013 and changes to planned routes are likely. In the table below we also feature the Superjet network size of each operator and the top destinations served by the aircraft. Our latest analysis shows that Superjet air capacity rose 10.2 per cent in October 2013 versus September 2013.
NOTE: Sky Aviation also operates the Sukhoi Superjet but as these flights are operated on a scheduled charter basis they do not currently appear in OAG Analyser.
---
Aeroflot Russian Airlines (SU)
Moscow (SVO) – Anapa (AAQ)
Moscow (SVO) – Astrakhan (ASF)
Moscow (SVO) – Bucharest (OTP)
Moscow (SVO) – Copenhagen (CPH)
Moscow (SVO) – Dnipropetrovsk (DNK)
Moscow (SVO) – Donestk (DOK)
Moscow (SVO) – Dresden (DRS)
Moscow (SVO) – Kazan (KZN)
Moscow (SVO) – Kharkiv (HRK)
Moscow (SVO) – Krakow (KRK)
Moscow (SVO) – Magnitogorsk (MQF)
Moscow (SVO) – Minsk (MSQ)
Moscow (SVO) – Nizhnekamsk (NBC)
Moscow (SVO) – Nizhny Novgorod (GOJ)
Moscow (SVO) – Odessa (ODS)
Moscow (SVO) – Oslo (OSL)
Moscow (SVO) – Perm (PEE)
Moscow (SVO) – Samara (KUF)
Moscow (SVO) – Tyumen (TJM)
Moscow (SVO) – Ufa (UFA)
Moscow (SVO) – Volgograd (VOG)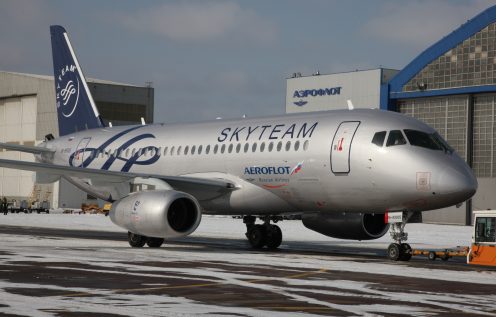 ---
Interjet (4O)
Mexico City (MEX) – Manzanillo (ZLO)
Mexico City (MEX) – Mazatlan (MZT)
Mexico City (MEX) – Torreon (TRC)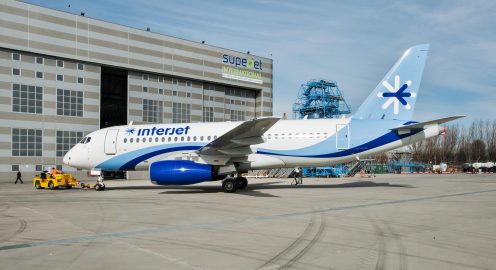 ---
Lao Central Airlines (LF)
Vientiane (VTE) – Luang Prabang (LPQ)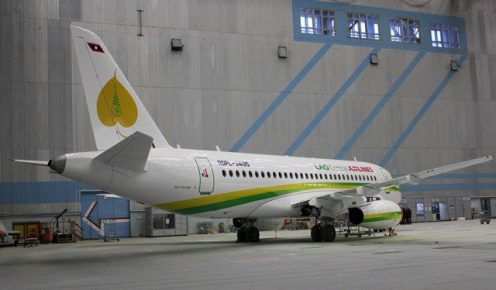 ---
Moskovia Airlines (3R)
Moscow (DME) – Ganja (KVD)
Moscow (DME) – Stavropol (STW)
Moscow (DME) – Tivat (TIV)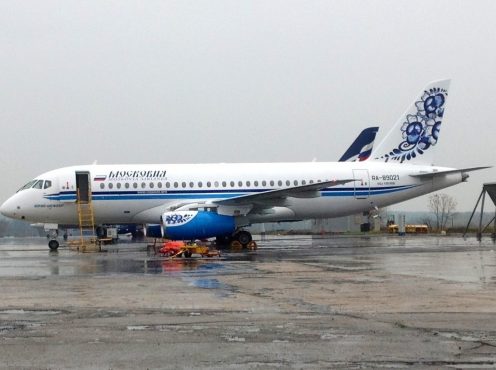 ---
Yakutia (R3)
Novosibirsk (OVB) – Neryungri (NER)
Novosibirsk (OVB) – Ekaterinburg (SVX)
Yakutsk (YKS) – Beijing (PEK)
Yakutsk (YKS) – Harbin (HRB)
Yakutsk (YKS) – Khabarovsk (KHV)
Yakutsk (YKS) – Novosibirsk (OVB)
Yakutsk (YKS) – Vladivostok (VVO)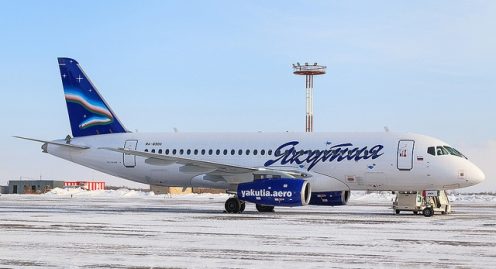 SCHEDULED SUKHOI SUPERJET OPERATIONS BY AIRLINE (October 2013)

Rank

Airline

Seat Capacity

% Total SSJ Capacity

Change vs Last Month

1

Aeroflot Russian Airlines (SU)

70,905

60.2 %

2.2 pp

2

Interjet Airlines (4O)

23,200

19.7 %

(-1.1) pp

3

Moskovia Airlines (3R)

10,682

9.1 %

1.6 pp

4

Yakutia (R3)

9,212

7.8 %

(-1.1) pp

5

Lao Central Airlines (LF)

3,724

3.2 %

(-1.6) pp

TOTAL

117,723

-

-
TOP 20: SCHEDULED SUKHOI SUPERJET OPERATIONS BY AIRPORT (non-stop departures; October 2013)

Rank (Oct-13)

Change (Sep-13)

Destination

Available Seats

% Total Capacity

Change vs Sep-13

1

-

Moscow (SVO)

35,496

30.2 %

1.1 pp

2

-

Mexico City (MEX)

11,600

9.9 %

(-0.5) pp

3

-

Torreon (TRC)

5,400

4.6 %

(-0.2)pp

4

+1

Moscow (DME)

4,998

4.2 %

0.3 pp

5

NE

Nizhnekamsk (NBC)

4,959

4.2 %

4.2 pp

6

+10

Perm (PEE)

4,524

3.8 %

1.4 pp

7

(-1)

Yakutsk (YKS)

3,920

3.3 %

-

8

+1

Kazan (KZN)

3,915

3.3 %

0.7 pp

9=

(-2)

Manzanillo (ZLO)

3,100

2.6 %

(-0.2) pp

9=

(-2)

Mazatlan (MZT)

3,100

2.6 %

(-0.2) pp

11

+11

Stavropol (STW)

3,038

2.6 %

1.2 pp

12

(-2)

Dnepropetrovsk (DNK)

2,697

2.3 %

(-0.1) pp

13=

(-3)

Donetsk (DOK)

2,349

2.0 %

(-0.4) pp

13=

+3

Magnirogorsk (MQF)

2,349

2.0 %

(-0.4) pp

15

+3

Krakow (KRK)

2,262

1.9 %

(-0.4) pp

16

(-6)

Ganja (KVD)

2,156

1.8 %

0.4 pp

17

+2

Odessa (ODS)

2,088

1.8 %

(-0.3) pp

18

(-8)

Copenhagen (CPH)

2,001

1.7 %

(-0.7) pp

19

+5

Khabarovsk (KHV)

1,960

1.7 %

0.7 pp

20

(-7)

Vientiane (VTE)

1,862

1.6 %

(-0.8) pp

TOTAL

117,723

-

-