WestJet Encore to Introduce First Maritime Destination
Richard Maslen
July 22, 2014
Canadian budget carrier WestJet Airlines has confirmed it will launch a twice-daily, non-stop service between Toronto and Fredericton, New Brunswick, from April 15, 2015. The new domestic route will be flown by its regional division WestJet Encore and will be its first link into the Maritime Provinces as it expands further to the East.
The airline says WestJet Encore's move eastward is part of a strategic plan to "continue to liberate Canadians in smaller communities from the high cost of air travel," continuing WestJet's own pioneering developments in the larger Canadian markets through its 18-year history. The first step of this Eastern Encore expansion saw the introduction of flights to Ontario from June 27, 2014.
The new flights to Fredericton will be operated using WestJet Encore's 78-seat Bombardier Dash 8-Q400 turboprops and alongside supporting the point-to-point demand will offer same-day connections via Toronto Pearson to a variety of WestJet's domestic and international destinations including Montreal, Ottawa, Thunder Bay, Winnipeg, Regina, Saskatoon, Calgary, Edmonton, Fort McMurray, Vancouver, New York (LaGuardia), Las Vegas, Orlando and Port of Spain, Trinidad and Tobago.
"We are very pleased to bring our low fares, high value and remarkable WestJet guest experience to the capital of New Brunswick for the first time, and we look forward to offering residents of Fredericton and the surrounding area the opportunity to take advantage of WestJet's growing domestic, transborder and international network," explained Ferio Pugliese, executive vice president, WestJet and president, WestJet Encore.
The arrival of WestJet Encore into the Toronto – Fredericton market will end the monopoly of Air Canada. The national carrier offers up to four flights a day on the route also using Dash 8-Q400 turboprops with a fifth frequency operating in July and August.
"We are delighted Fredericton has been chosen as the first destination to receive WestJet Encore in the Maritime Provinces," said David Innes, president and chief executive officer, Fredericton International Airport. "Our region has tremendous vitality and access to WestJet service was identified by our passengers as a high priority during our Community Air Access Strategy discussions in 2013."
WestJet Encore recently celebrated the first anniversary of its launch. The regional brand inaugurated operations in June 2013 with ten daily departures to two destinations with an initial fleet of two Q400s. It now operates 90 departures daily to 19 destinations with 12 aircraft and further network changes will see this grow. This inforgraphic below highlights the growth during its first 12 months of operation.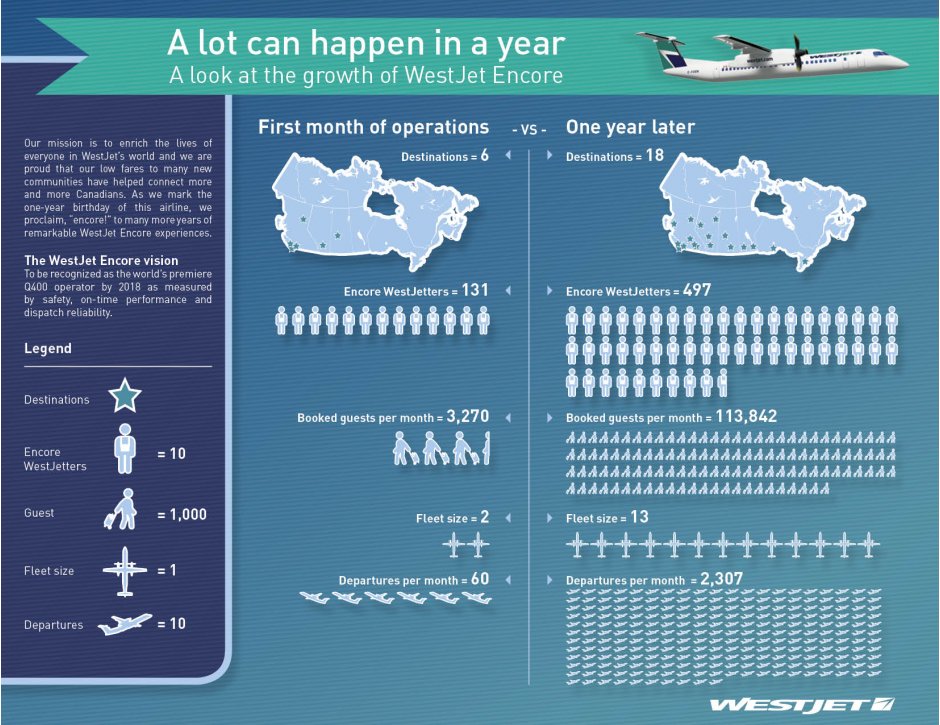 Over the coming winter schedule WestJet Encore will begin operating a number of new routes, either along with or instead of the mainline WestJet business. From October 26, 2014 it will introduce a daily Calgary – Penticton operation and will replace WestJet on the daily Calgary – Prince George route.
From November 1, 2014 it will operate two Saturday rotations between Toronto and Montreal, while from January 15, 2015 it will operate two of three daily flights on the Calgary – Comox route, marking the introduction of a third daily frequency. On February 15, 2015 it will add a daily Edmonton – Kamloops link, while from March 15, 2015 it will operate 14 of 15 weekly flights on the Toronto – Quebec City route and one of nine daily rotations.
In our analysis, below, we look at the available annual bi-directional capacity between Toronto and Fredericton over the past ten years. Overall capacity between the two destinations has risen 80.5 per cent between 2004 and 2013, an average annual growth rate of 8.9 per cent. Last year capacity rose 7.7 per cent to over 200,000 seats for the first time and published schedules for 2014 suggest a 5.7 per cent growth in 2014 to almost 220,000 seats.
Data provided by