Titan Aims to Build Brand Awareness with World's Airlines
Richard Maslen
July 07, 2015
UK ACMI and airline sub-charter specialist, Titan Airways, is seeking to raise its profile among the world's airlines and is using the Routes regional event calendar to interact with airlines in specific regions.
The airline's recently appointed business development manager, Alex Harrington, has been in Tbilisi, Georgia attending the Routes Silk Road forum having last month also hold meetings at the inaugural Routes Middle East & Africa event in the Kingdom of Bahrain.
Speaking to Routesonline on the sidelines of the event, Harrington said: "Long-term ACMI is very sparse, although it is something we are always interested in, but demand seems to be mainly for larger aircraft. For narrow body operations, ACMI leases exist but they are becoming shorter to cover peak periods. Where in the past we would operate May – October, requests are now generally June – September. This makes it hard to sustain good profit margins and reasonable levels of utilisation."
To overcome these variations, Titan maintains a good mix of short / medium term ACMI lease and rapid response sub charter so they can react quickly to market conditions. "Providing aircraft at short notice is something that we specialise in and we are usually the first port of call for urgent airline sub charter requirements," he added.
A recent example of this was providing immediate support to an overseas National flag carrier when one of its Boeing 787 Dreamliners was forced to make an unscheduled landing in Shannon Airport, Republic of Ireland while en route from Mexico City to Paris after a warning alert from within the aircraft's cargo hold: Titan helped transport passengers onward to Paris from the Irish airport.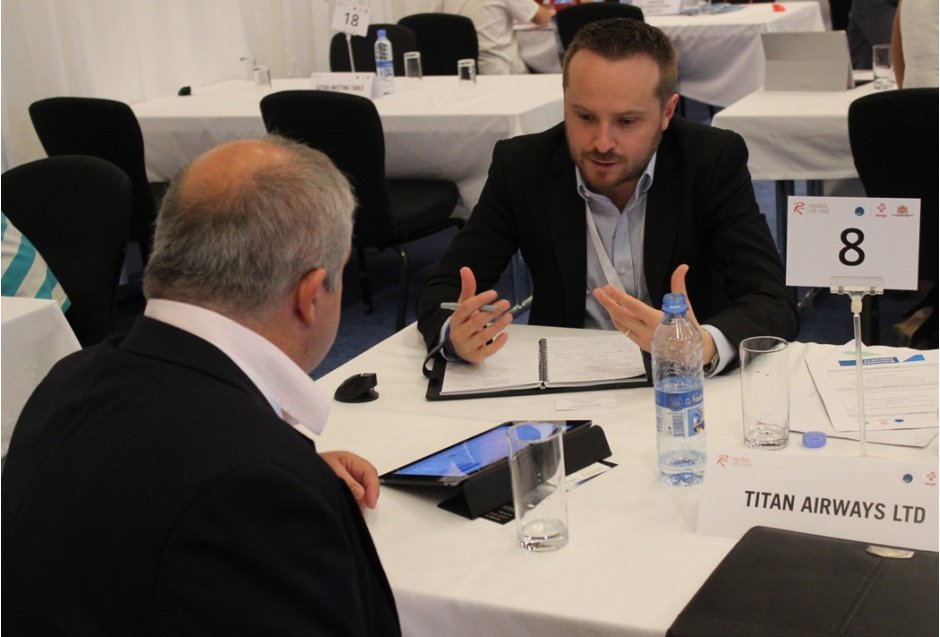 Titan is currently in a development stage which has seen it introduce its first Airbus equipment into its fleet in recent years. "We took on our first A320 in 2013 with the aim of gradually modernising our fleet to an all Airbus operation," said Harrington.
"The thought is that we could operate a variety of sizes of aircraft with all different capabilities, range, performance etc including the A319, A320, A321 and even possibly widebodied equipment," he added.
With its long-haul aircraft, Titan has global operational capability so it's important that it broadens its horizons and the Routes events, alongside other conferences and forums, are playing a role in increasing its profile in additional markets.
"My aim is to generate more interest in assisting airlines who require additional capacity, wish to have a backup plan in the event of AOG or operational issues, require coverage of maintenance inputs and to get the name of Titan Airways out further afield as we are not yet so well known outside of Europe," said Harrington.
Founded in 1988, Titan is an established player in the European charter market, providing bespoke charter flight services. Besides the ski tour operator flight programmes, the airline operates a summer flight series on behalf of a variety of travel and cruise companies as well as private charter flights for a diverse customer base, including personalities and companies from the music and film industries, international sports stars and teams, royalty and heads of state, government delegations, senior business executives and corporate events groups.
It also supports the scheduled airline sector and many leading airlines – legacy carriers and regional airlines - call on it to provide instant operational solutions. The airline's reputation is built on its unique 'Go Now' policy, which guarantees that an aircraft can be airborne within 60 minutes of flight confirmation from its London Stansted base, while its fleet, which includes three Boeing 737-300QCs; two 757-200s; a Boeing 767-300ER and three Airbus A320-200s, is also available to other airlines for short, medium and long term lease requirements.