Is Ryanair Taking a Closer Look at the 737-700?
Richard Maslen
June 30, 2015
Irish budget carrier Ryanair has acquired a single Boeing 737-700 and although this will be used mainly for crew training purposes, it will also be flown on scheduled services and act as a standby aircraft to cover for operational and technical delays.
The 16-year-old former LAN Colombia aircraft was acquired by the low-cost carrier last month and initially flown to Glasgow Prestwick in Scotland at the start of May where a maintenance C-check was completed on the jet. It was ferried to Maastricht in the Netherlands earlier this month for painting and returned to East Midlands Airport, where it will be mainly positioned, on June 30, 2015.
Alongside serving with the LAN Group in Colombia for five years having joined the fleet of Aires in May 2009, it has had spells with RioSul, Maersk Air and Sterling Airlines, having been first delivered to Italian charter operator Azzurra Air on lease from Pegasus Aviation in April 1999.
Ryanair currently operates an all 737-800 fleet, the larger 189-seat variant of the Next-Generation 737 family having been the mainstay of its fleet due to its excellent seat mile costs. However, it has also used other aircraft on short- and medium-term leases over the past couple of years to overcome capacity and crewing issues, including some Airbus narrowbodies, which are currently flying for it from its Madrid base.
The arrival of the dedicated 737-700 will enable the airline to return 737-800 capacity currently used on some crew training missions back to its scheduled programme. But, sources have confirmed to Routesonline that there could be more to this deal than simply to support its training activities.
The aircraft has been fitted with a full interior of 148 seats and it has been reported that Boeing may be paying part of the acquisition cost as Ryanair evaluates the type. Neither Boeing nor Ryanair have confirmed this, although the low-cost carrier confirmed the aircraft will be used on its scheduled programme.
"We have purchased this 737-700 aircraft as a crew training 737. It will also provide back up for our peak period schedules in cases of tech delays. This is a further investment by Ryanair in our industry leading safety and training programmes," a spokesman confirmed to Routesonline.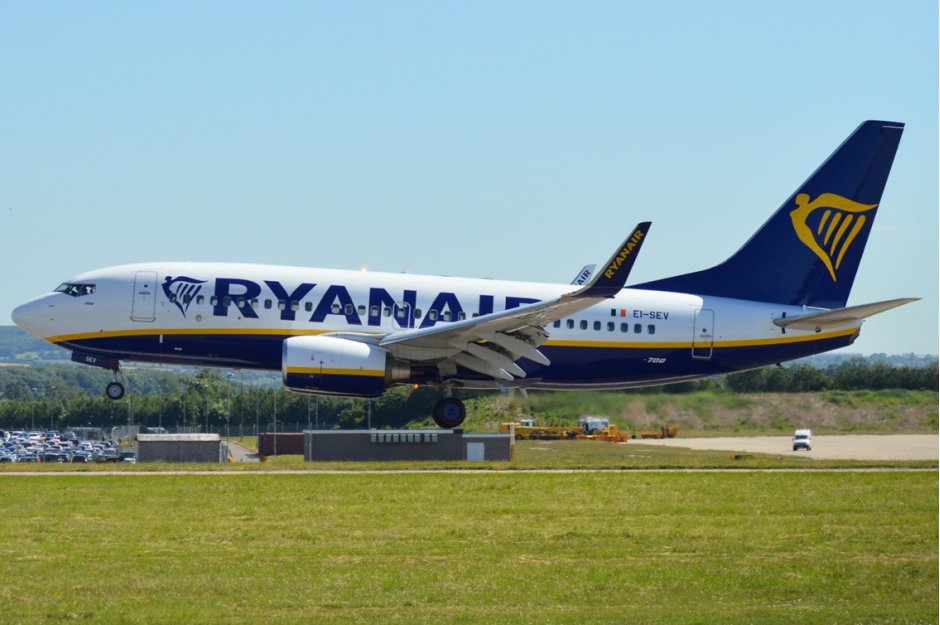 (Photo of Ryanair's Boeing 737-700, EI-SEV, arriving at East Midlands on June 30, 2015 - kindly provided by Ross Hallam)
Ryanair, like many low-cost carriers, is seeking to grow the capacity size of aircraft in its fleet. Spanish carrier Vueling has recently taken delivery of its first A321 having operated the A319 and A320 for many years. Likewise, Wizz Air will this year introduce the larger A320 Family variant into its fleet and recently agreed a significant deal with the European manufacturer for more examples at the Paris Air Show.
As part of its fleet renewal, Ryanair last year committed to acquire up to 200 (100 firm and 100 options) new Boeing 737 MAX 200s, describing the aircraft which secures its future growth between 2019 and 2024 as a "gamechanger".
It is the lead customer for this new aircraft which for Ryanair will feature 197 seats (eight more than Ryanair's existing 737-800s) and new CFM LEAP-1B engines, which combined with aerodynamic improvements, will reduce fuel consumption by up to 18 per cent in Ryanair's configuration and reduce operational noise emissions by 40 per cent.
It is unclear how the smaller 737-700 or its successor, the 737 MAX-7, will fit into the longer-term plans of Ryanair. However, with the aircraft's additional range versus the larger 737-800 which is greatly exaggerated when you compare the MAX variants, it could be part of a strategy to access new markets, even on transatlantic missions.