Ryanair cuts routes at Glasgow International
David Casey
February 27, 2018
Ryanair is to close its base at Glasgow International from November, cutting the number of routes from 23 to just three.
The Irish airline will transfer its Glasgow-based aircraft to Edinburgh where it will offer 11 new routes. Its only services from Glasgow International in winter 2018/19 will be to Dublin, Wroclaw and Krakow.
"Ryanair regrets these cuts in the weaker Glasgow market where efforts to stimulate low fare demand are severely hampered by the continuing burden of APD," said David O'Brien, the airline's chief commercial officer.
"As a result, we will transfer our Glasgow International-based aircraft to Edinburgh in November where we will offer 11 new low-fare routes (45 in total including London Stansted) and deliver over 3.5 million passengers per annum at Edinburgh Airport."
The Scottish government's plan to cut and eventually abolish APD were delayed last year until at least April 2019.
"Sadly the weaker Scottish market is even weaker still in Glasgow, which simply can't bear the burden of APD at £13," added O'Brien.
"This should not come as a surprise to the government, we did say that our growth in Glasgow was based on their promise to abolish APD, which morphed into a promise to half APD, which suddenly has disappeared into the ether and quite frankly we don't have any more patience."
Ryanair's winter 2017/18 schedule from Glasgow International: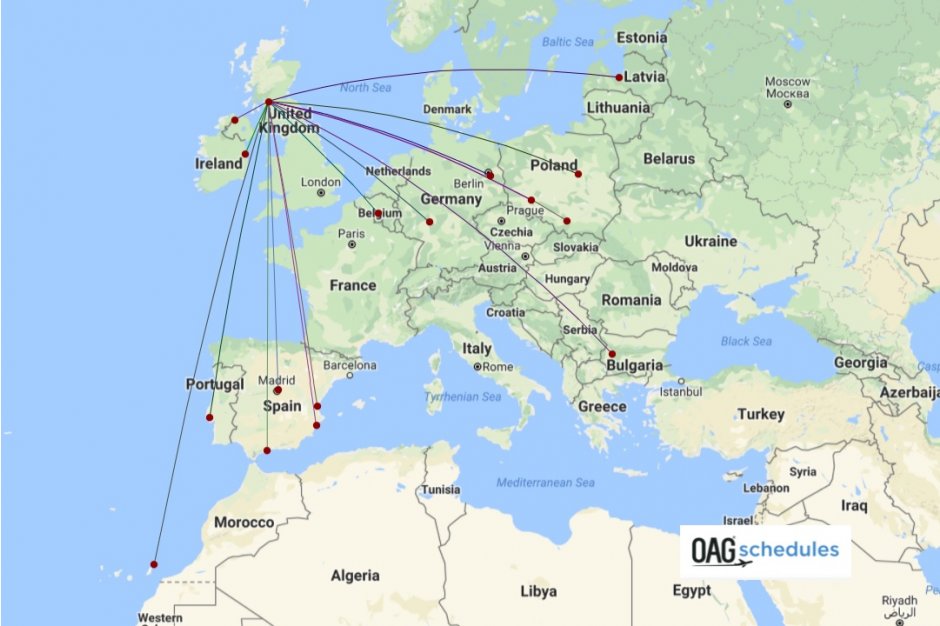 A spokesman for Glasgow International said it was "bitterly disappointed" by Ryanair's decision.
"Despite clear and repeated warnings from both airports and airlines about the potential impact of this policy not being implemented, we are now faced with a stark scenario that includes the loss of 20 services and a significant number of jobs," the spokesman added.
In addition to the Glasgow International cuts, Ryanair will end two of its ten routes from Prestwick.
Ryanair's Scottish winter 2018 schedule includes:
Edinburgh: 45 routes including 11 new routes to Berlin, Derry, Gothenburg, Hamburg, Lisbon, Memmingen, Stockholm Skavsta, Riga, Seville, Sofia and Tallinn
Glasgow Prestwick: Eight routes to Alicante, Faro, Fuerteventura, Lanzarote, Malaga, Malta, Rzeszow and Tenerife South
Glasgow International – Three routes to Dublin, Krakow and Wroclaw