RwandAir lays out ambitious strategy
Routes News
October 12, 2017
As a measure of an African country's ambitions for its national airline, route launches to Europe, China and the US are a good indication that things are on the up.
The coming months will see RwandAir fulfil these ambitions, upgrading links between landlocked Rwanda and some of the world's most important trade and tourism markets. For a country the size of Maryland in the US and with a population of just 12 million, having a national carrier may seem like a luxury.
However, Rwanda's government is convinced of the need to enhance transport links and grow the aviation sector to serve not just Rwanda but west and central Africa as a whole.
In terms of turnarounds, it is difficult to think of one more dramatic than Rwanda's, where approximately 800,000 people were killed in just 100 days of ethnic violence in 1994. Contrast that with today, when the capital, Kigali, boasts much inward investment, with big-brand hotels, a convention centre and a new airport under construction.
---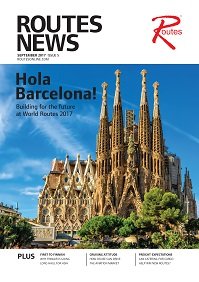 This article first appeared in Routes News edition 5 2017
---
RwandAir has seen some of this investment; it now has two new Airbus A330s among its fleet of 12 aircraft and launched a London Gatwick flight in May this year.
In July, the flight was linked with Brussels, while October will see an A330 placed on the Mumbai route that began in April. This is currently served by a Boeing 737-800 and will be extended to Guangzhou, a sign of how important Chinese investment and trade links are to Rwanda. New York is pencilled in for July 2018.
Closer to home, Dakar in Senegal, Conakry in Guinea and Mali's Bamako are scheduled for autumn launches, adding to the current 22 destinations. RwandAir deputy chief executive Yvonne Makolo says: "RwandAir's ambitions are very much in line with the country's economic ambitions. Being landlocked, it is imperative we have access; we have a huge part to play.
"RwandAir has a hub-and-spoke model and we are trying to get as many feeders into the hub as we can. Some countries in Africa, particularly in the west, are underserved. We see an opportunity to take these people to China, Mumbai and now the UK as well."
Among those neighbouring countries is the Democratic Republic of Congo, with its vast mineral wealth that may one day facilitate travel among its 82 million people. Kigali can claim a stake in this and other nearby markets; the closest major hub, Nairobi, is still a 90-minute flight from Kigali, and Addis Ababa is about two hours 30 minutes, so Rwanda does have a case to build its aviation industry, albeit in a smaller way than Kenya Airways and Ethiopian Airlines have done.
Makolo gives the Gatwick route as an example, naming six points, including Entebbe, Johannesburg, Harare and even Nairobi, where it is picking up transfer traffic to London. She says the route is attracting students flying to Europe plus business travellers and tourists to Rwanda and claims a 95 percent load factor for July. The new A330 boasts fully flat business class seats, a premium economy cabin and wi-fi.
"As people experience the product, confidence is growing; London is in line with our expectations," she adds.
Things remain small scale in Rwanda. Kigali International Airport is stretched to the limit despite currently handling only 800,000 passengers per annum. Even when the new single runway Bugesera International Airport opens – scheduled for mid-2019 - its capacity will initially be only 1.7 million passengers, rising eventually to 4.5 million.
Portuguese company Mota Engineering and Construction Africa will fund and operate the airport for an initial 25 years - with an option for a further 15 years - before transferring the facility to the Rwandan government. Once Bugesera opens, Kigali International will be used for private charters plus pilot and engineer training.
"The majority of our pilots and engineers are foreign, which is not sustainable," says Makolo. RwandAir is planning to take another two A330s next year, with a target of 20 aircraft in the fleet by 2022 "depending how things go". The carrier also plans to rationalise its fleet to just three types, with six Boeings potentially exiting the fleet, together with the two CRJ regional jets.
RwandAir will retain Q-400s for thinner routes, but has only one domestic service, to Kamembe on Rwanda's southwest border. Here, Lake Kivu provides the border with the DRC and an opportunity for tourism not based around Rwanda's mountain gorillas.
Domestic air route opportunities in a country where no border is more than six hours' driving are limited but Makolo names another Lake Kivu access point, Gisenyi Airport, which is under consideration for reinstatement to the schedules, "plus possibly one in the north".
She adds, however: "There are very good roads, so the focus is on looking outside the country."
Read more: RwandAir launches Cotonou hub as Benin and Rwanda plan new airline
---