ROUTES EUROPE: George Karamanos Teams up with ASM
Richard Maslen
May 12, 2013
ASM will this morning announce that George Karamanos, Managing Director of KPI, will be teaming up with the consultancy to work together as part of a unique franchise style arrangement recently launched by ASM. This is the first of this type of agreement initiated by ASM, which will enable Karamanos to operate and win projects under the brand banner of ASM. With Karamanos agreeing to team up with ASM this is an exciting initiative as it brings together over 20 years of collective Route development and airport marketing experience on offer to potential new Airport and tourism organisation clients.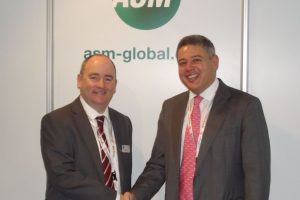 This co-operation will focus initially on the launch of a new product offered by ASM, 'The Route Development and Marketing Audit'. This product delivers an independent review of an airport's route development and marketing activity, including a review of the airports strategy, targets, marketing and new media and results achieved. The audit assesses the effectiveness of an airport's route development activity but most importantly puts forward recommendations that will help airports improve their chances of route delivery success.
Speaking to The HUB after signing the partnership at Routes Europe, Tony Griffin – Senior Vice President of ASM said: "This a very exciting time in the development of the new ASM. I am very happy to welcome George to ASM's team of experts and am looking forward to what is sure will be a very successful co-operation."
According to Griffin, Karamanos will operate from KPI's offices in Dubai and ASM will trade from its Head Office in Manchester and international offices in Asia, North America, China and South America. "It would be great to meet up with anyone wanting to find out more about this initiative so please, come along and meet with us before you leave at the Routes /ASM stand, number 15," he added.