Record-breaking tourism traffic only the tip of the iceberg
David Casey
February 14, 2018
Atlantic Canada is the closest area in North America to Europe, and the region's unique experiences, seaside cities, naturally wild beauty and laid-back vibe appeals to the European tourist. Air carriers have taken notice, and capacity to the region has increased 14 percent over the last five years.
"The best news is that this is only the tip of the iceberg," says Monette Pasher, executive director of Atlantic Canada's Airports. "We are seeing higher demand for international routes as a result of the growing tourism market, and global linkages and expertise required for the energy, hydro and shipbuilding projects taking place here."
Atlantic Canada Airports Association is a non-profit industry association representing 13 airports in Newfoundland and Labrador, Nova Scotia, New Brunswick and Prince Edward Island. The region's airports move over eight million passengers and approximately 60,000 metric tonnes of cargo annually.
The latest international connection for the region was announced in January 2018 when WestJet confirmed plans to fly from Halifax Stanfield International Airport to Paris Charles de Gaulle and London Gatwick as part of its summer 2018 schedule.
The Paris route is the airline's first to Europe's mainland having previously only served Glasgow from Halifax and London Gatwick and Dublin from St. John's. WestJet currently serves 16 cities from Halifax Stanfield, up from six in 2013, including ten Canadian, two transborder, one international and now three European destinations.
The Paris route launch comes after a successful 2017 for the airport, which surpassed its goal of reaching the four million passenger mark by serving 4,083,188 during the year. The total is up by 4.5 percent on 2016.
This spring, St. John's International Airport will open the first phase of its ten-year $200m terminal expansion. This phase includes a 145,000 sq ft expansion with improved check in, screening and food services. The airport is building a better gateway to accommodate a growing tourism market and strong energy sector.
Elsewhere, in New Brunswick record-breaking passenger traffic is also the story. In 2017, Porter Airlines expanded their Atlantic base by launching service from both Fredericton and Saint John Airports to Ottawa and onto Billy Bishop in Toronto. Porter Airlines now serves six Atlantic Canada cities.
Pasher says that the growth of Atlantic Canada's airports comes amid growing interest from tourists, attracted to the four east coast provinces of New Brunswick, Nova Scotia, Prince Edward Island, and Newfoundland and Labrador for their breathtaking backdrop of dramatic tides, formidable icebergs and lush coastlines.
"This region is what some would still call an undiscovered gem," she adds. "With uncrowded white sand beaches, world-class golf courses and some of the most breathtaking scenic coastal drives around."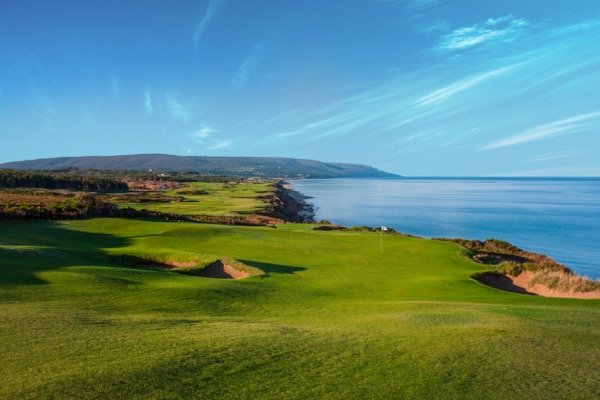 The region consists of 150,000 miles of beautiful coastlines that are dotted with communities where fishing was once the main occupation. While other industries such as oil and gas, hydroelectricity, shipbuilding and mining are now key drivers of the economy, the fishing industry continues to be a strong contributor.
In 2017 alone, nearly $180m worth of fresh live lobster was exported from Atlantic Canada's shores. The abundance of natural wildlife and fresh seafood makes the region a food lover's paradise.
Pasher says: "Our airports have been busier and busier servicing the needs of a growing tourism sector. Today's travellers are looking for authentic, unique experiences, along with soft adventure, and our region has it in spades."
World-class attractions propelling air travel:
Cabot Cliffs Golf Course ranked top ten in the world by Golf Digest has golfers flocking from all over the US to play the Bill Coore and Ben Crenshaw designed course in Nova Scotia
Fogo Island Inn on a remote Island in Newfoundland and Labrador was named top hotel in Canada by Conde Nast Traveller has attracted the likes of Oprah, David Letterman and Gwyneth Paltrow
With the highest tides in the world, New Brunswick's & Nova Scotia's Fundy Shore offers visitors the opportunity to walk and even dine on the ocean floor
Nova Scotia's new Halifax Convention Centre offers over 120,000 sq ft of event space in the heart of the city's downtown and connects to over 3,000 hotel rooms.