Okinawa prepares to debut Routes Asia in Japan in 2017
Richard Maslen
March 07, 2016
After the close of this year's event in Manila, Philippines next year, Routes Asia will move to Japan for the first time in 2017 and will be hosted by Okinawa Prefecture, supported by Okinawa Convention and Visitors Bureau. A formal handover ceremony for the event took place at at the air service development forum at lunchtime on March 8, 2016. The event will take place March 19-22, 2017.
Okinawa Prefecture is located roughly halfway between Japan and East Asia with flight times between the main islands of Japan and various Asian cities being within four hours. Okinawa, surrounded by crystal clear sea and beautiful natural landscapes, is Japan's subtropical landscape it is at the crossroads of Asian nations and has developed its own unique culture, integrating aspects of Chinese, Japanese and Southeast Asian cultures with its own indigenous spirit.
Speaking to Routesonline ahead of the event, Katie Bland, director, Routes for UBM EMEA said: "We are delighted that Routes Asia will be held in Japan for the first time in 2017. Holding the 15th Routes Asia in Okinawa will allow them to raise awareness to increase air services and visitor numbers at a time when the airports' planned expansion offers both international and domestic airlines new opportunities."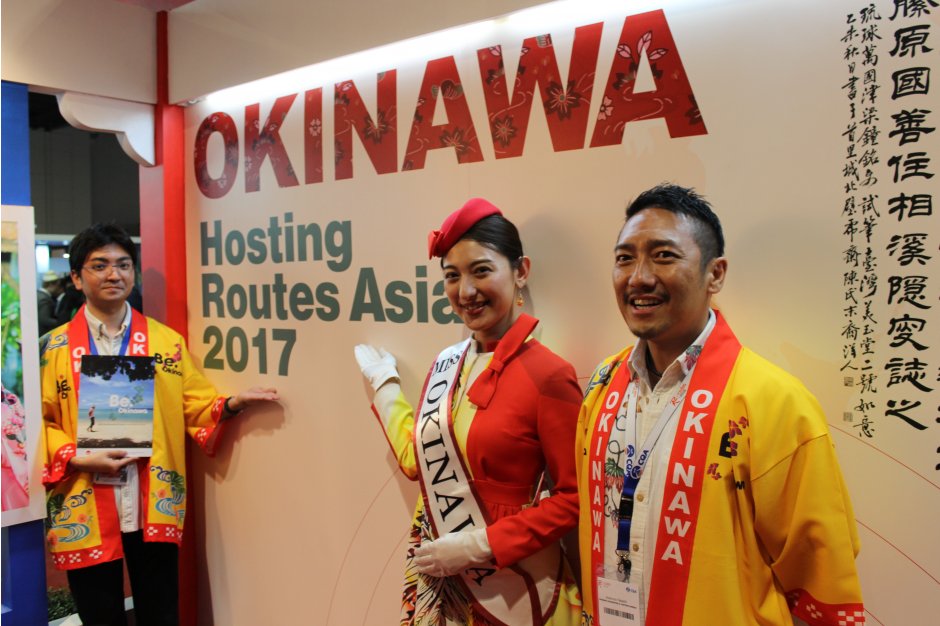 Japan has population of over 120 million, has the 3rd highest GDP in the world and annually produces more than £3 trillion. Okinawa Prefecture benefits from an ideal geographic location within Asia and is perfectly placed to become the gateway between Asia and Japan and hopes to highlight the destination as a growing tourist destination to delegates showing its facilities and events to attract its major airline targets.
It is one of the most popular tourist destinations in Japan with over seven million domestic and international tourists visiting each year. Okinawa's largest airport, Naha Airport, is currently working on a terminal and runway expansion with the aim to serve as a gateway between Asia and Japan.
"Okinawa is a destination on the rise," the Okinawa Prefectural Government Governor Takeshi Onaga explained. "We are very honoured to host Routes Asia 2017 and confident to welcome all attendees to our beautiful islands. Okinawa Prefecture is southernmost islands of Japan where attracts world's travel industry as a "New destination on-the-rise," he said.
"We have the ruins of Shuri Castle, which is registered as a UNESCO World Heritage Site, and also crystal clear ocean, beautiful beaches and coral reefs. The gorgeous dance performance and finest Okinawan cuisine will definitely meet the satisfaction of Routes Asia delegates. We are looking forward to meeting you in Okinawa in 2017," he added.