Lufthansa brings back Denver's link to Munich in 2016
Richard Maslen
October 23, 2015
German national carrier, Lufthansa is to resume flights to Denver in summer 2016, providing an alternate routing for passengers to fly to the city and the Rocky Mountains, complementing its existing flights from Frankfurt. The route is expected to generate a Colorado state wide economic benefit of more than $80 million annually and will add one-stop connectivity between Denver and a further 30 European markets, via Munich.
Register now & save up to £600 with our World Routes 2016 + regional events combination discount
We're sorry but this deal has expired
Lufthansa previously flew to Denver from its Bavarian hub between March 2007 and October 2008 to operate alongside its long-standing link from Frankfurt (launched in 2001). It is one of just three airlines to serve Denver from Europe alongside British Airways (from London Heathrow) and Icelandair (from Keflavik). Its new schedule will see it introduce a five times weekly link from May 11, 2016 using a 263-seat Airbus A330-300.
"Denver has been an important US gateway for Lufthansa since 2001. Nearly three million travellers have flown Lufthansa to and from the Mile High City, and the return of direct flights to Munich displays just how important the Denver market is to our airline," said Juergen Siebenrock, Vice President The Americas, Lufthansa.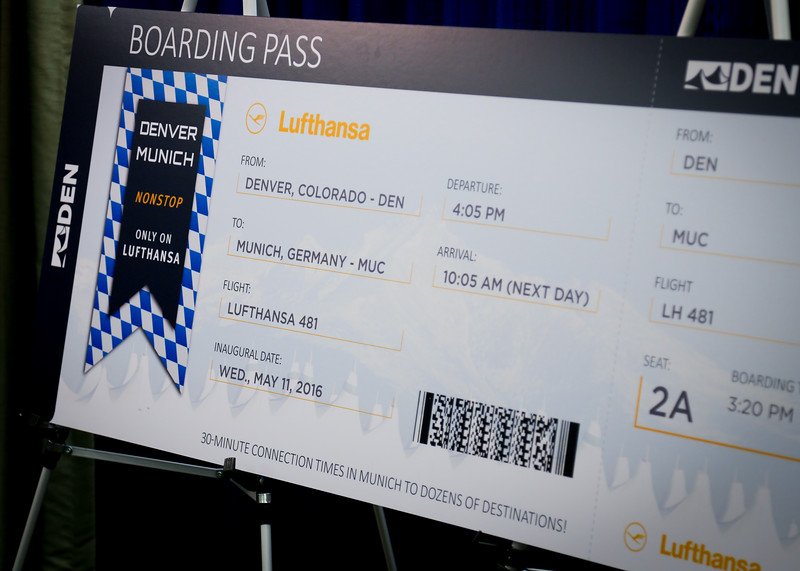 The hosting of this year's Routes Americas forum helped support Denver International Airport in securing the return of the German carrier's Munich link. It was the first time that the German carrier had attended the regional event with delegates Daniel Pauli, Manager Network Planning Hub Munich and Stephan Vinson, Hub Development Frankfurt providing representation for its growth strategy at its two hub airports.
"Routes Americas certainly played a role in this announcement. Lufthansa attended Routes Americas for the first time earlier this year in Denver, and they sent representatives from both their Frankfurt and Munich hubs. Routes Americas provided a great opportunity to continue our ongoing discussions and lay the groundwork for this new service," Laura Jackson, Senior Director of Air Service Development and Aviation, Denver International Airport told Routesonline following the announcement of the new route this week.
"We estimate the Denver-Munich flight will generate more than 700 new jobs and $24 million in new wages for the state, as well as boost state-wide economic output by more than $80 million annually," she added.


On the US side of the route, Lufthansa will feed into the extensive operations of its transatlantic Star Alliance partner, United Airlines to access flight connections to approximately 85 destinations in North America, including popular locations such as Phoenix, Las Vegas and Seattle.
On the European side, around 30 new one-stop destinations will be added to the network from Munich which are not currently served via the existing offerings of Lufthansa, British Airways and Icelandair. "These include growing markets particularly in Eastern and Southern Europe," explained Ms Jackson.
Europe ranks as Denver's largest international market by region, accounting for nearly 30 percent of total passenger volume. This new service will increase Denver's transatlantic capacity by 23 percent, and increase its total number of non-stop destinations served to 21.
"Lufthansa's nonstop service between Denver and Munich will stimulate travel between two regions that are already rich with synergies – from world-class beer festivals to innovation and entrepreneurship, Colorado and Bavaria are deeply connected," said Kim Day, Chief Executive Officer, Denver International Airport.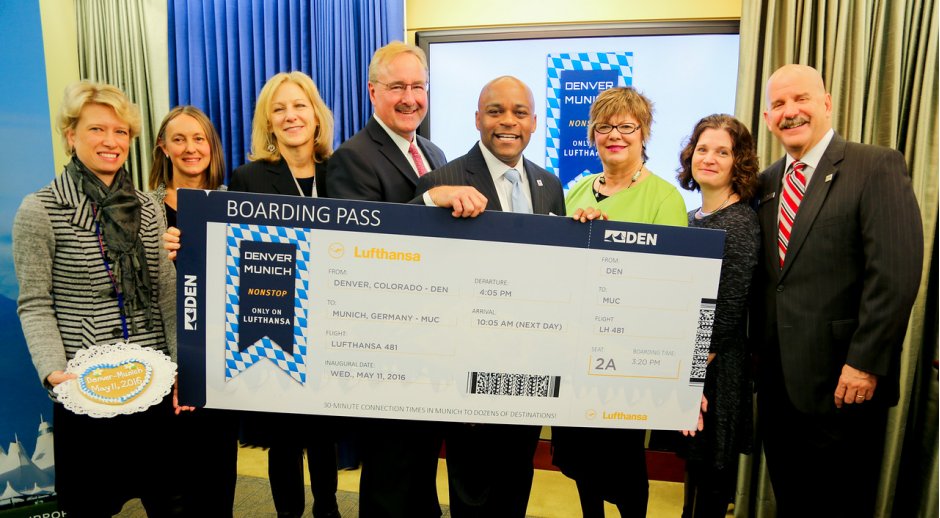 Denver's metropolitan region, which is home to around 2.5 million residents, lies precisely one mile above sea level and is one of the most popular regions in the USA. A number of mining companies and major telecommunications groups are based in Denver, where other important industries include the energy supply and logistics industries.
"With Denver, we are offering our customers an extremely attractive travel destination. Denver is a paradise for sports fans and nature lovers. The city was also awarded the title of best metropolis for 'Business and Careers'", said Thomas Klühr, the Member of the Executive Board of Lufthansa responsible for finances and the Munich hub.
The city is well-known among private travellers as the eastern gateway to the Rocky Mountains. The popular skiing resorts of Vail, Breckenridge and Aspen are only a short drive away from the city, while the four national parks in the state of Colorado, including Mesa Verde National Park, a UNESCO World Heritage Site, are also easy to reach from Denver.
An estimated 650,000 annual passengers flew between destinations across Europe and Denver last year, according to Sabre demand data. With the United Kingdom (149,000 passengers) and Germany (108,000 passengers) directly linked to the US city they are the largest European markets, but there is also sizeable demand to/from Italy (59,000), France (55,000) and Spain (35,000). Munich is currently the fourth largest market, based just on bi-directional O&D demand, not currently served directly from Denver with an estimated 20,000 passenger market in 2014.
NOTE: Launch imagery courtesy of Denver International Airport.