Is this the future of electric planes?
David Casey
November 30, 2017
Airbus, Rolls-Royce, and Siemens have joined the race to develop a hybrid electric plane, with the three companies aiming to have a prototype ready to fly by 2020.
The manufacturers will convert a short-haul BAe 146 passenger jet, with one of the 100-seater aircraft's four gas turbine engines replaced by a two megawatt electric motors.
The project, called E-Fan X, could lead to cleaner, quieter and cheaper journeys.
"The E-Fan X is an important next step in our goal of making electric flight a reality in the foreseeable future," said Paul Eremenko, Airbus' chief technology officer.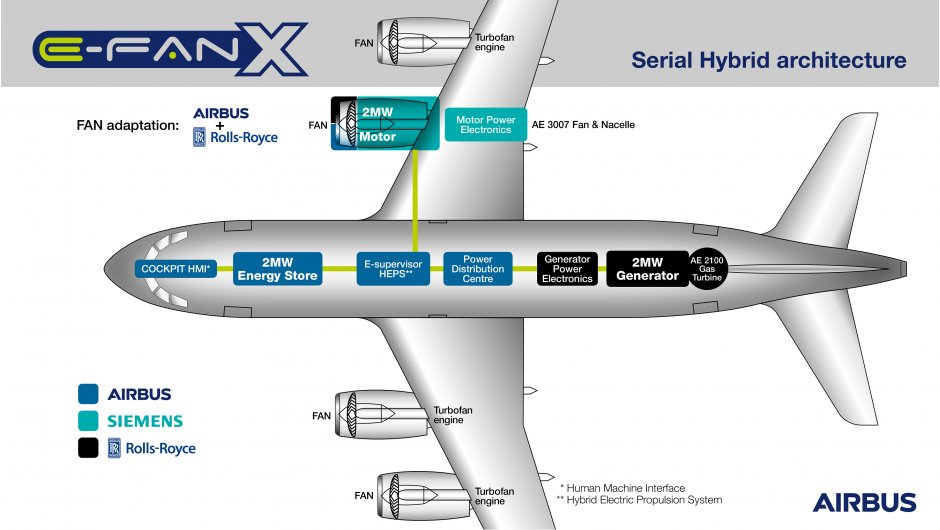 Paul Stein, Rolls-Royce's chief technology officer, added: "The E-Fan X enables us to build on our wealth of electrical expertise to revolutionise flight and welcome in the third generation of aviation.
"This is an exciting time for us as this technological advancement will result in Rolls-Royce creating the world's most powerful flying generator."
Airbus is responsible for integrating the engines with flight controls, while Rolls-Royce will develop the turbo-shaft engine, two megawatt generator and power electronics. Siemens will work on the power distribution network.
In September, easyJet teamed up with US company Wright Electric to develop an all-electric plane for flights under two hours.
Wright Electric is working towards producing a fully electric plane within a decade with a further ambitious goal for every short flight to be zero-emissions within 20 years. It is aiming for an aircraft range of 335 miles which would cover 20 percent of passengers flown by easyJet today.