Asia Pacific budget carriers show joined-up approach
Richard Maslen
May 20, 2016
A group of airlines from across the Asia Pacific region have established the world's largest budget carrier alliance in a move to boost their flight activities into a much stronger network across the region. The Value Alliance will provide greater value, connectivity and choice for travel throughout Southeast Asia, North Asia and Australia, as the eight members bring their extensive networks together.
The grouping consists of Cebu Pacific (including wholly owned subsidiary Cebgo), Jeju Air, Nok Air, NokScoot, Scoot, Tigerair Singapore, Tigerair Australia and Vanilla Air. It will offer a collective network of 160 destinations and a combined fleet of 176 aircraft and will strengthen the airlines' distribution in their non-home markets, expand their saleable networks via the provision of interline itineraries, retain their ancillary revenue opportunities and offer their customers a better, one-stop-shop experience.
"All the airline partners are champions in their local markets and well regarded for their value and service regionally and nationally. The Value Alliance is a clear example of how LCCs can accomplish more by working together than we could do individually," said Lance Gokongwei, president and chief executive officer, Cebu Pacific.
The alliance is based around a new technology developed by Air Black Box (ABB) that will mean customers will be able to view, select and book the best-available airfares on flights from any of the airlines in a single transaction, directly from each partner website.
Unlike typical interline technologies, ABB also allows guests to enjoy the full suite of ancillary choices they have come to appreciate from LCCs, such as seat and meal selection, variable baggage allowances and other inflight features – across all partner airline sectors in a single itinerary.
"The opportunity enabled by ABB and the Value Alliance to offer ancillary products through interline channels is a significant benefit over other partnerships, given LCCs typically earn 10-25 percent of their revenues from such items," said Patee Sarasin, chief executive officer, Nok Air.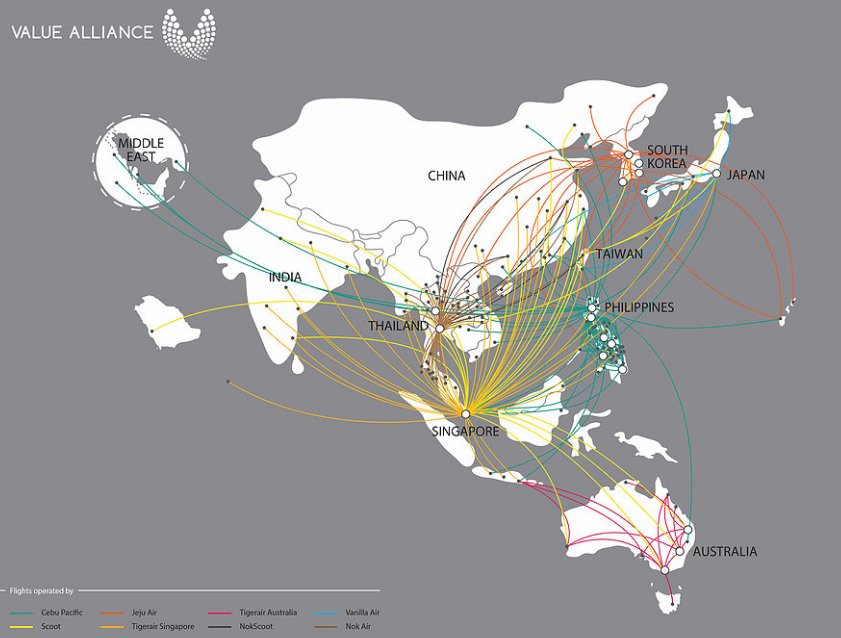 The grouping brings together many of the smaller low-cost operators across the Asia Pacific region and the partnership will allow them to better compete with some of the largest budget carriers like IndiGo in India, AirAsia across multiple countries and Qantas subsidiary Jetstar Airways across both the Asia and Pacific markets.
Asia Pacific's tourism industry is the largest in the world, offering travellers experiences as diverse as visiting the Great Barrier Reef in Australia, exploring Tokyo's mix of traditional shrines and modern shopping, or island hopping in the Philippines or Thailand. With more than 500 million visitors expected to arrive in Asia Pacific by 2020, the new Value Alliance will provide better connection options for travellers to develop customised itineraries to fly to the sights they wish to explore, many of which are found in secondary cities.
The Value Alliance's formation follows the establishment of the U-FLY alliance by HNA Group in China. This venture brings together three of the group's regional businesses in China - Hong Kong-based HK Express, by Kunming-based Lucky Air, Urumqi-based Urumqi Air and Chongqing-based West Air - to establish a combined network of 85 destinations across the Asia-Pacific region with a total of 168 city pair options for travellers.
Meanwhile, Singapore Airlines has established a holding company to own and manage its two budget airline brands Scoot and Tiger Airways, following the delisting of the latter from SGX-ST. Lee Lik Hsin, who has led Tigerair since May 2014, is leading the development of both airlines as CEO of the new holding company, which has been registered as Budget Aviation Holdings Pte Ltd. Campbell Wilson, who has helped grow Scoot's presence since its launch is returning to a role within Singapore Airlines
The new structure will drive deep integration between Scoot and Tiger Airways and will allow for the integration and sharing of key functions, such as in sales and marketing, IT, planning and operations.
"The holding company structure will drive a deep integration of our low-cost subsidiaries, which are important parts of our portfolio strategy in which we have investments in both the full-service and budget aspects of the airline business," said Goh Choon Phong, chief executive officer, Singapore Airlines and chairman of Budget Aviation Holdings.