Wizz Air secures Hungarian PSO rights to serve Balkan capitals
Richard Maslen
December 21, 2016
Wizz Air is to reinforce its position as Hungary's largest airline after being awarded rights to launch services to five West Balkan capital cities under the National Ministry of Development's new public service obligation operation to serve these important economic links in the region. The Central and Eastern European low-cost specialist will introduce the flights from Budapest to Skopje in Macedonia, Podgorica in Montenegro, Tirana in Albania, Pristina in Kosovo and Sarajevo in Bosnia and Herzegovina from April 2017.
Earlier this year the Hungarian National Ministry of Development enacted that a public service obligation is imposed, and announced a public procurement tender for operating the routes connecting Hungary to these destinations in April 2016. It is understood that Wizz Air was the only operator to apply for rights to serve all the markets.
The terms of the agreement, which will run for a four-year period, will permit the low-cost carrier to seek financial compensation from the Hungarian Government for any losses it may incur. The airline is required to offer at least twice weekly flights for the entirety of the contract.
"The announcement is the result of a first ever example of imposing a public service obligation in aviation industry in Hungary. We believe that this unprecedented example will help stimulate economic and business relations between the countries as well as further improve accessibility to Budapest."

József Váradi
Chief Executive Officer, Wizz Air
The new routes will connect the countries directly, boost bi-directional tourism and establish an important link for trade and business between Hungary, Macedonia, Montenegro, Albania, Kosovo and Bosnia and Herzegovina. In compliance with the rules, all five markets will be served on a twice weekly basis with flights commencing the first week of April 2017. They have all not been served since the collapse of Hungarian national carrier Malev at the start of 2012 - Montenegro Airlines also served the Podgorica – Budapest in summer 2006.
"This announcement further underlines our commitment to Hungary as de facto Hungarian national carrier and our activities at Budapest Airport, where Wizz Air has the most diverse network, offering 59 routes to 28 countries," said József Váradi, chief executive officer, Wizz Air.
"The announcement is the result of a first ever example of imposing a public service obligation in aviation industry in Hungary. We believe that this unprecedented example will help stimulate economic and business relations between the countries as well as further improve accessibility to Budapest," he added.
Wizz Air currently operates two Hungarian bases in Budapest and Debrecen with a total of eleven aircraft in the country and recently announced an additional aircraft to join the Budapest fleet from April 2017. Over the past year (12 months to November 2016) it has carried 3.4 million passengers on its low-fare Budapest routes and has already announced four new routes to be launched in 2017, namely Bergen, Faro, Hanover and Lamezia Terme.
"In the past few months we have made several major announcements including basing a new aircraft at Budapest in April, revealing the unique Budapest livery that is designed to promote the city with Budapest 2024 Olympic and Paralympic Bid elements and announced four new routes to start in 2017. We now add another five strategically important routes to our Budapest network," said Váradi.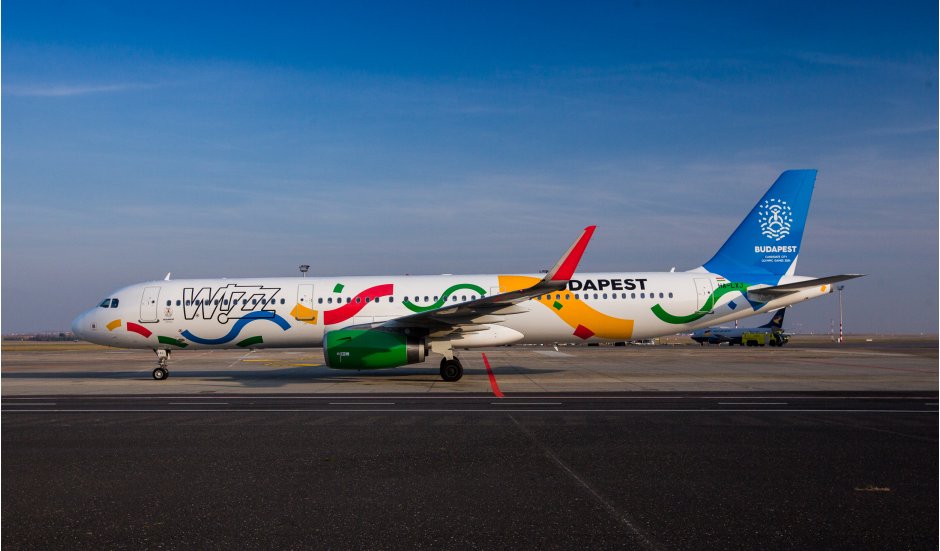 Analysis of Wizz Air's current winter operations from OAG Schedules Analyser data shows the airline is currently serving 120 points in 37 countries. It has grown its capacity 17.6 per cent in 2016, the ninth year in the past ten that it has recorded double-digit growth. The budget carrier is delivering stable growth levels with year-on-year rises of 17.1 per cent in 2014 and 17.5 per cent in 2015 and has seen average annual growth of 15.3 per cent since the start of the decade.
Although Wizz Air may be Hungary's de facto national carrier, the country is only the fifth largest in the airline's network based on annual departure capacity with an 8.2 per cent share of seats, albeit it is the fastest growing of the airline's top five country markets.
Poland is Wizz Air's largest market with a 15.3 per cent capacity share, closely followed by the United Kingdom (14.3 per cent): the latter was the fastest growing major country market in 2016 with capacity growth of 30.6 per cent. The third and fourth largest country markets were Romania (12.4 per cent share) and Italy (8.3 per cent share), respectively.
The airline shows no signs of slowing its development and in the last couple of weeks alone it has announced plans to open a 27th base in the Bulgarian city of Varna, introduced a ninth aircraft to its Bucharest, Romania fleet, brought forward network expansion out of Katowice in Poland and revealed a massive expansion out of Cluj-Napoca in Romania.
The new Varna base, its second in Bulgaria, will open in July 2017 and will be home to a single A320 which will facilitate new routes to Dortmund and Munich Memmingen in Germany, Eindhoven in the Netherlands, Larnaca in Cyprus and Milan Bergamo in Italy, as well as boosting frequencies on its existing London Luton service to ten weekly flights. In 2017, Wizz Air will have over 380,000 seats on sale on its Varna routes, representing a 260 per cent growth year-on-year.
The new Bucharest-based aircraft, a 180-seat A320, has initially been used to support its new service to Tenerife (launched in November) as well as introduce flights from Bucharest to Hanover and Billund. It has now been switched to a larger 230-seat A321.
Elsewhere in Romania, Wizz Air will add a sixth aircraft to its Cluj-Napoca fleet in March 2017, supporting the opening of four new routes to Stockholm, Bratislava, Larnaca and Malta, as well as the addition of three temporary services to Baden-Baden and Frankfurt Hahn in Germany and Budapest in Hungary that will be operated from Cluj-Napoca while the runway works and Tirgu Mures airport are ongoing.
In Katowice in Poland, strong customer demand mean the airline will bring forward the launch of flights to Catania, Lisbon, Malta and Reykjavik by two weeks. Each new route will be operated with two weekly flights from March 10, 2017.
Wizz Air has also finalised the financing for three new Airbus A320ceo and seven new Airbus A321ceo aircraft being delivered in 2017 and 2018. With this Wizz Air secures its fleet requirements until 2018 when it will reach a significant and important milestone of 100 aircraft. From January 2019, Wizz Air will pass a further milestone as it starts taking delivery of the first of its Airbus A320neo family aircraft.