Ryanair and Wizz Air see growth potential in Ukraine skies
Richard Maslen
March 14, 2017
European low-cost giant Ryanair is to expand its low-fares formula into Ukraine for the first time with the introduction of four international routes into the nation's capital, Kiev, and seven routes into the fast-expanding city of Lviv. From the start of the winter 2017/2018 schedule in late October it will inaugurate 31 weekly flights, generating an additional 11,718 weekly seats in and out of Ukraine.
The airline will inaugurate services into Kiev from Eindhoven (three times weekly), London Stansted (five times weekly), Manchester (three times weekly) and Stockholm Skavsta (four times weekly), while Lviv will be linked with Berlin, Budapest, Eindhoven, Krakow, London Stansted, Munich Memmingen and Wroclaw. The Lviv routes will all be served twice weekly with the exception of the Polish routes which will have three weekly flights.
"The arrival of Ryanair in Ukraine is without exaggeration, a remarkable event for Ukraine. Negotiations lasted for several years, and I am proud that our team was able to successfully hold them. Now we officially declare - Ryanair is in Ukraine, " said Volodymyr Omelyan, minister of infrastructure in Ukraine. "I am convinced that Ryanair will be another bridge that connects the infrastructure of Ukraine with Europe and it will be a good signal for the world's major investors."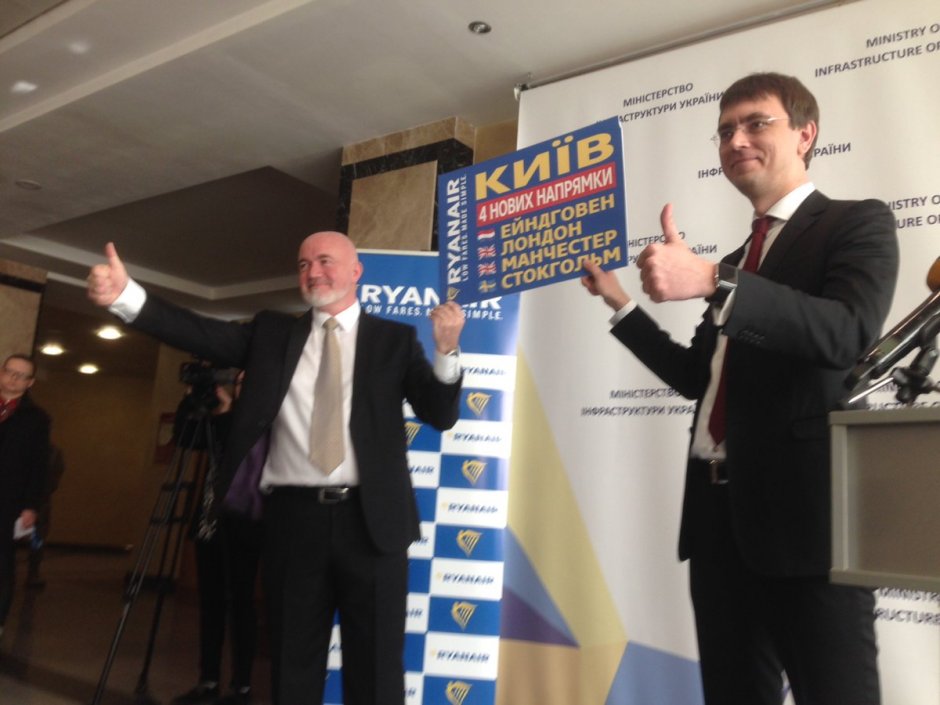 Meanwhile, Central and Eastern European low-cost airline specialist Wizz Air is to further expand its activities in Ukraine with expanded summer 2017 operations from both Kiev and Lviv. The low-fare operator will grow its inventory in the Eastern European country for the first time in four years as it seeks to position itself for future expansion opportunities.
Wizz Air will introduce a second flight from Lviv International Airport from June 18, 2017 with a twice weekly link to Schoenefeld Airport in Germany's capital city, Berlin. This will add to the new to Wroclaw in Poland that will be launched from April 13, 2017 as the carrier once again develops its presence in a market that was previously an important part of its Ukraine network.
It made its debut in the largest city in western Ukraine and the seventh largest city in the country in 2008 as part of a domestic network that ran through the country connecting Lviv to the capital Kiev and Simferopol on the Crimean peninsula, which has been at the heart of the recent conflict between Russia and Ukraine and continues to be disputed between the nations. This grew to a network of ten international destinations at its peak in 2014, but operations were reduced to just four routes in 2015 and down to none by the end of the year.
"These new services from Lviv will stimulate the regional economy, strengthen business relations between countries and stimulate the local tourism and hospitality sectors," said Owain Jones, chief corporate officer, Wizz Air.
While Wizz Air has operated this past nine years from five regional cities across Ukraine, its main focus has always been in the capital city of Kiev. After first launching flights from Borispol International Airport, it moved its operations to Igor Sikorsky Zhuliany International Airport in 2011 and has retained a presence there over the subsequent six years. After initially growing to a peak of 17 routes in 2013, it subsequently scaled-back its activities and while it now actually serves more markets, its operational capacity is about half of what it offered back in 2013.
This will be further expanded in 2017 with new flights to Lublin and Poznan in Poland and Frankfurt Hahn in Germany, facilitated by the arrival of a second Airbus A320 into its base fleet. This will grow its network from Kiev to 19 low-fare routes to eight countries, including routes commencing in the upcoming summer schedule to Nuremberg and Copenhagen.
Wizz Air was among the pioneers of low-fare travel in Ukraine, but delays to the implementation of a long-awaited Open Skies agreement with the European Union has impacted its development. Since first introducing flights in 2008 both domestically and on the international route between Kiev and London Luton, it has carried an estimated 4.5 million passengers on its network from Ukraine. While its previous dedicated Ukrainian operation has been dissolved, its mainline business is now firmly established among the five largest non-Russian and non-Ukrainian operators with available seats in and out of the country due to grow by at least a quarter in 2017.
The Ukraine international market has seen significant changes over the past ten years. In fact schedule data from intelligence provider OAG shows that over the last ten years 151 different airlines have operated international flights from the country. That has reduced by more than two thirds to just 46 in 2017, based on current published schedules.
Overall international capacity from the country continues to rise despite the reduction in operators with capacity up 114.98 per cent between 2007 and 2016, a compound annual growth rate (CAGR) of 8.8 per cent. This included a 15.1 per cent year-on-year growth in 2016, the largest annual rise since the start of the decade. Existing flight schedules show a growth of 8.0 per cent for 2017, roughly following the ten-year trend, but down on the 9.2 per cent CAGR for the current decade.
After the collapse of Ukraine's largest international operator Aerosvit Airlines in early 2013, fellow local operator Ukraine International Airlines filled the void, doubling its international capacity in 2013. It has subsequently grown each year and now offers more than 2.78 million international seats from the country, a figure that will rise beyond three million in 2017 and is over one third of foreign departure seats.
But, the Russian airlines are strengthening their presence due to the political changes: Aeroflot Russian Airlines has grown its capacity by 81.0 per cent since 2013 and now accounts for a 14.0 per cent share of Ukraine's international market, while Ural Airlines and S7 Airlines have also significantly expanded in Ukraine.