Regional Air Connectivity Fund facilitates take-off of Exeter – Norwich route
Richard Maslen
March 25, 2016
The first new route to be operated under the UK Government's Regional Air Connectivity Fund launched on March 24, 2016 with the start of regular scheduled flights by regional carrier Flybe flights between Exeter and Norwich airports, both part of the Regional & City Airport network.
The Government's Regional Air Connectivity Fund was launched last year as a way of encouraging new routes to and from UK regional airports and improving connectivity for business and leisure travellers. This link will reduce travel times between the two English cities to just over an hour saves around four hours on the equivalent journey made by road or rail.
"Our smaller airports are vital engines for local economies, connecting the UK and opening up opportunities. That is why the Government is backing new regional air routes to drive investment and boost growth across the country," said UK Aviation Minister, Robert Goodwill.
Flybe was successful in securing a number of these supported new routes, but the Exeter - Norwich is the first to start operation. The airline is offering a six times weekly schedule on the route, using a Bombardier Dash 8-Q400 turboprop.
The launch of the domestic link coincides with the return of scheduled sunshine flights from Norwich Airport for the first time in almost a decade. The new flights to Malaga and Alicante in Spain will operate year-round thanks to a partnership between airport owners RCA and Flybe. This week also sees the resumption of Exeter's scheduled sunshine services to the Spanish resorts of Alicante, Malaga and Palma, and Faro in Portugal.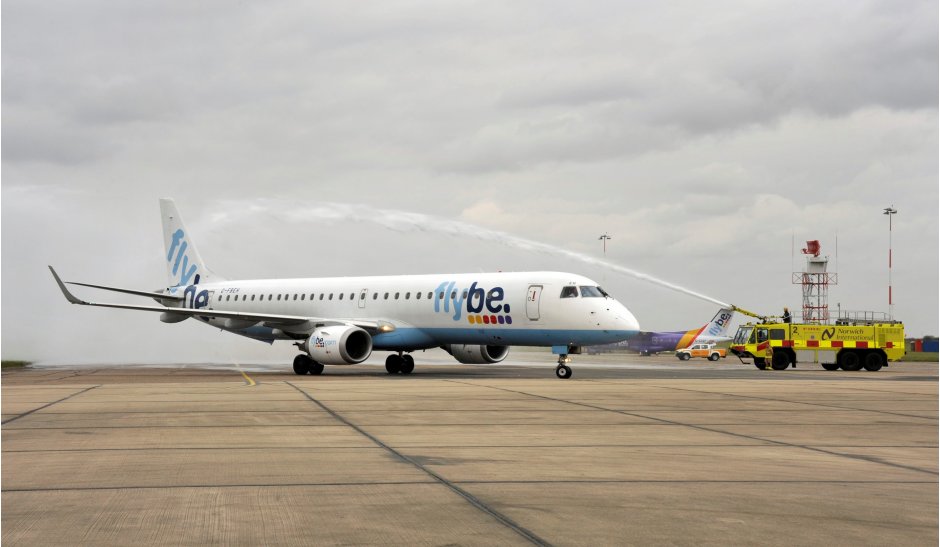 Thanks to an innovative partnership between Flybe and RCA the Alicante and Malaga flights from both Exeter and Norwich will be extended year-round using Flybe's 118-seat Embraer E195 jets. Last year Exeter Airport celebrated its best performance in six years with passenger numbers up by almost seven percent to more than 800,000.
"Regional airports perform a critical role connecting the people and businesses of the UK and we are delighted that the first UK route under the Government's Regional Air Connectivity Fund is linking two of RCA's airports. Our growing partnership with Flybe is further cemented by our securing and expanding sunshine flights and demonstrates our commitment to keeping our regions connected," said Andrew Bell, chief operating officer for RCA, which is the airport management division of Rigby Group PLC.
RCA owns and operates Norwich Airport, Exeter Airport, the home base of Flybe and Coventry Airport; while it holds management contracts for Blackpool International Airport and City of Derry Airport and is actively seeking additional growth opportunities.
Its vision is to help smaller regional airports to prosper through effective management and collaboration - enabling them to benefit from the economies of scale and sharing of best practice traditionally enjoyed by larger hub airports.