New Airports and New Runways for Oman
Richard Maslen
September 15, 2014
There are not many countries in the world where six new runways will be constructed and four brand new regional airports opened for traffic in a decade. But, that is exactly what is underway in the Sultanate of Oman over the past few years as the country seeks to diversify its economy away from relying on its oil and gas resources and to focus more on other sectors such as tourism and other areas of business.
The HUB looks in more details at the growth and development plans of Oman Airports Management Company (OAMC), owned by the Government of the Sultanate of Oman, which is responsible for the management and operation of Muscat International and Salalah Airports and for the future new airports of Ad Duqm, Sohar and Ras Al Hadd.
OAMC is the official sponsor for the World Routes Strategy Summit which will take place in Chicago, USA on September 21-22, 2014 - click here to learn more.
The first airport in Oman was opened in the late 1920s but locals claim the word 'airport' should be used in its loosest terms. The facility at Bait Al Falaj in downtown Muscat was little more than an earth strip used primarily for military purposes. However, in the years that followed commercial air transport movements began to grow. Petroleum Development Oman (PDO) started to use it to transport workers to its oil exploration fields in Central regions of the country and soon the airport had a communications centre, asphalt parking for airliners and even a maintenance facility.
By the 1960s pan-Middle Eastern carrier Gulf Air had started serving the facility and by the start of the 1970s some foreign airlines had also introduced links. As demand increased it became clear that the facility could not handle the increased traffic. Its location meant that aircraft had to make difficult arrival and departures patterns to avoid high mountains and hills surrounding the airport, and this also meant there was little space to expand.
In September 1970 after His Majesty Sultan Qaboos bin Said came to power and introduced a programme of economic reforms, boosting spending on health, education and welfare, a decision was taken to construct a new airport in Muscat. A site at Seeb, approximately 20 miles (32km) from the city was selected and just over three years later on December 23, 1973 Seeb International was opened for traffic. It was designed to be able to handle any commercial airliner and this was clearly shown the following year when an Aerospatiale / British Aircraft Corporation Concorde landed there during the type's flight test programme.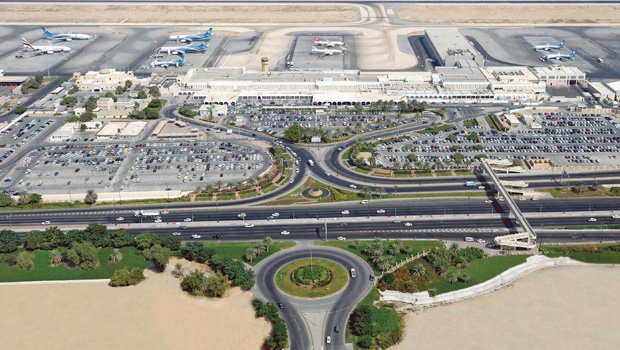 When the airport first opened Gulf Air was naturally the main tenant although over time another local operator increased its presence. Oman International Services, a ground handling specialist from the former site at Bait Al Falaj had moved its activities to Seeb and by the end of the 1970s had acquired Gulf Air's Light Aircraft Division later expanding into the maintenance and in-flight catering businesses.
It was in 1981 that air carrier Oman Aviation Services was established with a fleet of 13 aircraft including former Gulf Air Fokker 27 turboprops. The company primarily worked to support the local oil industry as well as complete airport calibration work although regular domestic services were launched in 1982 to Salalah in co-operation with Gulf Air. The arrival of the new airline pushed authorities to enhance facilities at Seeb International.
A major expansion of the arrivals and departure terminals was completed the following year and a new transit hall opened. By the time the airline had received its first jet airliners and launched a mix of domestic and international flights under the Oman Air name, a new cargo terminal was completed and further renovations had been made to the terminal building, including improving the range of duty free shops and restaurants available to passengers.
On February 1, 2008, the airport's name was officially changed from Seeb International to Muscat International to better link it to the historical city that it serves. It is now linked to more than 50 destinations in 25 countries, thanks in part to the ambitious expansion plans of Oman Air, now the Sultanate's national carrier following the disinvestment of its previous stake in Gulf Air.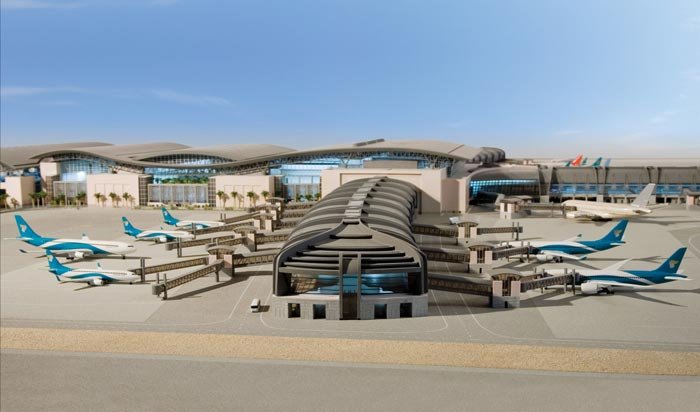 The airport handled just over 8.3 million passengers during 2013, a 10.1 per cent growth on the previous year as a period of double-digit year-on-year increases continues. In fact over the past five years air traffic at Muscat has almost doubled in scale thanks to the growth of Oman Air and the growing interest from foreign airlines serving the Sultanate.
Airport operator Oman Airports Management Company now has ambitious plans to turn Muscat International Airport into one of the most modern facilities in the region, upgrading capacity and introducing a parallel runway to the existing 11,775ft (3,589m) strip. As one executive explained to The HUB recently, "we will never be another Dubai but can at least provide a high level of service to our increasing number of passengers."
The first stage of this project in the mid 2000s was to upgrade the existing terminal building to provide interim capacity until a new purpose-built facility was opened. A new pier adjacent to the current terminal was opened in April 2009, providing an additional 107,640sq ft (10,000m2) of area. This has provided an enhanced range of retail outlets and more spacious gate areas for departing passengers, all with views across the apron.
"The expansion projects are designed to improve the existing passenger terminal building, relieve congestion at peak times and to meet the increasing passenger demand until the new terminal building is operational in late 2014," said George Bellew.
The new terminal building is to be constructed to the north of the existing runway and will include 32 airbridges - the first to be introduced at the airport. It will have a floor area of 3,121,535sq ft (290,000m2) and will be able to handle 12 mppa, with further modular growth boosting this to 48 mppa by 2050.
Furthermore, the existing runway at Muscat International Airport will be upgraded and supplemented with a new parallel runway, both of which, according to OAMC, will be able to handle the Airbus A380. The project also includes a motorway to the airport with three lanes in either direction, complete with a companion interchange feeding into the existing motorways.
OAMC executives acknowledge that this project has been more complicated than first envisaged and has pushed the opening of the 'new' airport back from the originally planned 2013. "We knew from the start that this would be a problem but did not envisage the work taking this long to complete," said an executive.
In our analysis, below, we highlight the rise in passenger demand at Muscat International Airport since 2000. After a small decline in 2007 and 2008 after an initial peak in 2006, the main air transport gateway to Oman has seen rapid growth over the past five years.
But, OAMC's strategy is not solely focussed on Muscat. The second largest airport in the country is at Salalah on the southern coastal plains. This facility is approximately 3.4 miles (5.5km) northeast of the city and like Muscat International is undergoing a major modernisation. It has a single 10,958ft (3,340m) asphalt runway for air transport movements as well as a shorter 4,196ft (1,279m) earth strip.
The airport was opened in 1977, initially for just domestic traffic but by the beginning of the last decade a growing demand for direct links to the southern city meant the airport was upgraded for international visitors – the area has a much cooler climate during the summer months, and it has become a magnet for both Omanis and other Arabs. To support this demand Oman Air inaugurated year-round flights to Dubai in July 2003 and the following April, budget carrier Air India Express become the first international operator to serve Salalah.
Over the past ten years passenger numbers have grown from just 184,285 in 2003 to 746,994 in 2013 and this summer the airport is handling its busiest ever schedule. In order to meet growing demand a number of projects were completed in 2007 to boost capacity including the expansion of the public arrivals and departure concourses and the installation of additional check-in counters, immigration facilities and general public works. These renovations were only ever designed for the short-term as now a brand new terminal building is under construction. Relocated to the north of the runway, the new facility will be able to handle 1 mppa but through modular growth could handle up to 4 mppa in the future. It will have a floor area of 376,736sq ft (35,000m2) with eight passenger airbridges providing direct access from the terminal to aircraft. The main runway is also undergoing a major upgrading and in the future will be able to handle any commercial passenger aircraft, including the A380.
Salalah Airport has been conceived as a new international gateway to Dhofar Governorate. It will also serve as an international and domestic hub for sea cargo in conjunction with the Port of Salalah and Salalah Free Zone. A key feature of the modernisation plan for Salalah includes an air cargo terminal equipped to handle 100,000 tonnes per year in the first phase, rising to 400,000 tones in future expansions.
A number of smaller regional airports are also already in existence in Oman, primarily serving the oil and gas industries. In the extreme north of the country is Khasab Airport, located in the largest city in the Musandam exclave and a key trading point with Iran. Khasab is dubbed the 'Norway of Arabia' due to its topography, a city where time has stood still and far removed from the bustling metropolises of Abu Dhabi and Dubai in nearby United Arab Emirates. The airport has a single 8,202ft (2,500m) runway aligned 01/19 and fairly basic facilities to support Oman Air's ATR 42 flights to Muscat.
The national carrier also provides links to Mukhaizna in south-Central Oman on behalf of Petroleum Development Oman (Oman). These semi-scheduled flights provide access to the nearby oil fields in the Al Wusta region. From January 2004, Oman Air has also been serving Fahud Airport, also in Central Oman, after a new asphalt runway was laid there and it also serves Marmul and Qarn Alam.
Away from the existing airports, new facilities are planned at six sites across the country. At Sohar, to the northwest of Muscat and mid-way between the city and Dubai, a 500,000 passenger per annum terminal building and 13,190ft (4,020m) runway are planned.
An ancient capital of Oman and thought to be the birthplace of Sinbad the Sailor, Sohar is the most developed city in the country outside of the capital and has become a key industrial zone due to major infrastructure projects such as the Sohar Industrial Port. The proposed airport will have two gate lounges, a single boarding bridge, two remote stands, around 300 car parking spaces and an adjacent 50,000 tonne cargo terminal.
OAMC sees this as a key cargo gateway and initially for domestic air travel although in the longer-term it could also sustain intra-regional international flights enabling users to avoid a two hour drive to either Muscat or Dubai.
To the southeast, Ras Al Hadd, located at Oman's Eastern extremity at the conjunction of the Gulf of Oman and the Arabian Sea, a small airport predominantly aimed at leisure travellers is proposed. Also designed with an annual capacity of 500,000 it will have a single 13,125ft (4,000m) runway with six apron stands.
Ras al-Hadd and nearby Ras Al Jinz are most notable for their beaches and the region is taking off as an eco-tourism destination and is home to many endangered turtles, which lay their eggs on the sand. OAMC is mainly targeting charter airlines to fly there as visitors currently face a five hour road journey to get there from Muscat.
Further south along the country's Eastern peninsula is Ad Duqm, an industrial oil town with a notable port. It is now home to a small airport which welcomed its first passenger aircraft in July this year and is part of a larger plan to set up a modern seaport as well as tourism interests. OAMC believes Ad Duqm could become a gateway for oil and gas traffic and alongside business travellers expects a demand from leisure travellers as well as logistics companies.
When fully completed the facility will cover an area of 43,800sq ft (13,350m2), and is planned to have four departure gates - two connected to boarding bridges and two for remote bus stands – which will be linked by two taxiways to a 13,190ft (4,020m) runway.
Elsewhere, moving inland into northeastern Oman, the town of Adam, could become the home of the first general aviation airfield in the country. An airport, approximately 18.6 miles (30km) from the centre of Adam, known by many as the last green oasis in Oman before the desert is under development.
Initially planned for business traffic and with a single 13,125ft (4,000m) runway and capacity for 500,000 passengers per year, OAMC believes that the facility will become more popular for VIP traffic in the country. Longer term it will look to get flying schools based here and develop it as a general aviation facility.
In the second stage of development two further sites are proposed at Hayma in the Wusta region and a potential gateway into Oman's desert heartland, and at Shalim on the east coast of the Dhofar region. The latter is viewed as a possible link to the Hallaniyat Islands, which lie around 25 miles (40km) offshore and which are destination growing increasingly popular with tourists.
Executives at Oman Airports Management Company accept that the country's current air transport policy is certainly an ambitious one but with a strong national carrier in the form of Oman Air, they are confident of delivering a sustainable aviation industry for the country and its many visitors.