Nassau Paradise Island Promotion Board Wins Routes Americas Marketing Award in Puerto Rico
Richard Maslen
February 19, 2016
Nassau Paradise Island Promotion Board (NPIPB) were announced as the overall winner of the Routes Americas edition of the Routes 2016 Marketing Awards which were formally announced last night during the Networking Evening event which took place in El Cuartel de Ballaja in San Juan, Puerto Rico.
Speaking just after receiving the highly regarded accolade for the first time Fred Lounsberry, Chief Executive Officer, NPIPB said: "We are pleasantly surprised, but absolutely delighted to pick up these awards this evening. To be recognised by our airline partners for our efforts is a great endorsement of the hard work we put into maintaining healthy and positive relationships with those airlines that fly into the Bahamas and ensuring we provide support for sustainable development."
"We are not yet at 100 percent occupancy at our hotels so we still have work to do to develop further airlift, while we have a lot of development coming to Nassau Paradise Island over the next few years, so there are more opportunities for us to work with our existing airline partners to grow," he added.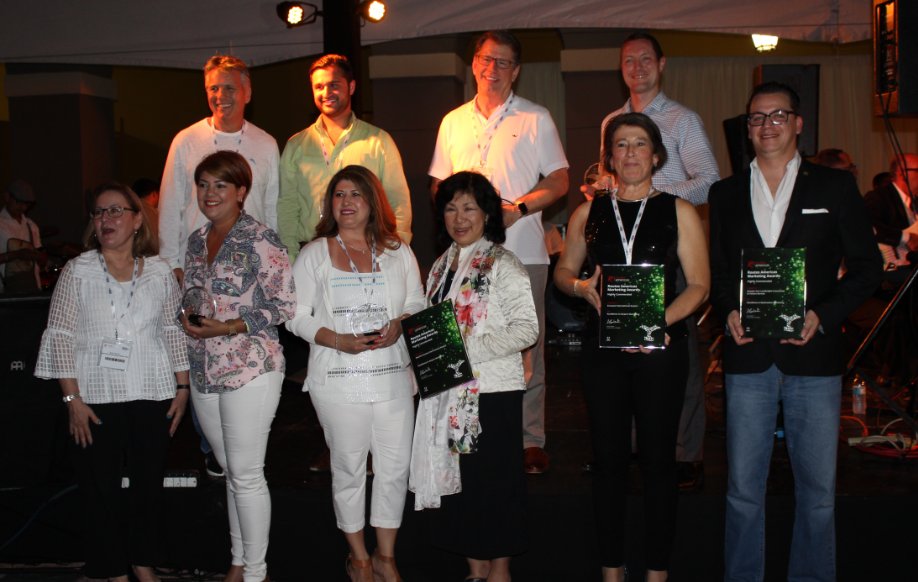 The awards, which are voted exclusively by airlines, are split into four categories comprising of three airport categories, split by size and a destination category for the best destination marketing campaign by a tourism authority.
NPIPB was also named as the winner in the Destination Marketing category, while Aruba Airport Authority was honoured in the under 4 million passengers category; Vancouver International Airport in the 4 million -20 million passengers category; Las Vegas McCarran International Airport in the over 20 million passengers category.
Created in 1997 to recognise excellence in airport marketing as rewarded by airlines, the annual Routes awards provide the airline community with the chance to have their say as to which airport they think provides the best overall marketing services to them.
"We're delighted to mark the achievements of all of our nominated airports and destinations in the first regional heat of the Routes Marketing Awards. Year-on-year we are impressed by the calibre of the submissions," said Katie Bland, Director, Routes.
As overall winner of tonight's awards, NPIPB will be automatically shortlisted for their category at the World Routes Awards in Chengdu, China on September 26, 2016.
A respected panel of judges made up of senior members of the airline network planning community reviewed airline nominations and submissions from the nominated airports in order to determine the winners.
The panel consisted of the following experts:
Adriana Hurtado, Director of Network Planning, Avianca
Olga Guizado, Senior Planning Analyst, COPA Airlines
Chris Kennedy, General Manager, Network Planning and Global Partnership Development, Delta Air Lines.
Dave Clark, Vice President, Network Planning, JetBlue Airways

The full list of companies shortlisted under each award category were as follows:

Overall Winner
Nassau Paradise Island Promotion Board


Over 20 Million Passengers
Las Vegas McCarran International Airport - Winner
Seattle-Tacoma International Airport - Highly Commended
El Dorado International Airport
Boston Logan International Airport
Ft. Lauderdale-Hollywood International Airport

4 - 20 Million Passengers
Vancouver International Airport - Winner
Portland International Airport - Highly Commended
Cancun International Airport
Montreal Trudeau International Airport
Tocumen International Airport
Under 4 Million Passengers
Aruba Airport Authority - Winner
Charleston International Airport - Highly Commended
Curacao International Airport - Highly Commended
Cyril E. King Airport
Olaya Herrera Airport


Destination Award

Nassau Paradise Island Promotion Board - Winner
Greater Ft. Lauderdale Convention & Visitors Bureau - Highly Commended
Barbados Tourism Marketing Inc.
Explore Charleston
St. Petersburg/Clearwater Area Convention & Visitors Bureau