Hermes Airports drives destination marketing efforts for Cyprus
Richard Maslen
September 26, 2016
In the highly competitive world of leisure travel, the Mediterranean island nation of Cyprus is an increasingly sought-after destination. Steeped in ancient history and fringed with postcard-worthy beaches, Cyprus lured a record 7.6 million passengers in 2015 alone. Visitors - of whom 80 percent are on holiday - travel through one of two airports: Larnaka International Airport (LCA) and Pafos International Airport (PFO).
But it's not just the draw of Cyprus' crystal waters or 6,000 year-old artifacts: this record growth is the result of airport investment, strategic partnerships and focused destination marketing efforts spearheaded by Hermes Airports, operator of Cyprus and Larnaka Airports and part of the Vantage Airport Group network.
Since assuming operations and development of LCA and PFO in 2006, Hermes Airports has completely overhauled airport facilities and welcomed 70 airline partners connecting dozens of international destinations to Cyprus. Hermes Airports has also galvanized a network of travel and tourism players around a common goal: to increase tourism to Cyprus. In its decade of operation, the company has forged strong relationships with tourism organizations and regional tourism boards, government representatives, hoteliers, tour operators and, critically, the airlines that facilitate travel for millions.
By partnering with air carriers to promote Cyprus with integrated marketing campaigns in key inbound tourism markets, Hermes Airports has helped drive destination awareness and traffic, extend the peak travel season and encourage return visits. One recent standout example of this alignment saw Hermes partner with Aegean Airlines on an online media campaign targeting would-be leisure travellers in the London market.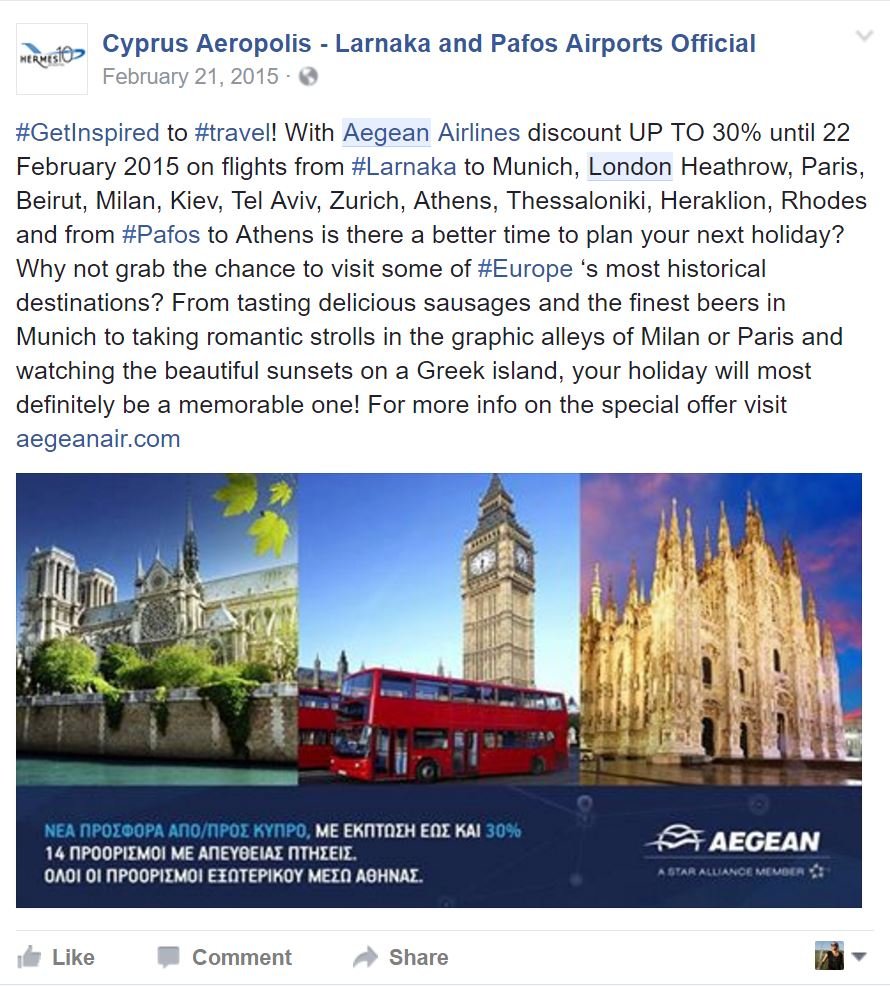 A series of minute-long videos and postings showcase the diversity of attractions available on Cyprus, from shipwreck diving and hiking to wine tasting and museum-going. A similar French-language campaign targeted consumers in France, and Thomas Cook and Norwegian Airlines have also partnered successfully with Hermes on focused campaigns to fill planes.
Speaking to Routesonline at World Routes in Chengdu, China, Maria Kouroupi, senior marketing manager, Hermes Airports, said integration is key to success. "Whether that's through a joint exhibit with the tourism authority at an industry event or a co-branded content marketing campaign, an integrated approach to promoting your destination - and a willingness to contribute resources - will drive results," she noted.

With Hermes Airports at the helm of targeted destination marketing, Pafos and Larnaka airports posted a remarkable increase of 16% in passenger traffic in the first six months of 2016, delivering more than one million additional passengers and heralding another record year of growth for the airports. Airline load factors and high hotel occupancy rates tell a similar story, one of that illustrates the power of strategic partnerships and a shared passion for showcasing the very best of beautiful Cyprus.