Fly Kiss sets November date for its first kiss
Richard Maslen
September 14, 2016
New European carrier Fly Kiss has set November 7, 2016 as the tentative launch date for its new regional flights linking France and the United Kingdom. The airline, created by the French group Enhance Aero, plans to operate across a network of eleven routes linking Clermont-Ferrand, Nice, Strasbourg, Lille and Brest in France and London Luton in the UK.
The virtual carrier planned to launch flights this spring after successfully securing a contract from the Chambre de commerce et d'industrie du Morbihan to resume the domestic French Lorient - Lyon route previously flown by Eastern Airways but suspended since late 2015. However, its launch was delayed due to what were described as "administrative reasons".
Fly Kiss will operate under the auspices of SiAvia, a Ljubljana, Slovenia-based subsidiary of Enhance Aero with a fleet of 49-seat Embraer ERJ-145s which are already part of portfolio of the charter provider. Its initial network will include a mixture of non-stop and one-stop flights which it says will significantly enhance connectivity between city pairs that have limited or no current links.
"Today, our business is divided between flights for business and special flights, incentive and event," said Bruno Lechevin, president, Enhance Aero. "We have performed well over 7,900 flights and transported 200,000 passengers. Scheduled air transport will enable us to complement these activities and to make ourselves better known."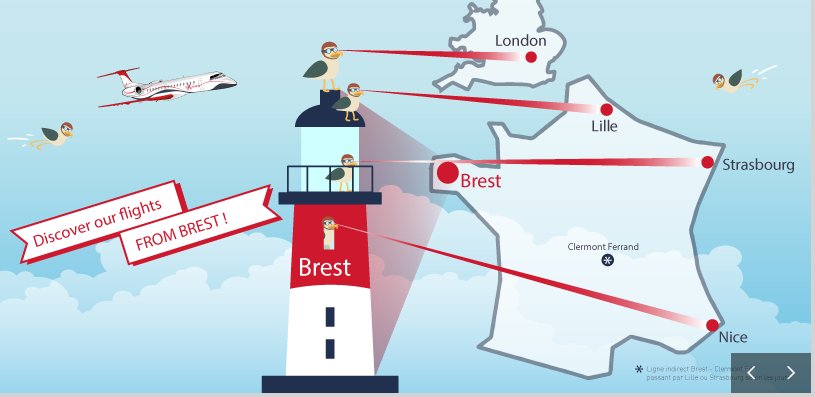 The start-up will link Clermont-Ferrand to London Luton on a four times weekly basis and link Brest to London Luton three times weekly, with onward direct connections to Strasbourg. These will be the only current non-stop flights linking both Brest and Clermont-Ferrand to London and for the winter 2016/2017 schedule the only direct flight between Strasbourg and the UK capital.
Historical data from OAG Schedules Analyser shows that Ryanair used to serve the Brest - London Luton market up until April 2011. Since then Air France (March 2012 - October 2013) and CityJet (May 2014 - October 2014) have offered links to City Airport and easyJet on a limited short summer schedule to Gatwick Airport (July - September 2014 and July - August 2015). Ryanair has also offered the only non-stop link between London and Clermont-Ferrand over the past ten years with limited flight into Stansted Airport in July and August 2015, according to the intelligence provider.
The Strasbourg - London market has seen much more service with multiple weekday flights being offered by Air France into Gatwick Airport up until October 2007 and then City Airport through to October 2009. Ryanair resumed the city links in April 2013 into Stansted Airport and easyJet returned the Gatwick Airport offer in March 2014. The city pair remained served up until spring 2016 when easyJet suspended its Gatwick flight, but from March next year Ryanair will resume its Stansted Airport link having ended its own flights in October 2015 .
In the French domestic market it plans five weekly flights between Brest and Clermont-Ferrand; four weekly flights between Clermont-Ferrand and Nice and three times weekly flights linking Brest to Lille, Nice and Strasbourg; Clermont-Ferrand to Lillie and Strasbourg; and Lille and Nice through a mix of non and multiple-stop flights mainly focussed on Brest Bretagne Airport.
Our analysis of the airline's planned flight schedules from the start of November show a need for two aircraft. Although the timetable can be operated by a single aircraft flying from and to Clermont-Ferrand from Sunday through to Thursday, the Friday operation requires a second aircraft. Its full planned schedule follows:
Monday
KT782 Clermont-Ferrand 06:45 – 07:50 Strasbourg 08:30 – 10:10 Brest 10:50 - London Luton 11:00
KT231 London Luton 11:40 – 14:05 Clermont-Ferrand
KT230 Clermont-Ferrand 15:25 – 15:50 London Luton
KT783 London Luton 16:30 – 18:40 Brest 19:20 – 21:00 Strasbourg 21:40 – 22:45 Clermont-Ferrand
Tuesday
KT506 Clermont-Ferrand 06:30 – 07:40 Lille 08:20 – 09:40 Brest 10:20 – 12:15 Nice
KT217 Nice 12:55 – 13:55 Clermont-Ferrand
KT216 Clermont-Ferrand 15:15 – 16:15 Nice
KT507 Nice 16:55 – 18:50 Brest 19:30 – 20:50 Lille 21:30 – 22:40 Clermont-Ferrand
Wednesday
KT506 Clermont-Ferrand 06:30 – 07:40 Lille 08:20 – 09:40 Brest 10:20 – 12:15 Nice
KT217 Nice 12:55 – 13:55 Clermont-Ferrand
KT216 Clermont-Ferrand 15:15 – 16:15 Nice
KT507 Nice 16:55 – 18:50 Brest 19:30 – 20:50 Lille 21:30 – 22:40 Clermont-Ferrand
Thursday
KT782 Clermont-Ferrand 06:45 – 07:50 Strasbourg 08:30 – 10:10 Brest 10:50 - London Luton 11:00
KT231 London Luton 11:40 – 14:05 Clermont-Ferrand
KT230 Clermont-Ferrand 15:25 – 15:50 London Luton
KT783 London Luton 16:30 – 18:40 Brest 19:20 – 21:00 Strasbourg 21:40 – 22:45 Clermont-Ferrand
Friday
KT506 Clermont-Ferrand 06:30 – 07:40 Lille 08:20 – 09:40 Brest 10:20 – 12:15 Nice
KT217 Nice 12:55 – 13:55 Clermont-Ferrand
KT216 Clermont-Ferrand 15:15 – 16:15 Nice
KT507 Nice 16:55 – 18:50 Brest 19:30 – 20:50 Lille 21:30 – 22:40 Clermont-Ferrand
KT782 Clermont-Ferrand 06:45 – 07:50 Strasbourg 08:30 – 10:10 Brest 10:50 - London Luton 11:00
KT231 London Luton 11:40 – 14:05 Clermont-Ferrand
KT230 Clermont-Ferrand 15:25 – 15:50 London Luton
KT783 London Luton 16:30 – 18:40 Brest 19:20 – 21:00 Strasbourg 21:40 – 22:45 Clermont-Ferrand
Saturday
No Flights
Sunday
KT230 Clermont-Ferrand 15:25 – 15:50 London Luton
KT231 London Luton 16:30 – 18:55 Clermont-Ferrand
KT216 Clermont-Ferrand 19:35 – 20:35 Nice
KT217 Nice 21:55 – 22:15 Clermont-Ferrand