easyJet adds another Airbus to Edinburgh operation
Richard Maslen
November 29, 2015
European low-fare carrier, easyJet has confirmed it will station an additional Airbus at its Edinburgh Airport base from summer 2016, increasing its fleet in Scotland's capital city to eight aircraft. This is to cater for extra demand from its passengers and to enable the airline to fly to even more destinations from the airport, said the airline.
easyJet operates a significant network from Scotland with operations from Edinburgh, Glasgow, Aberdeen and Inverness Airports. This year it launched services from Edinburgh to Stuttgart and Funchal and from Glasgow to Marrakech, Milan and Bordeaux and has already revealed new routes from Edinburgh to Vienna and Venice and from Glasgow to Marseille for this year.
"Just over twenty years ago we launched the airline with services between London Luton and Glasgow. Twenty years on Scotland remains an important part of our strategy and we continue to see an opportunity for growth in Scotland," said Carolyn McCall, Chief Executive Officer, easyJet.
Over the past four years easyJet has grown its capacity in Scotland by 20 per cent and following this year's network in Scotland it now operates 62 routes from the country to points across Europe. Its Edinburgh network is its largest in Scotland and now stands at 36 routes.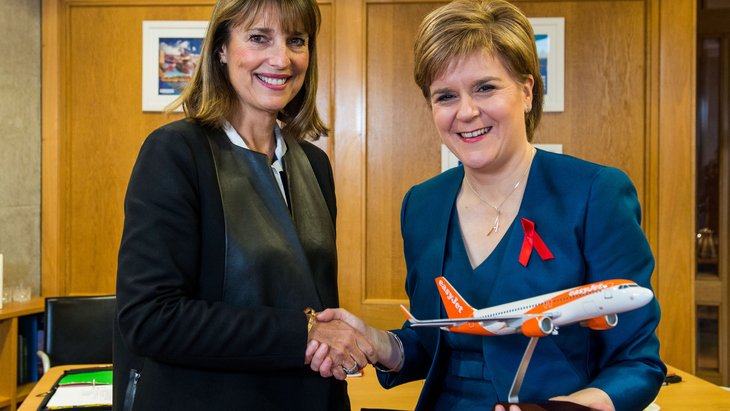 "This eighth aircraft, that we are putting into our Edinburgh operations from Summer 2016, will accommodate the extra routes we have put on sale and the extra demand," confirmed McCall.
easyJet flew 5.5 million passengers between Scotland and Europe in the year to September and in the coming year the carrier expects this to grow by around 10 per cent. Its investment into Scotland means it currently employs close to 500 crew in the country at its Edinburgh and Glasgow bases. This additional aircraft will increase those stationed in the capital to around 300 including pilots, cabin crew and base management.
Improving Scotland's connectivity is one of its Government's top priorities to help build strong business links and provide a real boost to its tourism industry. According to First Minister, Nicola Sturgeon, easyJet's announcement is evidence of their continued investment in the country. "I remain keen to support their aspirations to expand in Scotland," she said.
Schedule data from OAG shows that easyJet's departure capacity from Scotland grew by an average annual rate of 3.3 per cent between 2005 and 2014. Our analysis shows there have been fluctuations in its activities from the country, with strong growth up until 2007, declines in 2008 and 2009, a modest increase again in 2010 followed by more positive rates of growth between 2011 and 2013. After last year's small decline of 1.7 per cent, capacity this year will rise 1.3 per cent, based on published schedules.
Since the start of the decade easyJet's capacity from Aberdeen has grown at the fastest rate (up 67.6 per cent) despite three successive year-on-year declines following rapid growth in 2011 and 2012. Meanwhile, the airline's offering from Edinburgh (up 35.0 per cent) and Inverness (up 34.2 per cent) has also grown significantly. This has all been at the cost of Glasgow, however, where capacity since 2010 has declined (down 1.4 per cent).