US major American Airlines has confirmed it will launch a new daily link between its Florida hub at Miami International Airport and Milan Malpensa this winter as part of its joint business agreement with British Airways and Iberia. The new route will commence from November 21, 2013 and will be operated using a 218-seat Boeing 767-300ER. It will complement the oneworld alliance member's existing service to Milan Malpensa from its New York John F Kennedy International Airport hub.
"As the home to a growing Italian population and one of the world's key fashion industry markets, Miami continues to be a preferred destination for travel from Milan," said Marilyn DeVoe, Vice President – Miami, American Airlines. "This new route enhances our expanding global network and provides our European customers a gateway to many Caribbean and Latin America destinations from our Miami hub."
In the past year an estimated 81,000 bi-directional O&D passengers flew between Miami and Milan, a market dominated by American's rival SkyTeam alliance due to the existing flights of Alitalia on the route. The Italian flag carrier has provided a daily link operated as a codeshare with Delta Air Lines, although this was switched to a seasonal basis this year. Although this route has feed from Alitalia's wider short-haul operations from Malpensa, American believes its stronger network from Miami will allow it to offer greater connectivity options across the United States, the Caribbean and Latin America.
American Airlines and its regional partners currently have a 67.9 per cent share of the available seat capacity from Miami International Airport (based upon this year's schedules) and when the new Milan service launches in November will offer non-stop flights to 115 different onward destinations from the US gateway. This compares with Delta's 5.6 per cent capacity share and a network that covers just six destinations from Miami, despite it being the number two carrier at the facility.
"Miami is one of the world's top business and leisure destinations, so it is important to provide travelers from around the globe easy access to our community's trade, commerce and tourism opportunities," said Carlos A. Gimenez, Mayor, Miami-Dade County. "With this new route, American Airlines demonstrates its commitment to enhancing Miami's position as a premier travel destination and helps to advance the area's economic growth."
More flights to London
American Airlines' joint business agreement with its oneworld alliance partners British Airways and Iberia is key to its access to the transatlantic market, not more so than in the London market where competition is strong and capacity at London Heathrow is limited. The recent partnership between Delta Air Lines and Virgin Atlantic means there is further competition in this market place and American, through this business relationship is seeking to beef up its own schedules from winter 2013/2014.
According to the US major's latest GDS display additional flights will be introduced to London Heathrow from October 27, 2013 from both Miami International and Dallas/Fort Worth International. The link from Dallas will be flown 17 times weekly rather than 14 times weekly last year and the Miami service operated 14 times weekly rather than 10 times weekly in winter 2012/2013. Both routes will also be exclusively operated using Boeing 777 equipment - -200ER and -300ER variants – rather than the current mix of 767 and 777 flights, further boosting capacity.
Based on an analysis of this calendar year's flight schedules, American Airlines has a 14.6 per cent share of the total seat capacity between London Heathrow and the United States. This ranks the carrier as the fourth largest operator in this market behind British Airways (42.7 per cent), Virgin Atlantic Airways (15.7 per cent) and United Airlines (14.8 per cent). However, when you look by alliance oneworld clearly has the dominant position with a 59.3 per cent share of capacity, showing the clear strength of the partnership in this market.
Airbus A319s to be deployed from Dallas
This week American Airlines has opened reservations for the first of its new Airbus A319s which will enter scheduled revenue service from mid-September 2013. The carrier has committed to acquire 130 Airbus short-haul aircraft, its first ever deal for the aircraft family, and is expected to welcome the delivery of the first of these new aircraft from July this year. The two-class, 128 seat (8 First Class; 120 Economy, including 18 Main Cabin Extra seats), A319s will be initially deployed from Dallas/Fort Worth International and will provisionally enter service on September 16, 2013 on some of its existing rotations to Charlotte, Cleveland, Memphis and Wichita.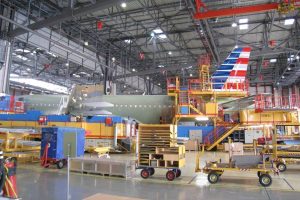 The second phase of growth will see the A319s introduced on flights between Dallas/Fort Worth International and Dayton and Lubbock from October 1, 2013 and then from October 15, 2013 on flights between Dallas and Dallas – El Paso, Huntsville, McAllen and the Canadian city of Toronto, its first international route for the type. The subsequent phase of the introduction will see the A319 introduced between Dallas and San Salvador, the capital of El Salvador, from November 1, 2013 and then between Dallas and Gunnison, Jackson Hole and Vail from December 19, 2013.
American remains tight-lipped on the exact breakdown of its Airbus short-haul order and as the aircraft are understood to being sourced via specialist lessors as no formal commitment is displayed in the Airbus orderbook. According to company sources the airline is due to receive 20 aircraft before the end of 2013, including at least five A321s which will be utilised on transcontinental flights between New York on the East Coast and the West Coast cities of Los Angeles and San Francisco from November 2013.
The A319s are initially being used to replace some of American's older McDonnell Douglas MD-80s, which presently serve the majority of the routes being served by the new European jets. In fact, all of the first seven domestic routes that are planned for the A319 are currently served by similarly-sized MD-80 equipment. The December domestic network changes will see the A319s replace larger Boeing 757-200s to Gunnison, Jackson Hole and Vail, while the international routes to Toronto and San Salvador will see the A319 substitute Boeing 737-800s.