Vietnam Airlines Reveals Fresh Look for New Modern Fleet
Richard Maslen
March 14, 2015
The first A350 XWB for Vietnam Airlines has been rolled out of the Airbus paint shop in Toulouse earlier this month, featuring refreshed branding updating the airline's distinctive blue and gold lotus livery. The aircraft, which will be leased from AerCap, is now entering the advanced stage of production. This will include installation of the engines, completion of cabin furnishing, and cockpit fitting, followed by ground and flight tests. The aircraft is scheduled for delivery in the middle of the year.
Vietnam Airlines will become the first Asian airline to fly the A350 XWB and the second operator in the world. Vietnam Airlines will acquire 14 A350 XWBs, including ten on order from Airbus and four under lease agreements. The carrier will operate its A350 XWB fleet on premium long-haul routes, beginning with services between Hanoi and Paris.
The Asian carrier is due to take delivery of the first aircraft around the middle of next year and opened its first bookings for the A350 on December 15, 2015, with the aircraft scheduled to operate six flights per week on the Hanoi – Paris CDG route from September 30, 2015. This link, one of the carrier's premium long-range services, is currently flown by a Boeing 777.
However, the aircraft will initially be used on flights within Asia for crew familiarisation before making its schedule debut at the end of September 2015 and Vietnam Airlines has confirmed the type will serve the carrier's trunk domestic route between Hanoi and Ho Chi Minh City from July 1, 2015 to support staff training. The type will also serve routes between Hanoi and Seoul Incheon from October 1, 2015 and between Ho Chi Minh City and Paris CDG from October 24, 2015.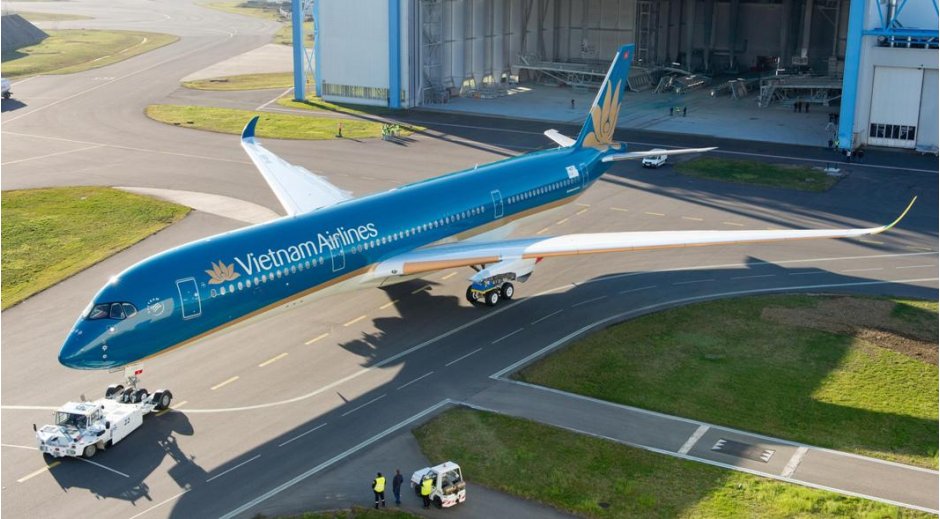 Vietnam Airlines has a mix of A350-900s and Boeing 787-9s on order as it seeks to replace its older A330-200 and 777-200ER fleets, all of which are leased. Under its renewal strategy its nine A330-200s and nine 777-200ERs will be replaced with the modern generation equipment by the end of 2018, with additional A350s and 787s used to support a growth strategy to support Vietnam's growing standing in the global economy.
Although no confirmed delivery schedule has been confirmed by the airline, the first 787 is expected to arrive before the middle of 2015, slightly ahead of the arrival of the first A350, expected around June or July 2015. A total of eight new aircraft are expected to arrive in the calendar year with around half of these being used for frequency or route growth.
In addition to the London and Paris routes, Vietnam Airlines' long-haul network also currently comprises Frankfurt and Moscow in Europe and Melbourne and Sydney in Australia. All these routes will be served by the two new types, while growth could see additional frequencies added to these markets and the launch of much anticipated direct flights between Vietnam and the United States.