Three questions for... Verónica Sevilla, CEO, Quito Turismo
Routes News
May 11, 2017
Verónica Sevilla, chief executive of Quito Turismo, shares her thoughts with Routes News.
Q: What are the issues and opportunities facing Quito?
Quito has a cultural heritage unmatched by the rest of the world. It is one of the best preserved colonial cities in central and southern America and is more than 500 years old. There is a great story to tell about the city, its riches, its traditions and its culture and we need to make sure more people hear it.
We are also looking to capitalise on the fact that we are in the middle of the world. That means we have no seasons and it feels like spring all year round with 12 hours of sunshine every day.
There are also other benefits from our position. Quito is 35 minutes flight from the Amazon basin and the coast so it is a great place for travellers to start a bigger trip to South America.
Our concerns for the year ahead are all about connectivity. We are working hard on having direct fights to the many outgoing markets like the US, the UK and Europe as well as other long-haul markets like China or Japan. It is a long-term project but it is something we have to work hard on.
We are also building a new convention centre which opens early next year so we will also be focusing on the MICE market.
Q: Is long-haul your key focus for route development?
We have got a number of different targets. Right now we are securing more low-cost flights which gives us connectivity with South American destinations and we want to continue that.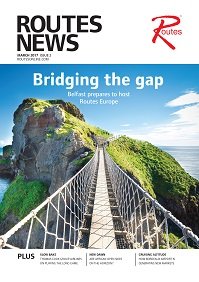 ---
This article first appeared in Routes News, issue 2 2017.
---
Having more connectivity to other South American hubs means we can start targeting travellers arriving in places like Lima and Bogota. Also if we can get more routes to cities such as Bogota and Cartagena then we can start offering twin-centre breaks to long-haul travellers.
These connections will also help us develop our short-haul market with neighbouring Latin American countries. They might not be the biggest spenders but it is good to get them coming over for the weekends and we have to grow that market. Regarding long-haul markets, our key ones are the US east and west coasts and the UK where we want direct routes, while we would like to see more connectivity to Spain.
Airlines want both their incoming and outgoing flights to be full and that's something we also need to work on The incoming tourist traffic is always important but it is the outgoing business which really wins the argument in route development.
We will be working with local travel agents as we try to develop that.
Q: What are the best and worst parts of your job?
Tourism is the most democratic industry as while you might buy your holiday from a tour operator, you can then buy a handicraft from a local worker in resort. Tourism penetrates the market at many different levels. This means working for Quito Turismo I have the opportunity to help people at all levels in my city.
Tourism is also an excellent way of preserving all the culture the city has to offer. Globalisation makes people all the same but by putting a value on our differences, so we can safeguard and celebrate them. Preserving a destination means you can then sell its uniqueness.
This means that, having been in the private sector for 15 years, I am now benefiting the city where I spent all my working life.
The worst thing about my job is some people can be quite resistant to change. We have some beautiful sites like a monastery and a nunnery but you sometimes need to change them to make them profitable and attractive to investors which can be hard work. That said you have to be careful not to damage sites if you are opening them to the public or you will lose their value anyway.
---
Routes Americas 2018
The 11thRoutes Americas will take place in Quito, Ecuador.
Routes Americas is your opportunity to meet with senior decision makers from the region's airlines to discuss new market opportunities and the evolution of existing services. The event connects you with the most senior decision makers and offers extensive networking opportunities to enable you to build high value relationships with some of the most influential aviation professionals from across the region.
Over 800 aviation professionals
Over 80 airlines expected
Over 300 airports forecasted
Over 50 tourism authorities
More than 2000 meetings pre-arranged
Over 20 high level speakers