Pegasus Airlines is bouncing back and looking to new markets
Routes News
February 22, 2018
By the time the Turkish government had suppressed the military coup of July 2016, it was clear that tough times lay ahead for the country's aviation sector. A series of high-profile terror attacks – including one devastating assault on Istanbul's Atatürk International Airport – had already shattered Turkey's appeal as a tourism hotspot and intercontinental aviation hub.
Political unrest only looked set to damage its reputation further. With flag-carrier Turkish Airlines and low-cost rival Pegasus Airlines both posting operating losses for the year – their first in recent memory – concerns grew that Turkey's era of double-digit passenger growth was grinding to a halt. The subsequent election of US president Donald Trump and the imposition of his laptop ban on Turkish and Middle Eastern carriers made 2017 appear no less ominous.
Yet, despite battling headwinds on multiple fronts, the two network carriers rebooted their growth plans after bouncing back into profit. Amid a vastly improved security climate and a better-than-expected recovery in outbound demand, Turkey's aviation sector now looks stronger than ever.
"It's true 2016 was a very catastrophic year for every airline in Turkey," admits Emre Pekesen, sales and network planning director at Pegasus.
"The coup attempt and the other security issues affected inbound traffic a lot. But all those issues seem to be solved right now, and for 2017, I can say, it has definitely recovered."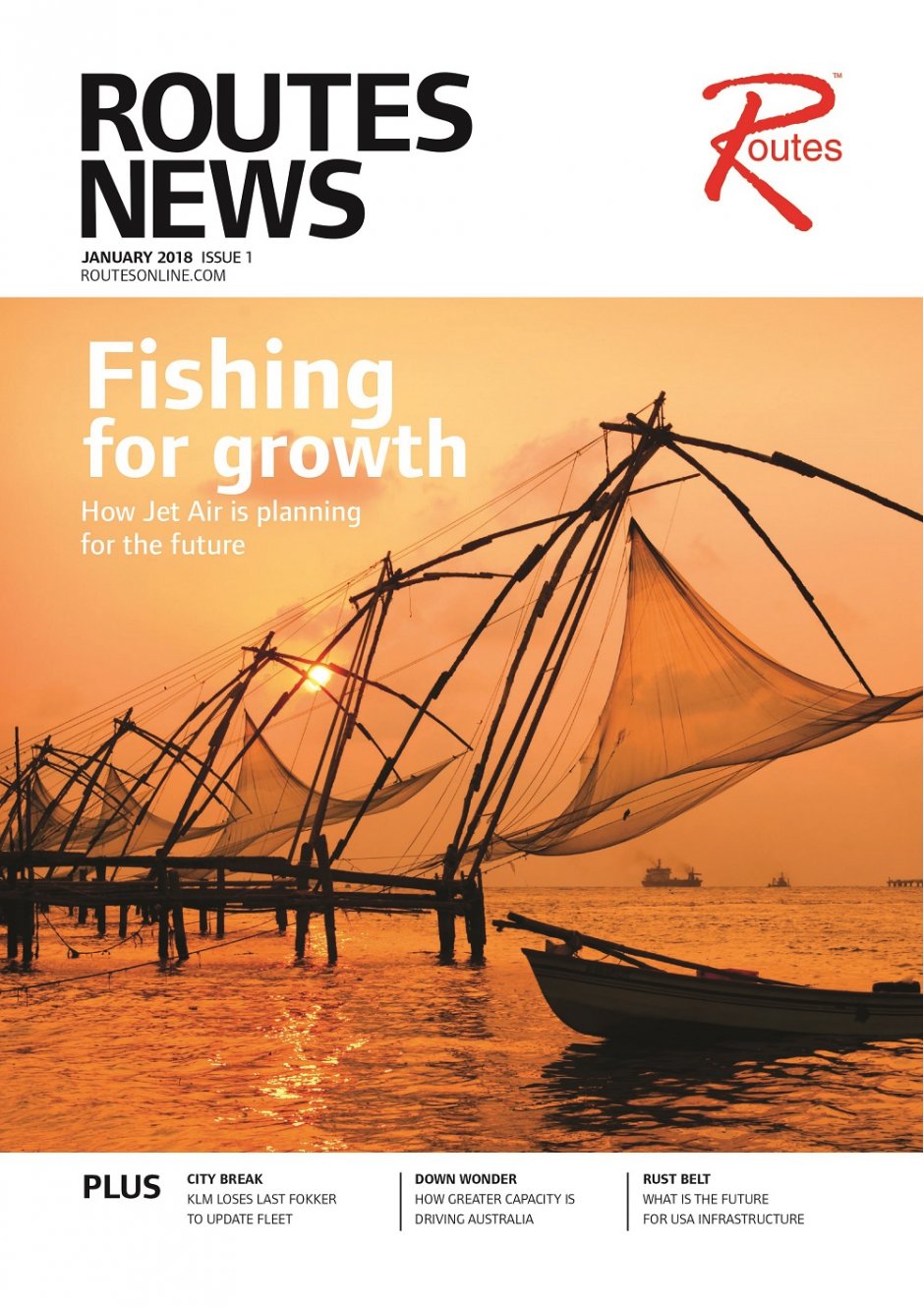 ---
This article first appeared in Routes News edition 1 2018
---
The worst of the downturn hit Pegasus between September 2016 and February 2017, when passenger numbers fell for six consecutive months as Europeans steered clear of Turkey.
Wet-leasing six Boeing 737s to foreign carriers allowed the company to scale back operations without grounding its planes and crew. Another seven Boeings were then sold for $179m, enabling management to speed up the transition to fuel-efficient Airbus A320neos.
Other measures such as introducing electronic flight bags and acquiring Salesforce, a digital customer-service platform, also played a part in boosting efficiency. Combined with a healthy pick-up in demand, the result was a net profit of 492 million Turkish lira ($125m) for the first nine months of 2017.
International focus
Pekesen notes that the airline added six new destinations last year: Grozny, Nizhny Novgorod, Samara and Volgograd in Russia; Odessa in Ukraine; and Abu Dhabi in the UAE. This reflected a conscious shift away from domestic traffic and towards non-Western overseas markets, he says, though the reason had less to do with civil unrest than with capacity restrictions at Sabiha Gökçen International Airport, the airline's main hub, which is located on the Anatolian side of Istanbul.
"Slots are precious in Sabiha Gökçen so we cut some of our domestic network and put [the growth] in the international sectors," Pekesen recalls, emphasising that the gateway operates well above its intended capacity of 25 million passengers per year.
"Inbound traffic was affected by the coup attempt, but outbound from Turkey to international [destinations] was not... The Turkish people travelled more than ever in 2017. That was a good sign for us."
Having rebalanced the network, Pegasus is due to receive seven A320neos this year for what CEO Mehmet Nane says will be "the real growth". His predecessor, Sertaç Haybat, placed a landmark order for 75 A320-family neos plus 25 options in 2012, moving Pegasus away from its longstanding aircraft supplier Boeing.
Fleet renewal
The fleet transition still has a long way to go, with 40 Boeings currently in service versus 24 Airbuses. But Pekesen says management have already decided to exercise all 25 options, given their confidence in the market's potential. Moreover, he reveals that the stretched high-density A321neo – due to begin arriving in 2019 – will play a bigger role than previously planned, potentially accounting for "45 to 48" units in the fleet.
"The slot issues will continue, the bilateral [traffic-rights] issues will continue in the short and the near-term," Pekesen insists. "So A321s with 239 seats will be an advantage for us."
Pegasus's existing network comprises 72 international destinations plus 36 in Turkey. Western and central Europe account for the largest share of its overseas operations, while 15 points are also served in the Middle East and the Caucasus, seven in south-eastern Europe, seven in Russia, five in Ukraine, and two in central Asia. About 30 percent of the airline's passengers use Sabiha Gökçen as a transit hub, exploiting the same geographical advantage that has fuelled breakneck growth for Turkish Airlines at Atatürk.
Outside of Istanbul, Pegasus also now stations five aircraft in Ankara, Turkey's capital. About 85 percent of flights from this secondary base are bound for mainland domestic markets, owing to Ankara's geographical location in the centre of Anatolia. However, flights to Germany, Austria, Ukraine and Jordan are also served, and Pekesen sees more overseas routes joining the network as Pegasus targets alternative access to markets for which it lacks traffic rights from Istanbul.
Asked about route development at the primary hub, he says management has a "shortlist" of candidates in the Commonwealth of Independent States (CIS), the Middle East and North Africa.
"All those three regions are bilaterally not open skies, so it's really very difficult to obtain traffic rights," he admits. "But it's worth doing this... because they are mostly underserved markets and the competition is less than [in] Europe. Yield-wise, those markets will contribute to our profitability."
Saudi Arabian ambitions
Saudi Arabia stands out as the obvious white spot in the Middle East. "I've been working for Pegasus Airlines since 2010 and during these seven years maybe we wrote 17 letters to our Civil Aviation [Authority about Saudi Arabian routes]," Pekesen complains.
"If we can obtain the permissions we can start flying immediately... Jeddah, Riyadh, Madinah, Dammam are all on our shortlist."
Iran is also underserved, with Pegasus only operating one daily flight to Tehran under the current bilateral agreement. Tabriz, Mashhad, Shiraz and Isfahan would all be considered if access were offered.
In North Africa, Morocco is the only country not being targeted due to Turkish regulations mandating crew layovers for lengthy sectors. Algeria, Tunisia, Egypt and even war-torn Libya are all candidates for growth.
"Right now I can say [security in Libya] is not at the appropriate level," Pekesen admits. "But for 2018 it might be an opportunity for us." In the CIS region, Russia, Ukraine, Uzbekistan, Turkmenistan and Tajikistan also offer potential. The upcoming A321neos could even see Mumbai and Delhi join the network, though Pekesen stresses that India "is, again, bilaterally a very strict country".
Asked how Pegasus can overcome traffic-rights issues in its target markets, he says the opening of Istanbul New Airport in October 2018 should be a catalyst for liberalisation. The new gateway will replace slot-constrained Atatürk as the city's dominant hub, paving the way for greater access by foreign carriers.
Once they have secured landing slots in Istanbul, Turkey's government should find it easier to negotiate reciprocal access for its own airlines. The new airport could also become a secondary base for Pegasus given its distinct catchment area on the European side of Istanbul, but not until its third runway is operational in about 2020.
Incumbents at Atatürk will be first in line for slots before then, and Sabiha Gökçen is anyhow due to gain its own new runway this year. "Definitely we will not move our base from Sabiha Gökçen Airport," Pekesen says, emphasising the low-cost carrier's commitment to its home base.
"Of course we would like to fly from Istanbul's third airport, but there are no given decisions on how many aircraft it will be and where [we will fly to]. Domestic, international, one aircraft, five aircraft – there are no concrete decisions."