Nordica is aiming high as it finds its niche
Routes News
May 30, 2018
When Estonian Air was ordered by the European Commission to pay back more than €85m of illegal state aid in November 2015, its government owner was immediately resigned to shutting down the underperforming flag carrier. Had the commission ruled differently, Tallink, Estonia's main ferry operator, was waiting in the wings as an investor. But there was no prospect of privatising the airline once the EU had saddled it with such huge debts.
Fortunately for Estonian travellers, the government anticipated the ruling and had already set up a new flag carrier by the time of the commission's decision. This contingency planning allowed the new company, Nordic Aviation Group, to launch operations on the very same day that Estonian Air was grounded – initially as a virtual airline under contract with Slovenia's Adria Airways.
It has taken just two years for the new flag carrier, operating as Nordica, to become an independent company with its own Air Operator Certificate (AOC), a fleet of 18 aircraft and a positive financial outlook.
Chief executive Jaan Tamm says that one factor above all else is helping Nordica thrive where Estonian Air floundered: its provision of ACMI (aircraft, crew, maintenance and insurance) wet lease services to foreign customers. While its predecessor targeted scale at home by building a hub-and-spoke network in Tallinn, Estonia's capital, Nordica generates most of its earnings from contract work overseas.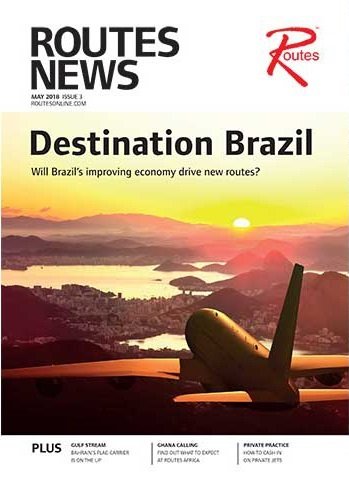 ---
This article first appeared in Routes News edition 3 2018
---
"Our mission, of course, is to serve the local Estonian market. This is why we were launched," Tamm says. "But we get scale effects in the opposite way [to Estonian Air] – not by flying customers to Tallinn, but by going out ourselves to the customers."
Shifting the focus to foreign bases means that management are tacitly – and wisely – acknowledging the limitations of their home market. Estonia has the smallest population of all the Baltic and Scandinavian countries: just 1.3 million people. Saddled with this demographic handicap, Tallinn did well to attract nearly 3 million passengers to its airport last year.
But the gateway is a minnow compared to regional hubs such as Stockholm Arlanda Airport with 27 million passengers, Helsinki Airport at 19 million and even Riga International Airport on 6 million.
Nordica's overseas strategy is thus doubly appealing: as well as boosting operational efficiency – the lifeblood of any small airline – it provides Estonian travellers with one-stop connections to many more markets than could be served direct from the capital.
"We secure connectivity for different types of destinations," Tamm says. "The natural point-to-point traffic from Tallinn, and then two or three cities that can function like hubs for flights to Europe and a little bit of intercontinental."
LOT partnership
Warsaw is the crucial link in this set-up. In November 2016, Nordica ended cooperation with Adria and launched a deep-rooted strategic partnership with LOT Polish Airlines. The new arrangement gives Nordica operational responsibility for a sizable chunk of LOT's regional network at Warsaw Chopin Airport.
But the tie-up runs deeper than a simple ACMI contract: Nordica also now uses LOT's commercial platform for its own scheduled services from Tallinn. Estonian passengers click through to a Polish booking engine when buying tickets, and their flights carry a Polish flight code to secure Star Alliance benefits.
LOT has cemented the partnership by acquiring 49 percent of Regional Jet, the technical subsidiary of Nordic Aviation Group that holds an Estonian AOC and acts as an operational sub-contractor for both Nordica and its foreign customers.
In Denmark, a parallel deal with Scandinavian Airlines (SAS) sees Regional Jet operate four ATR 72-600s from Copenhagen and Billund under a straightforward white-label agreement.
"They do all the commercial planning, scheduling, selling tickets," Tamm says of the SAS and LOT contracts. "Our task is just to offer operational service, and the commercial risk mostly lies with our partner … It's much like in the US [where] three or four big brands are using other service providers for their small regional operations."
Eager to offer a "more full service" for non-airline partners, Regional Jet has also struck wet-lease deals with the local administrations of Groningen, in the Netherlands, and Örebro, Sweden. These contracts include additional commercial services such as revenue management and route-planning guidance.
In Groningen, Nordica provides year-round services to Copenhagen and Munich, plus summer flights to Nice. In Örebro, a single route to Copenhagen is flown in partnership with bmi regional.
Focusing on ACMI contracts in this way has put Nordica on solid financial footing, with management projecting "around a seven-digit" profit for their second full year of operations. That, in turn, safeguards the group's primary function as a flag carrier guaranteeing connections to and from Estonia. The national airline now serves 21 European destinations from Tallinn, following this summer's addition of Copenhagen, Constanta in Romania and Ohrid in Macedonia.
Fleet expansion
Having more than doubled the size of Regional Jet's fleet last year, Tamm is aiming for slower growth in 2018. Two new aircraft are being inducted at the time of writing, bringing the overall fleet to ten Bombardier CRJ900s, six ATR 72-600s and two Bombardier CRJ700s.
Six of the CRJ900s are owned by Transpordi Varahaldus, the asset management company that was set up by Estonia's government at the same time as Nordica Aviation Group. Transpordi Varahaldus leases its aircraft to Regional Jet on a long-term basis and aims to keep its portfolio roughly equivalent in size to the Tallinn-based operation. As such, the Estonian network accounts for about one-third of the group's activities.
Although he describes last year's expansion as "maybe too much", Tamm is by no means taking his foot off the pedal. Management are talking to "about ten" prospective ACMI customers and hope to open two or three new bases this winter. The candidates come from all over the EU – not just the Nordic region.
He estimates that Regional Jet could have 25 to 30 aircraft on its registry within five years, due primarily to growth of the ACMI business. Asked about the state of competition in his home market, Tamm brushes aside recent advances by Air Baltic.
The Latvian airline launched flights to London in March and will add Stockholm and Oslo this winter, bringing its Tallinn network to nine routes. Martin Gauss, its CEO, has repeatedly asserted his company's aim of becoming a shared flag carrier for the Baltic bloc, but Tamm considers that an unrealistic goal.
"To launch such a project, there should be some political and economical cooperation at the government level," he notes. "We are good neighbours with Latvians and Lithuanians but there are not so many joint ventures."
Instead of looking south to the Baltics, Tamm sees greater potential north in Helsinki, Finland's capital. As a member of the oneworld alliance, Finnair might not seem an obvious choice of partner for Star-allied Nordica.
But the Finnish flag carrier has been forced to take full ownership of Norra, its regional subsidiary, twice in the past four years. With Finnair's management insisting that Norra can only survive as a joint venture, alternative white-label arrangements could soon be considered.
"Of course it's a question for Finnair, but why not?" Tamm says. "Finnair is a perfect partner due to the geographical closeness and also the cultural closeness … Let's say we are monitoring the situation."
Image: Nordica