Live blog: Routes Europe 2019
David Casey
April 10, 2019
Follow our live blog for updates throughout Routes Europe 2019, bringing together more than 1,200 delegates in Hannover.
Follow #RoutesEurope on Twitter
---
Wednesday 10 April
16.00 - Baton passed to Bergen!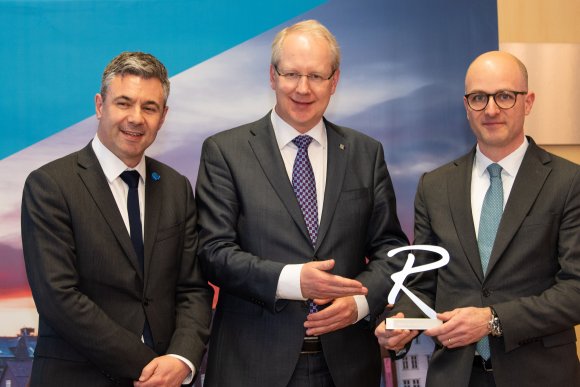 As Routes Europe 2019 comes to an end, this year's hosts in Hannover passed the baton to Avinor, which will host the event in Bergen, Norway in 2020.
Routes Europe, the route development forum for Europe, is held in a different location each year and bringing together airlines, airports and tourism authorities
Routes Europe 2020 will be hosted by Avinor, which own and operate 43 airports across Norway. Avinor has taken a leading role in reducing climate gas emissions from the aviation industry, including the development of electric aircraft and supplying sustainable jet-biojetfuel, and they are keen to foster conversations around sustainability throughout the event.
Jasper Spruit, vice president of traffic development at Avinor, said: "It is Avinor's ambition to host a memorable and inspiring event that leaves room for both networking and exploring Norway's treasures."
Speaking from the handover ceremony at Routes Europe 2019, Steven Small, brand director of Routes, said: "We are very proud to be working alongside Avinor to bring Routes Europe to Norway for the first time. The event will be an unprecedented opportunity to show the aviation industry what Bergen, and Norway, have to offer."
Known as the 'Gateway to the Fjords', Bergen is an intimate city that will allow for the event to be fully integrated within its surroundings, with the venue, official hotels and reception venues all easily accessible.
The 15th route development forum for Europe will take place 27 - 29 April 2020.
15.00 - Congratulations!
https://twitter.com/routesonline/status/1115975453322432512
14.00 - Milan celebrates Skytrax rating
Milan Malpensa has been attending Routes Europe this week, fresh from the news of the airport's 4-star Skytrax rating.
Skytrax, one of the world's leading airport quality certification bodies, proposes a ranking based on an on-site audit, which took place in October 2018 at Malpensa Terminal 1. It considers almost 400 items deemed important to the traveller experience.
Malpensa Airport stood out in particular for its high levels of quality in terms of assisting passengers and keeping them informed, as well as for the accessibility and efficiency of the security check areas.
The attractiveness of its commercial areas was also noted following a major restyling in 2015. The stylistic choices of the airport's rooms and lounges were also praised in the assessment.
Milan is the host and destination for the 26th World Route Development Forum in 2020.
13.30 - View the image gallery!
With more than 1,200 delegates, 100 airlines, 300 airports and 50 tourism authorities engaging in 4,800 face-to-face meetings over the course of three days, Routes Europe 2019 has been an amazing event!. Check out some of the best images from the past three days on Facebook.
13.00 - From the Handover Ceremony
https://twitter.com/routesonline/status/1115934434807767041
https://twitter.com/routesonline/status/1115939737469161473
12.00 - UEFA Euro 2020 to generate an additional two million air trips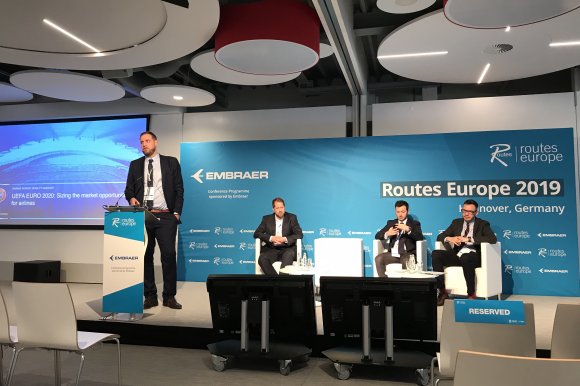 An additional two million air trips will be made during the UEFA Euro 2020 football tournament, presenting opportunities for airlines and airports alike.
That was the message from Thomas Perrot, the mobility manager for Europe's football governing body UEFA.
Speaking to delegates, he said the organisation expects more than two million passengers to board a flight during the month-long competition in June 2020.
To mark the 60th anniversary of the competition, the UEFA Euro 2020 Final Tournament will be played in 12 countries across the continent.
The tournament includes 24 national teams playing a total of 51 matches with three million tickets expected to be sold.
"It's a big opportunity for airlines to launch new routes and link host cities, as well as increasing frequencies on existing services that will be popular with supporters," said Perrot.
"For airports, there's an opportunity to increase revenues through concessions or with additional slots coming from private jets or charter flights."
11.00 - Highlights from Day Two!
https://twitter.com/routesonline/status/1115908712785379329
10.00 - Chinese tourists driving new Finnair routes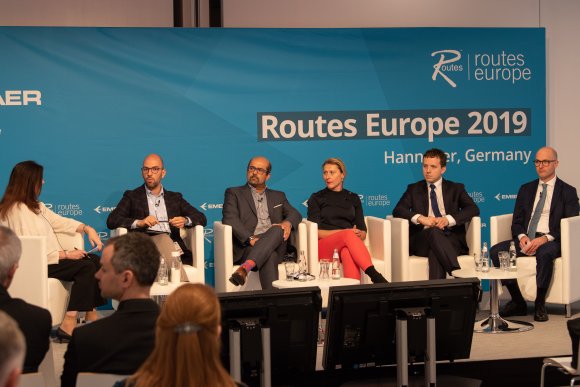 Increasingly adventurous Chinese tourists are helping drive Finnair's route development.
Speaking on a panel debate, the airline's vice president traffic planning Rikke Munk Christensen said as the Chinese visit Europe more, so they are becoming increasingly keen to explore destinations off the beaten track.
She added this has helped drive new routes for the airline, including a year-round route to Trondheim in Norway set to launch in June this year.
Christensen said: "It gives us opportunities to develop new routes and more niche routes and we definitely see an interest in going to unusual destinations."
She added to cope with the changing demographic and encourage it further the airline had started offering a payment service via the Chinese platform Alipay.
09.30 - Marseille five years on
It has been five years since more than 1,200 aviation professionals gathered in the southern France port city of Marseille for the ninth Routes Europe. Since then, the city's airport has enjoyed strong growth with passenger traffic topping nine million for the first time in 2017.
"In the year following Routes Europe, Marseille Provence Airport welcomed two new airlines, Volotea and Eurowings, as well as a number of new routes launched by easyJet and Vueling," says Véronique Lemée-Alexandre (pictured), the airport's head of market research and route development.
"In the four subsequent years we have seen Volotea accelerate its development with a base opening in April 2018, while we welcomed two new long-haul airlines - Air Canada and Air Austral - in 2017. Major European carriers such as Lufthansa, Brussels Airlines, Alitalia and Turkish Airlines have also grown significantly, as well as the arrival of Swiss International Airlines in 2018."
A total of 21 new routes were opened in 2018, helping passenger numbers grow by 4.3 percent year-on-year to 9.39 million. International traffic - which accounts for 61 percent of traffic from the airport - surged by 6 percent.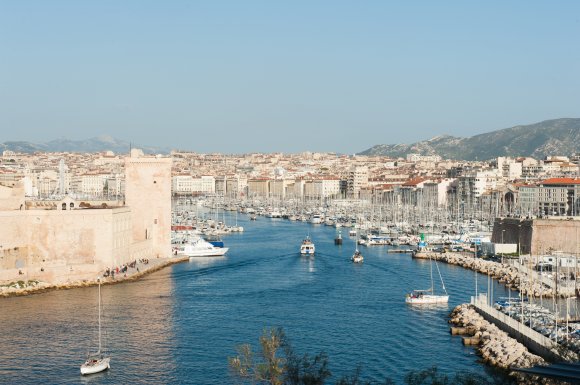 According to figures provided by OAG Schedules Analyser, Volotea added more than 53,000 departure seats in 2018, compared with 2017, while Vueling, Lufthansa and Air Austral also grew at impressive rates.
This year has also got off to a strong start. Low-cost giant Ryanair is to base two Boeing 737-800 aircraft at MRS in the coming weeks, flying more than 40 routes this summer. New destinations from Marseille will include Agadir, Alicante, Bologna, Bucharest, Budapest, Manchester, Naples, Prague, Stuttgart, Ouarzazate, and Warsaw to name a few.
The carrier has also confirmed it will base a third aircraft at Marseille Provence this winter and open seven additional routes.
Read more about Marseille's impressive growth.
08.15 - Day Three gets underway!
https://twitter.com/routesonline/status/1115860747580473344
---
Tuesday 9 April
21.30 - "For us this means the world"
Kam Jandu, chief commercial officer of Budapest Airport, said: "When you invest in your marketing strategy and you invest in a great team who fly around the world to meet with airlines and attend the Routes conferences, it's fantastic that the airlines take notice of that and recognise what you're trying to achieve.
"For us this means the world. It means the airline community - who are the people who matter - voted for my team in a category with so many other outstanding airports. I am very proud."
21.00 - Budapest Airport named as overall winner at Routes Europe 2019 Marketing Awards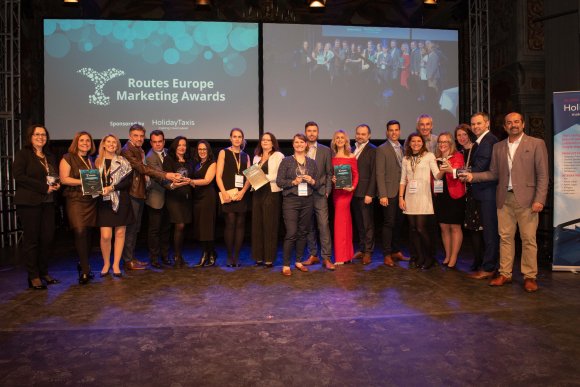 Budapest Airport has been named the overall winner after winning the 4-20 million passengers category.The airport's passenger traffic has increased by double digits over the last four years with 2018 recording a rise of 13.5 percent. A total of 18 new routes, including 12 new destinations, were launched between April 2018 and April 2019.
They include direct flights to Philadelphia with American Airlines and to New York JFK, Chicago and London City with LOT Polish Airlines. Fifteen new routes have already been announced for 2019, the highlight being service to Shanghai operated by Shanghai Airlines.
Billund Airport, who took home the award for an airport under 4 million passengers were congratulated for a ninth consecutive year of growth in 2018, passing the 3.5 million passenger mark for the first time in its history. New destinations added last year included Athens, Bergen, Lisbon, Vienna and Warsaw, while LOT Polish Airlines and Widerøe commenced service. As the town of Billund is too small to support any direct air services, the airport's marketing strategy has focused on positioning it as the gateway to west Denmark and a catchment area of seven cities.
In 2018 more than 40 airline meetings and site visits were arranged, resulting in nine new routes for 2019, 21 new weekly flights on five existing routes, and a new Norwegian base. Billund Airport has invested €6m in incentives to support new routes and capacity increases, with 20 out of 23 scheduled airlines growing their presence in 2018.
The award for an airport with over 20 million passengers was won by Athens International Airport. More than 24.1 million passengers used Athens International in 2018, a rise of 11 percent compared with the previous 12 months. The airport secured 62 new routes during the period and welcomed four new airlines. Volotea and Ellinair opened bases, while Ryanair started 21 sectors and Aegean Airlines commenced 15 new routes. Thirteen carriers also added capacity across 34 routes.
Last year, the airport's airline development team took more than 70 flights and delivered in excess of 100 presentations. These efforts have resulted in 37 new services so far in 2019, including 12 new destinations such as Chicago and Muscat. Athens' incentive scheme comprises 13 different elements, covering any possible type of route development from home-based airlines, LCCs or visiting carriers. To help ensure routes are sustainable and profitable, the airport also spent €3.5m on marketing support in 2018.
The destination marketing award was won by Vienna Tourist Board. Vienna exceeded 16.5 million overnight stays for the first time ever in 2018, a rise of 6.3 percent compared with 2017, while total arrivals grew by 6.2 percent to 7.5 million.
Air service development forms part of Vienna Tourist Board's Tourism Strategy 2020, which outlines an objective of securing 20 new international flight connections and that target has already been met, two years ahead of schedule.
In 2018, the tourist board carried out marketing activities with 23 airlines, including hosting a gala dinner to promote the new Shenzhen-Vienna flights with Hainan Airlines, and organising business breakfast for selected media and trade partners. In 2019, three new direct routes that are expected to drive significant incoming tourism to Vienna have already been confirmed.
Budapest Airport will go through to compete for the title of overall winner at the World Routes Marketing Awards which will take place in Adelaide on the 23rd September.
Awards in summary:
Overall winner
Budapest Airport
Airport under 4 million passengers
Winner: Billund (same as 2018)
Highly commended: Kalamata Airport
Airport 4-20 million passengers
Winner: Budapest
Highly commended: St Petersburg, Pulkovo Airport
Airport Over 20 million passengers
Winner: Athens International Airport
Highly commended: Brussels (winner in 2018)
Destination marketing
Winner: Vienna Tourist Board
Highly commended: Tampere Region
19.00 - Networking Evening and Marketing Awards about to start!
https://twitter.com/routesonline/status/1115659985206284289
16.00 - Bid process opens for Greenland airports

Kalaallit Airports has called for bids for the completion of runways and other construction work for the two new major airport extensions in the capital of Nuuk and the award-winning tourism hotspot of Ilulissat, home of the UNESCO World Heritage Site, the Ilulissat Icefiord.
A strong team of pre-qualified construction companies and joint ventures, represented by strong and experienced field players from Canada, China, Denmark and the Netherlands is now working on the bids, which must be submitted by the end of May in order to initiate construction later this year.
The runways of both airports will be 2,200 meters long – and will be complemented by totally new terminals, service buildings, facilities etc., ensuring that both airports will present themselves as very attractive destinations for travelers, tourists and operators alike upon completion in 2023.
A call for bid for construction of the smaller South Greenland airport of Qaqortoq is expected next year.
Find out more from Jákup S. Kass , non-executive board member of Kalaallit Airports, at Routes Europe.
15.30 - Did you know?
https://twitter.com/routesonline/status/1115591577689133056
15.00 - View the highlights from Day One!
https://twitter.com/routesonline/status/1115596813069774848
14.30 - TUI fly boss warns of "tough" summer ahead of 737 MAX reintroduction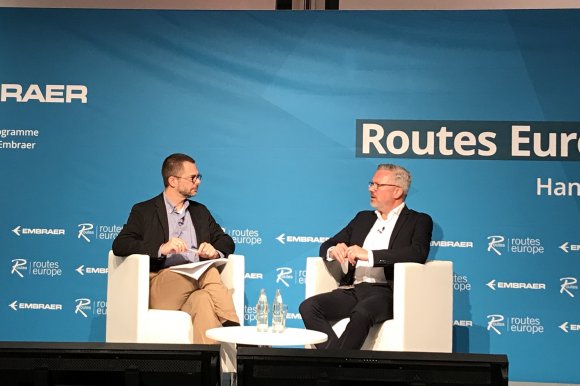 German leisure airline TUI fly has sufficient spare capacity in its schedule to cope with air-traffic control related disruption this year, its managing director has told delegates at Routes Europe 2019 in Hannover, but he expects it to be another difficult summer.
In a wide-ranging interview, Oliver Lackmann also stressed that Boeing and its airline customers will need to work together if they are to win back passenger confidence in the 737 MAX 8 aircraft, and he confirmed that TUI fly will take four 737 MAX 10 aircraft by 2023.
Lackmann said the carrier planned to have 39 aircraft this summer - four of which were due to be the MAX 8s - but it will instead have 38. Replacing the MAX 8s will be leased aircraft, plus one of its own that was due to be put into storage.
"Our homework has been done, but nevertheless it will be a tough summer," he said. "We'd planned to have 39 aircraft in our fleet but if things don't change it will be 38. That's two more [than last summer]."
TUI Group warned in March that the grounding of Boeing 737 MAX aircraft could cost it up to €300m. In an update to investors, it said it would take a €200m hit should the jets be grounded until mid-July.
However, if mid-July proves to be an unrealistic date, TUI plans to extend the measures it is taking until the end of September, costing it a further €100m.
The group has a fleet of about 150 aircraft, including 15 of the grounded MAX 8 jets. TUI fly received its first 737 MAX 8 on the same day of the grounding.
Lackmann admitted that Boeing has much work to do to restore passenger confidence, but said airlines also need to work hard to win back trust.
He explained: "It's all about confidence and trust. We have to be very transparent to explain what happened, what has been done, what design changes have been made, and why we are now confident that it will not happen again. It's a lot of work, but I'm confident it can be done."
13.30 - European landscape still a rough ride for smaller carriers
By Karen Walker
A panel of European airline and airport senior representatives discussed the changing environment at the Routes Europe conference in Hannover on 9 April 2019.
They noted how fast things have changed, with several European airlines failing and competition reaching fever pitch on some routes. Airports like Vienna have experienced dramatic changes with the arrival of LCCs and the rapidly altering situation of NIKI, which became LaudaMotion that is now a Ryanair subsidiary.
"I think this past 18 months has been the craziest period I have ever seen," Vienna Airport VP aviation marketing and business development Belina Neumann said. "Last year was really crazy in terms of competition and growth. Before that, the low-cost competition share was low. Now, we are watching to see who will be the number two after Austrian."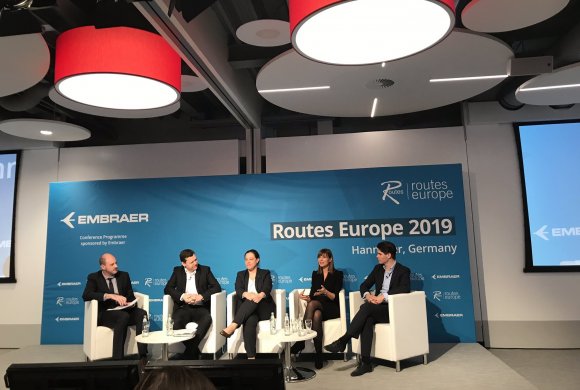 Alexandria Goldschmidt, Austrian Airlines senior director network management, said the carrier's basic strategy had not changed despite all the new competition at its Vienna hub. "Giving up is definitely not an option, so where it makes sense, we are increasing frequency or aircraft size. You have to provide the customer with the best offer and connections," she said.
Eurowings, like Austrian, is part of the Lufthansa Group. VP network management and airport relations Heiko Reitz agreed that while many of the recent European airline failures were not predicted and happened fast, potentially providing opportunities for larger carriers, "you still have to focus on the markets."
Bence Szabo, head of network at easyJet, noted that the UK ultra-LCC had a history of growth through the acquisition of other European airlines, but that some of sales today were "fire sales." EasyJet continues its strategy of ensuring it can be number one or two in the bases from which it operates. "Going into a market, it's about doing it well and doing it big," he said.
All panelists believed there would be more consolidation across Europe's carriers, but not to the extent that the North American market has consolidated. "The US is one market. Europe is several markets so there will be several players," Reitz said.
But it's not going to get easier for Europe's smaller carriers. "The strong are getting stronger and the weak are falling over," Szabo said. "Growth has been strong over the last few years and that's putting intense pressure on yields."
13.00 - From the Networking Lunch
https://twitter.com/routesonline/status/1115571081249722370
https://twitter.com/routesonline/status/1115572662947012608
12.30 - Eilat's new airport to boost tourism growth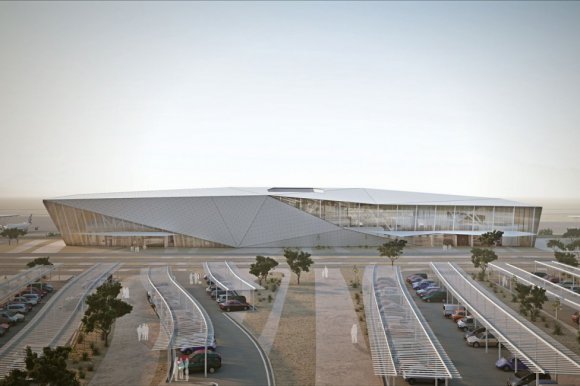 Israel welcomed more than four million tourists over the course of 2018, setting a new record for the country. Tourism minister Yariv Levin hailed the role a "significant revolution" in its marketing strategy has played, alongside the opening of dozens of new air routes.
The country's Open Skies agreement with the EU has also been a major factor for the rise. The total number of scheduled international departure seats from Israel has surged, rising from 6.4 million in 2012 to 12.9 million in 2018.
"Israel's aviation market doubled after the signing of the Open Skies agreement with Europe," said Israel Katz, minister of transport, intelligence and foreign affairs. He also acknowledged the investment the country has made in the development of Ramon International Airport (ETM), which will serve as a gateway to southern Israel.
Although Jerusalem and Tel Aviv remain prime attractions for leisure, business and religious passengers, the Red Sea resort of Eilat has been steadily growing traffic. This has been in part fuelled by European travellers seeking out alternative winter sun beach destinations to Turkey and Egypt.
Given the increasing demand for services to Eilat, the opening of Ramon is a timely boost. The $446m greenfield airport was inaugurated in January 2019 by prime minister Benjamin Netanyahu and will replace both Ovda and Eilat Airport (ETH), the latter which closed in March this year and was previously used for domestic services from Tel Aviv and Haifa.
Ramon will initially have the capacity to handle up to two million passengers a year, but Israel Airports Authority (IAA) said further expansion is planned to increase capacity to 4.25 million by 2030. Its 34,000 sq m terminal has 32 check in desks and parking spaces for more than 30 aircraft, while its runway is 3,600m long and 45m wide.
All existing airlines that operated at Ovda and Eilat are moving to Ramon, including scheduled carriers like Ryanair, Wizz, Finnair, Transavia France and Ural Airlines, plus domestic carriers Arkia and Israir. ASL Airlines France, Rossiya and VIM also will operate charter flights.
As part of continuing efforts to grow traffic, IAA and Israel's Ministry of Tourism have several incentive schemes for carriers serving Eilat. For the winter tourism season between September and May, MOT offers €60 per inbound passenger. In addition, aeronautical charges at Ramon will be waived for the first three years of operation, except for aircraft parking and services.
12.00 - UK airlines and airports feel Brexit impact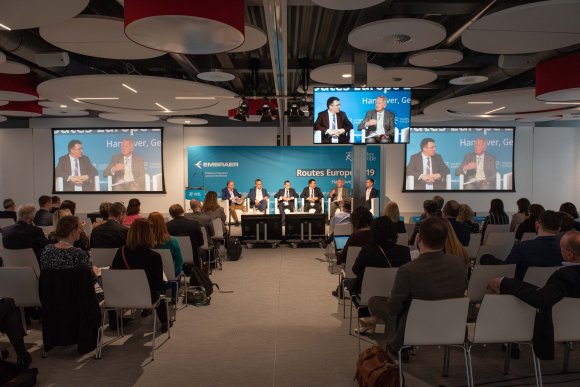 Even though timing and conditions of Brexit are unclear, as is its impact on air transport regulation, UK airports and airlines say they are already feeling substantial negative effects on their business. Jens Flottau reports.
"Brexit has been there for us since 2018," Francois Bourienne, chief commercial officer of AGS, told delegates at the Routes Europe conference here in Hannover. AGS runs the airports of Aberdeen, Glasgow and Southampton.
"We have lost routes, and airlines tell us that [intra] Europe is more profitable," said Al Titterington, managing director of Cornwall Airport Newquay, who is expecting growth of 5 percent this summer, but that compares to earlier expectations of 10-15 percent.
"International demand is soft, the German market is actually shrinking [for Newquay airport]. Europeans don't feel welcome in the UK."
Some of the shortfall can be compensated for by resilient domestic traffic. But UK holidaymakers spend only about 50 percent of what European visitors would spend, leading to shortfalls in tourism revenues.
The impact of Brexit comes in various different ways, Aboudy Nasser, chief commercial officer of London Stansted Airport said. He pointed to forecasts that the UK's GDP will grow 35 percent less over the next ten years than before the referendum.
At the same time, real wages are at their lowest since 2008 and household expenditure is exceeding income for the first time in 30 years, Nasser explained. "People just don't have money to spend on travel," he said. Also, business investment has turned negative.
The UK's economic slowdown "is also affecting the rest of Europe" with Germany's economic development losing momentum and Italy facing a recession.
The cost side isn't helpful for airlines based in the UK either as the pound has lost 18 percent of its value vis-à-vis the U.S.-dollar, making big parts of their cost base such as fuel and aircraft leasing/financing more expensive.
Some carriers are trying to get cost relief from airports, Titterington said. "Airlines are asking for renegotiations of terms because of Brexit," he confirmed.
11.00 - Routes Europe 2019 Marketing Awards - the shortlists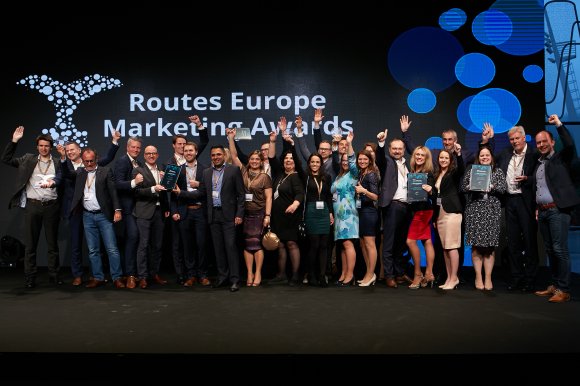 The Routes Europe Marketing Awards recognise the outstanding marketing support that airports and destinations provide to their airline partners.
Airlines are asked to nominate organisations based on the marketing services that have supported the successful launch of new routes or the development of existing ones over the past 12 months.
The finalists tonight are:
Over 20 Million Passengers: Munich Airport, Brussels Airport, Athens International Airport, Avinor Oslo Airport, Copenhagen Airport Moscow Vnukovo International Airport 4-20 Million Passengers: Budapest Airport, Saint Petersburg Airport Pulkovo, London City Airport, Albrecht Dürer Airport Nürnberg Under 4 Million Passengers: Chisinau International Airport, Billund Airport, Zagreb Airport, Kalamata International Airport, Antwerp International Airport Destination: Go Vilnius, Seville Tourist Board, Tampere Region Croatian National Tourist Board, Vienna Tourist Board
09.45 - From the Keynote Theatre
https://twitter.com/routesonline/status/1115526123788619776
09.00 - TUI fly's Oliver Lackmann on life in the driving seat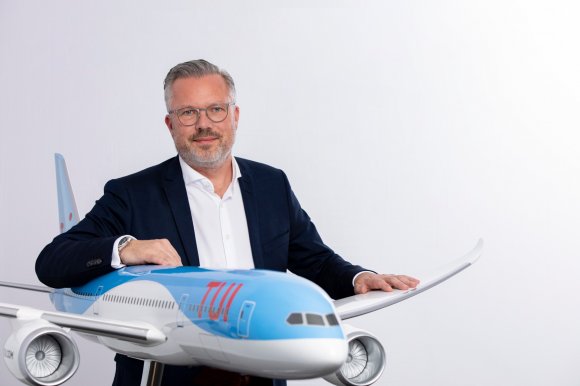 Unlike most airline executives, TUI fly's managing director Oliver Lackmann is as comfortable in the cockpit as he is in the boardroom. Routesonline spoke to him ahead of his participation at Routes Europe 2019 in Hannover.
He took his first flying lessons when he was 28 and became a commercial pilot back in 2000. He began his career at Augsburg Airways and then spent 14 years in various roles at Air Berlin, before becoming managing director of its Austrian subsidiary NIKI in April 2016.
Following the group's well-publicised demise, Lackmann joined German leisure carrier TUI fly just over a year ago as chief operating officer and was named managing director last November. However, he has just renewed his licence for the Boeing 737 and expects to be a regular in the cockpit.
Hear from Oliver on 9 April at 09.30 in the Keynote Theatre
"The Boeing 737 is part of my professional life; it was the first jet I was flying as a commercial pilot," says Lackmann. "I will be in the driver's seat of one of our planes at least once a month."
While passengers may have no idea who their flight captain is, he explains that the experience of flying aircraft will enable him to gain a valuable understanding into how the carrier operates.
"It's highly efficient because I wouldn't get these first-hand insights while just sitting at my desk," he adds. "The direct exchange with my colleagues is very important to ensure that we will make TUI fly an even better airline."
Read the full interview and join us at 09.30 in the Keynote Theatre to hear more from Oliver.
08.00 - How catchment and leakage data can improve your pitch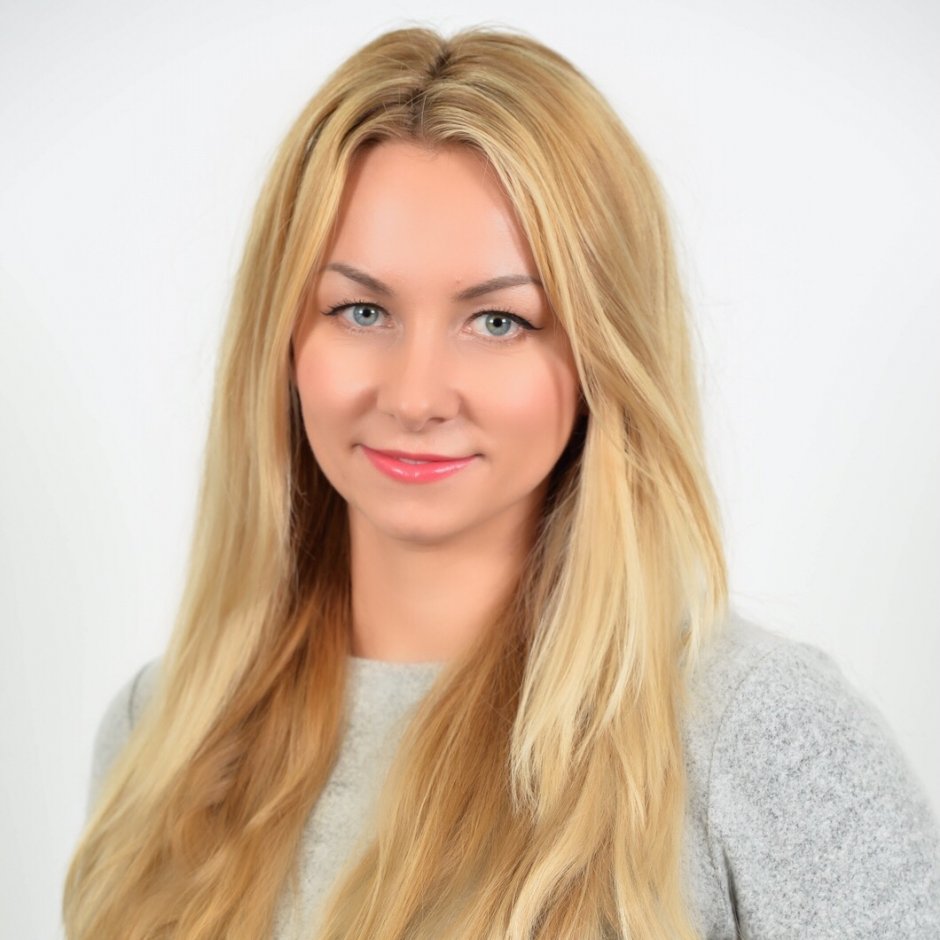 Ahead of her participation in the Routes Europe 2019 Conference Programme, Routesonline spoke to Ilona Cambron, director air service development at ASM Americas, to find out more about how catchment and leakage data can massively improve an airport's pitch to an airline.
What is catchment and leakage as it relates to an airport? Obviously there are a lot of airports out there. To justify new service there are two avenues to prove the market to an airline. You can argue for stimulation, that the market will grow with the airline adding service. You can also argue for share shift from a nearby airport with existing traffic. The latter requires an analysis of your catchment and how much traffic is leaking between airports. Both of these traffic justifications represent risk for an airline in terms of determining what passengers will do. Anything that makes that analysis more rigorous and less of a guess improves your pitch.
How does this catchment and leakage data improve an airport's pitch to an airline? Well, the data used to determine where passengers live and what airport they fly out of has been pretty limited up until now. There are a few sources, but the data has been locations of travel agents and in some cases credit card billing addresses, but nobody has created a product that takes the data and fills in all the gaps. This new product offers data by postal code with 100 percent traffic coverage and at a pretty detailed level while still respecting data privacy limits.
Find out more about the importance of catchment and leakage data and how airports can use it to their advantage.
07.45 - Day Two is underway!
https://twitter.com/routesonline/status/1115490803009359872
---
Monday 8 April
19.00 - The Welcome Reception is underway
https://twitter.com/routesonline/status/1115300599761907712
https://twitter.com/routesonline/status/1115302551451205634
https://twitter.com/StefanSchostok/status/1115307770889363456
17.00 - Join us in Adelaide!
https://twitter.com/routesonline/status/1115267730851213312
16.00 - Basque Country's united approach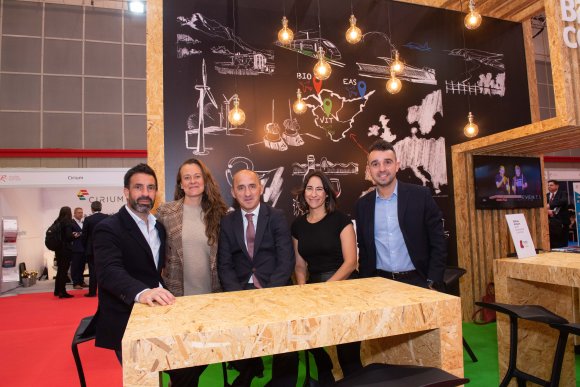 Key decision makers from the Basque Country are in Hannover this week to further build on the work started when the region hosted Routes Europe a year ago.
In April 2018, about 1,200 delegates descended on Bilbao for the 13th annual route development forum for Europe, which was hosted by The Basque Government, The Provincial Government of Biscay and Bilbao City Council, with the support of Aena.
Since then, much work has been done to secure new routes to the region and bring in additional airline partners.
Speaking to Routesonline, Basque Tour's MICE and city breaks product manager Maitane Tocino said the region's strong ethos of partnership is starting to pay dividends as the momentum of hosting Routes Europe 2018 continues.
"Routes Europe provided us an important platform to showcase our region's strengths," she said. "Delegates here in Hannover are reminded of the amazing experience they had last year. That recognition is really important when we're speaking to airlines."
Tocino added that the Basque Country's three airports - Bilbao, Vitoria and San Sebastian - are very complementary.
"It doesn't matter which airport you fly to; the whole region is set up to cater for leisure and business passengers alike," she said. "We are perhaps unlike many other Spanish destinations - we have such a rich culture, food, history and landscape."
Ignacio Casas Muro, executive manager at Bilbao Air, the organisation set up to promote Bilbao Airport, agreed that Routes Europe 2018 helped to foster a united approach among all the region's key travel and tourism stakeholders.
"We have a long-term strategy and are confident with that approach," he said. "Passenger numbers are continuing to rise and we expect a very positive year ahead."
15.00 - A quick chat with… Alex Goldschmidt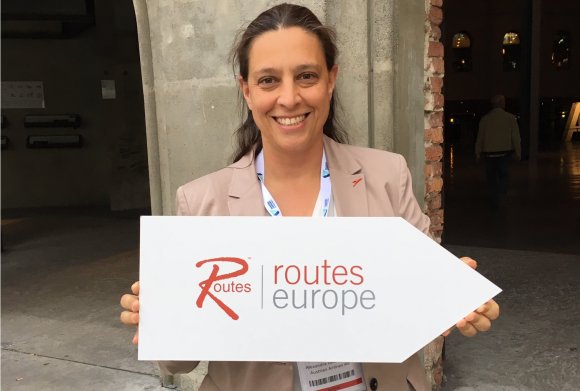 Who are you and what do you do?
Alex Goldschmidt and I'm senior director network management for Austrian Airlines.
What are the best and worst parts of the job?
I love the complexity of bringing together operative and commercial requirements in order to build the best possible flight schedule which does meet our customers´ expectations. Challenges I do see mostly (and difficult to influence) in external factors, such as infrastructure issues (ATC) and weather.
What are the biggest challenges and opportunities at the moment?
The growing LCC competition in Vienna has been a challenge in the recent months and will continue to be.
Who do you admire most in the industry and why?
The pioneers of flying who did the most adventurous and dangerous part of it all more than a century ago!
What do you get up to outside of work?
I am a passionate Ultimate Frisbee player for more than 20 years – and keep on playing in the Masters division. My next big event is the European Beach Championships in May in Portugal, where I will be representing Austria with my teammates from Austrian Mixed Masters.
What is your guilty pleasure?
My son and I love to do Pokemon Go hunts.
Which travel destination is on your bucket list?
Seychelles.
Alex will be taking part in the Consolidation and Competition Panel Debate at Routes Europe 2019.
See the full Conference Programme
14.30 - Newcastle Airport launches inbound tourism push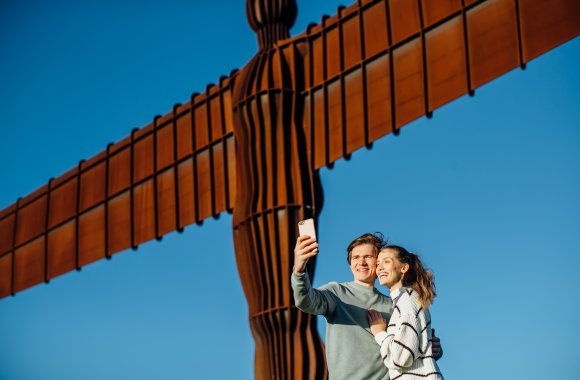 Newcastle International Airport has launched a new inbound tourism website for the North East of England, which aims to increase the number of visitors to the region.
The website, which is branded Visit North East England, follows the themes of 'uncover', 'explore' and 'experience'. It features videos, written content and photographs and will be translated into a number of different languages – beginning with Chinese Simplified, Spanish, French, German and Dutch over the coming weeks.
Future developments under consideration are bookable product for many of the local tourism attractions, as well as interactive mapping of the region.
Jen Rea, the airport's newly appointed inbound tourism manager, said: "I am very passionate about promoting the North East, as I strongly believe that the inbound tourism project will be of great benefit to the whole of our region.
"Being from Newcastle myself, I have first-hand experience of how exciting and charming the region is – so I know that it will appeal to a wide range of different tourist demographics."
Newcastle Airport chief executive Nick Jones added: "The tourism project is set to be hugely beneficial to the region by increasing the number of visitors coming to the North East through 'Your Airport'.
"There has been nothing similar to this done by any other UK airport, and I am looking forward to seeing the region's reaction to this exciting project."
14.00 - Pick up your copy of Routes Show News!
https://twitter.com/AvWeekJuliet/status/1115167711955443712
13.00 - 'Reasons to be cheerful despite ongoing challenges'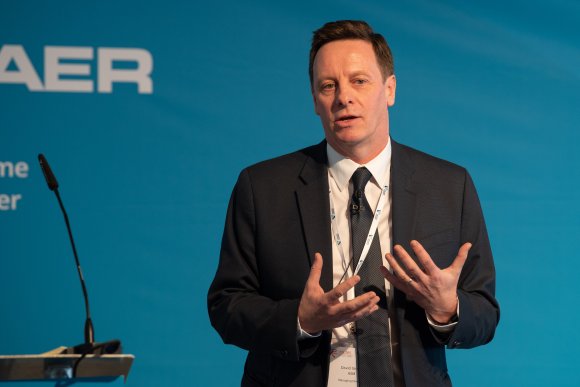 There are still reasons to be cheerful about the European aviation market, despite a number of potentially damaging issues on the horizon, ranging from further airline consolidation to Brexit.
Speaking at the opening of Routes Europe 2019 in Hannover today, ASM managing director David Stroud said 600 million additional passengers are expected to take to the skies in the next 20 years across the continent.
He said much of the growth will be met by the 287 European airports which are currently investing in capacity increasing projects while Europe's airlines have 3,133 aircraft on order with options on a further 686.
Stroud added there have also been as many as 752 new routes launched in the continent since September last year.
"Whatever headwinds we face, this looks like a vibrant market where there's still a lot of energy and a lot of things going on,"he said.
Stroud argued consolidation could have a major impact on Europe's airlines, especially with 37 percent of the European market being operated by non-major airlines, compared to 14 percent in the US where much of the market is operated by a few core airlines.
He added: "There's going to be less brands perhaps in the next few years."
12.00 - airBaltic plots Tallinn growth
Tallinn Airport in Estonia will remain a key focus for airBaltic this year as the airline prepares to grow its fleet by up to 80 A220-300 aircraft by 2024.
Speaking to delegates at Routes Europe 2019, the airline's SVP network management Wolfgang Reuss outlined the Latvian flag carrier's future network plans, as well as its explaining why it does not plan to join an airline alliance.
He said: "Our growth focus for this year is in Estonia. Tallinn is the fastest growing base we have. In winter we opened three new routes and in summer we'll open three more. We will also base a third aircraft at the airport."
In February 2019, airBaltic carried more than 35 000 passengers to and from Tallinn Airport, making it the number one airline at the airport.
From the base, it offers direct flights to Amsterdam, Berlin, London, Oslo, Paris, Stockholm, Vienna and Vilnius as well as connections via Riga. The airline will launch new direct services from Tallinn to Malaga, Brussels and Copenhagen in early June.
In addition, airBaltic has announced its 13th destination from the Estonian capital to Salzburg, Austria. Winter seasonal flights between the two cities will commence on 21 December 2019.
Addressing the issue of whether airBaltic plans to join an airline alliance, Reuss said that carrier gains more value from making bilateral agreements on a route-specific basis.
He added: "In every region that we fly to we try to work with one local airline, like Etihad on our route to Abu Dhabi for example."
airBaltic welcomed its 16th Airbus A220-300 jet in late March, with six more to join its fleet by the end of the year. It comes as the carrier plans to end its Boeing 737 fleet operations in autumn 2019, one year ahead of originally planned.
Reuss said that having a single aircraft type in its fleet would minimise complexity and boost efficiencies, enabling it to maintain its profitability.
airBaltic, which scooped the ATW Market Leader award at the recent ATW Airline Industry Achievement Awards in New York, has 50 firm orders for the A220-300 with a further 30 options.
11.45 - airBaltic's Wolfgang Reuss
https://twitter.com/routesonline/status/1115191028825362433
https://twitter.com/RoutesEditor/status/1115190582153043968
11.30 - Make sure you visit our World Routes hosts!
https://twitter.com/routesonline/status/1115178009898770433
11.00 - Don't miss the Conference Programme
10.45 - Opening address from Sabine Tegtmeyer-Dette
https://twitter.com/RoutesEditor/status/1115174062819508224
10.30 - Steven Small's opening remarks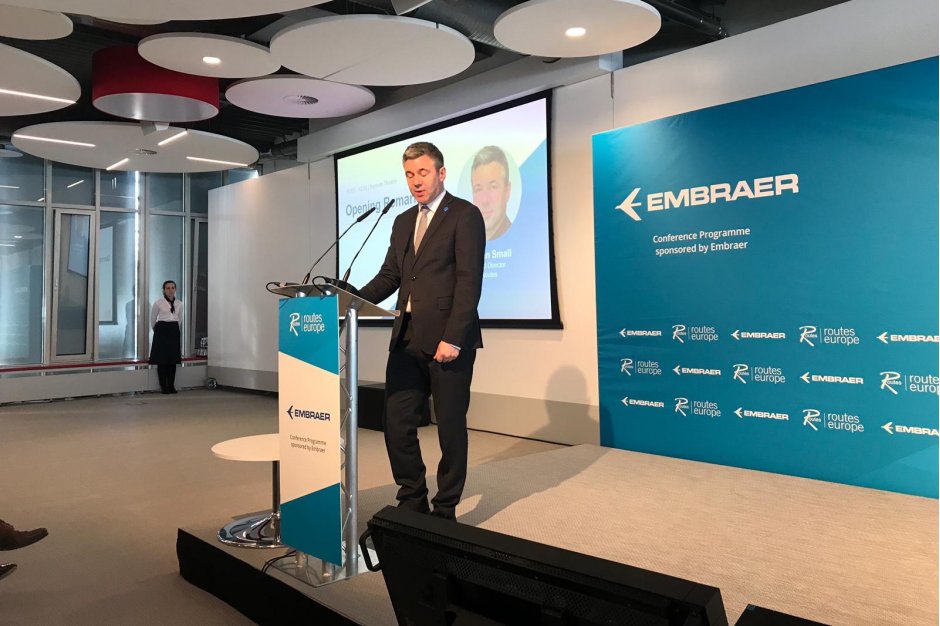 Routes' brand director Steven Small has officially opened Routes Europe 2019, outlining why Routes is taking place in Hannover as well as what delegates can expect over the course of the event.
He said: "Although it's one of the most mature global aviation markets, with less growth than some of the other locations we hold events, Europe remains an absolute powerhouse in global aviation.
"It's also a market where change continues to happen at a rapid pace. Just a few weeks ago we sadly saw the final flights of WOW, one of the most ambitious airlines on the continent.
"There has been a constant theme of consolidation and fluctuation in the European market in recent years, and new aircraft technology could completely alter the traditional travel patterns.
"Which is why it's more important than ever that we get together as an industry as often as possible to discuss what the future holds.
"The meetings, relationships and decisions made at this event over the next few days will shape how that evolves. All of you here, together, are making connections that will change the future of the world's skies forever."
10.15 - Hannover Airport CEO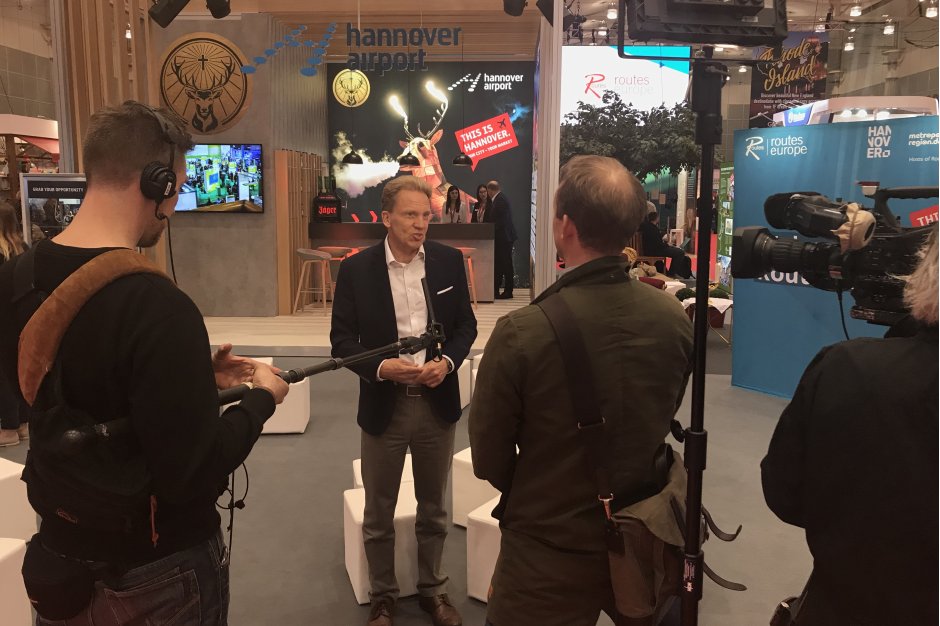 "We're delighted that Hannover's time to host Routes Europe has arrived. It's a fantastic exhibition and I'm sure will be a huge success. We've already had some amazing feedback from delegates enjoying the city," Dr Raoul Hille, chief executive of Hannover Airport, told Routesonline.
"Hannover is not the capital Berlin or a mega-hub like Frankfurt. We are a medium-sized city, but one with fantastic potential. It's our aim to showcase the core strengths of the region so that airlines will recognise the ambition we have and add new routes or increase frequencies on existing ones.
"Our main focus at the moment is increasing our short-haul network in Europe, although longer term we hope to attract long-haul routes to the US and Asia."
10.00 - Meetings about to start!
https://twitter.com/routesonline/status/1115163654763241473
08.00 - Today's the day!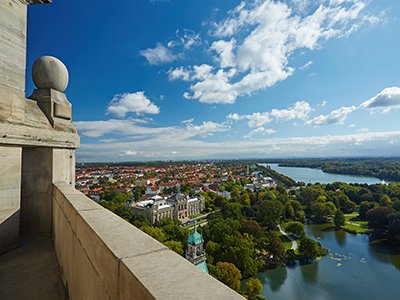 The 14th annual Routes Europe forum will allow European airports to meet with key airline decision-makers from across the world, to develop existing relationships and forge new connections with some of the most influential aviation professionals in the world, while discovering the wider area's beauty, business potential and tourism offerings.
Hannover Airport hopes to use the event as an opportunity to convince airlines of the airport's advantages and show them how the airport offers the ideal conditions for creating and conducting reliable and economical flight operations.
Dr Raoul Hille, CEO of Hannover Airport said "Global top decision-makers will be convinced of the market prospects of our region and of our outstanding infrastructure. These are important stimuli for future decisions on routes.
"Together with the City of Hannover and the Hannover Marketing & Tourismus GmbH, the staff at Hannover Airport will make the greatest effort to turn Routes Europe 2019 Hannover into a huge success."
New routes which have not previously been offered from Hannover Airport are the main goal for the host team, with their eyes on the North American and Asian markets too, in addition to extending their European network.
Hans Christian Nolte, CEO of Hannover Marketing Und Tourismus GMBH said "Routes Europe is a great opportunity to present Hannover as an important destination for business and leisure travel – of course, securing new routes, but also the continuation of existing connections, are important factors to us in marketing the location."
Steven Small, brand director of Routes, said "We are delighted to be uniting the region's route development community here in Hannover at the heart of Europe. The city is a hidden gem which is home to some of the biggest global players from across the automotive, energy, science, technology and logistics industries, and its airport currently serves one of the widest and most powerful catchment areas in Germany.
"We are honoured to have been able to work with our hosts on the production of this event. Their collaborative approach to hosting Routes Europe 2019 has demonstrated their commitment to improving the destination's route map to facilitate long-term growth."
---
Sunday 7 April
17.00 - Seeing the sights
About 15 delegates were led a merry dance when they took a free tour of the nearby historical Hamelin.
Taking a coach from Hannover, the group found out all about the town which is famous for the story about the Pied Piper who cleared the town of rats and then children after the townsfolk refused to pay the agreed price.
The tour was one of eight free tours and events on offer both before and after Routes Europe and was organised by the hosts.
16.00 - Routes' runners
A team of six members of Routes staff were among the 20,000 runners taking part in the annual HAJ Hannover Marathon this weekend.
The event, which featured races over the marathon, half marathon and 10km distance, started at 9am on Sunday, attracted thousands of spectators around the 42.195km course.
It began and ended in front of the spectacular New Town Hall and took in some of the city's most impressive sites, including the Herrenhausen Gardens.
With numerous samba bands and musicians accompanying the athletes along their run through the city, there was a real feel-good atmosphere for runners and spectators alike.
The team from Routes participating in the 10km race featured brand director Steven Small, alongside Tom Atkinson, Mark Bassarab, David Casey, Paige Floyd and Kirsty Studholme.
Together the team were raising money for Alder Hey Children's Charity, which supports Alder Hey Children's Hospital in Liverpool. The hospital cares for more than 275,000 children and young people each and every year.
Throughout 2019, the Routes team have a target of raising £35,000 to fit out a 4D fully immersive distraction treatment room at Alder Hey Children's Hospital. The room will contribute significantly to the wellbeing and comfort of its young patients as they undergo treatments and examinations, like extensive cardiac scans.
Please visit our JustGiving page if you would like to donate to this incredible cause.
https://twitter.com/routesonline/status/1114928660878974976
14.00 - Don't forget to download the app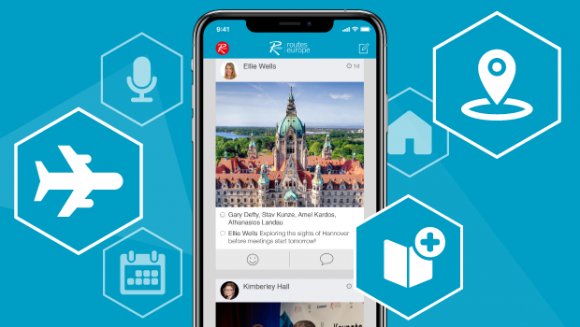 Sponsored by Tallinn Airport, the Routes app is an efficient platform for attendees to engage with their industry peers and find out the latest news and activity at Routes Europe.
Updated with all the latest event information, the app serves as an indispensable tool for accessing event information, including official event locations, transfers and full delegate, sponsor and exhibitor listings. It also provides conference speaker profiles, as well as a live news feed, the event floorplan and much more.
Available on iOS, Android and in HTML5 format, the Routes app is only available to those who have registered for Routes Europe 2019, with users requiring a unique email address and PRC. For more information about the app, please visit our dedicated webpage, or email Kimberley Hall if you experience any difficulties logging in.
Delegates are able to collect their event badges ahead of the event opening from 13:00 – 16:00 at the Kastens Hotel.
View the full event programme for more information and see our top tips to help you prepare for Routes Europe.
12.00 - Get to know Hannover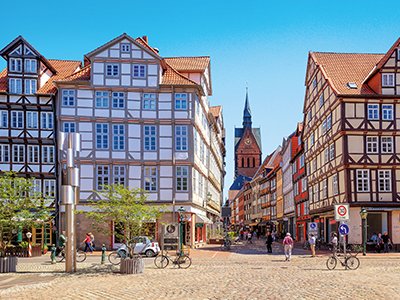 Hannover is the capital of the Lower Saxony state and has one of the largest catchment areas in Germany, with about four million people inhabiting an area covering 19,000 sq km.
The city's airport enjoyed a record year in 2018, with more than 6.3 million passengers passing through its terminals. The figure was a 7.7 percent increase on the previous 12 months, which was in turn 8.5 percent higher than 2016.
As the only airport in Northern Germany operating 24 hours a day, airlines can therefore target an enormous market.
"As traffic hub in the heart of Lower Saxony, Hannover Airport plays an important role for both the business as well as the leisure tourism here," says Hans Christian Nolte, the managing director of Hannover Marketing und Tourismus.
"Also the nationally and internationally popular holiday destinations at the North Sea Coast, in the Lüneburger Heide or in the Harz Mountains can be reached easily and quickly via the hub airport Hannover.
"This is true for the important industrial centres of Hannover, Wolfsburg, Brunswick or Salzgitter, too. New routes, but also the continuation of existing connections are important factors to us in marketing the location."
Hannover Airport hopes to use Routes Europe 2019 as a springboard to add new European short-haul routes and increase frequencies of existing ones, as well as expanding its long-haul network with services to North America and Asia.
According to figures from OAG Schedules Analyser, the city will be connected to 80 international destinations during the summer 2019 schedule, with services to Palma de Mallorca, Antalya and Zurich set to be its top three busiest routes by flight frequency.
10.00 - The marathon is underway - support the Routes team!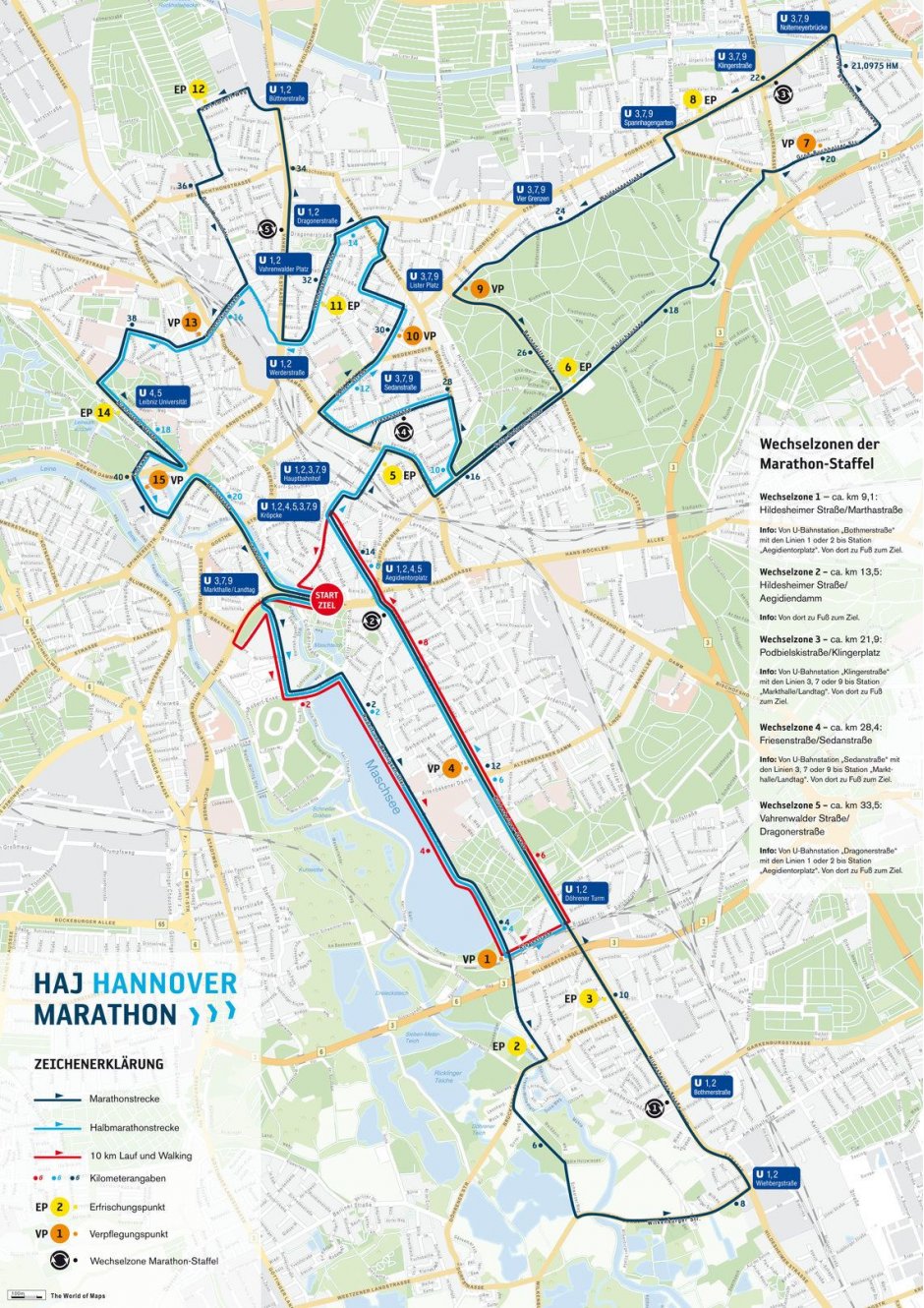 The HAJ Hannover Marathon is an annual road running event featuring races over the marathon, half marathon and 10km. More than 25,000 people are expected to take part this year! Are you watching or participating? Share your photos on Twitter using the #RoutesEurope hashtag and on the app.
Routes has a team running in the 10km race this afternoon, raising money for Alder Hey Children's Charity. The charity funds life-saving medical research into childhood conditions.
Alder Hey Children's Charity is aiming to fit out 15 treatment rooms with state-of-the-art immersive distraction technology which is proven to reduce sedatives, anxiety and pain in children.
Fitting our treatment rooms with distraction equipment works and is proven to reduce the need for sedation by 40 percent, meaning children are not exposed to unnecessary medication and staff can treat more children each day. However, each room costs up to £35,000 to fit out and the hospital currently has just two specially adapted rooms.
Find out more about this worthy cause and how you can support the Routes team!
09.00 - Welcome to Hannover!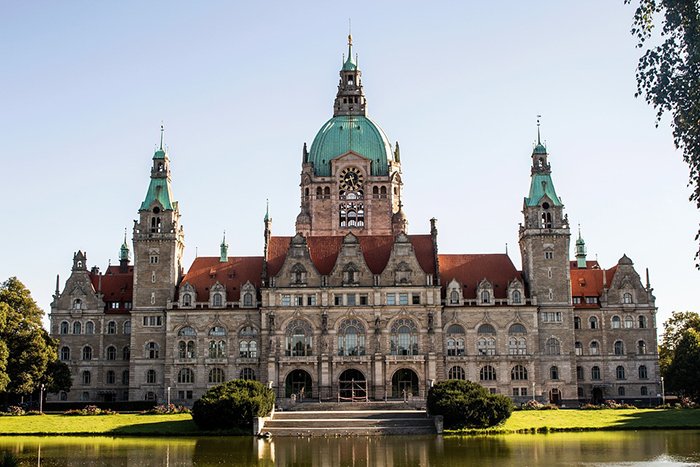 The 14th annual Routes Europe gets underway in Hannover tomorrow (8 April 2019), bringing together airlines, airports and tourism authorities from across the region to discuss and develop air route networks.
With 45 meeting slots and unlimited networking opportunities, this event will allow you to engage in business-focused discussions with Europe's key decision makers.
Delegates will take part in more than 2,500 face-to-face meetings to discuss new and existing air services. Are you among the attendees?
Share your journey to Hannover on Twitter using the #RoutesEurope hashtag and on the Routes app.