Interview: putting Denmark's fastest expanding city on the map
David Casey
January 26, 2018
Aarhus' year as European Capital of Culture may have drawn to a close, but the Danish city's airport is readying for a traffic spike in 2018 as SAS prepares to expand its operations. David Surley, head of airline relations, speaks to Routesonline about Aarhus Airport's latest routes, the impact of the SAS investment and the potential legacy from the city's year in Europe's cultural spotlight.
What are your most notable recent new routes?
Of the routes started in 2017 two were rather symbolic – Czech Airlines opened Prague in May and Ryanair recently opened Gdansk. Both of these European regions were gaps on our route map and have brought much needed linkage that suits both our Danish customers – leisure and business – while also satisfying important inbound demand.
In the case of Gdansk, our largest international community is from Poland, but interestingly – as with the Czech Republic – it is also a prominent region into which major Danish companies have invested, so business travel demand has grown. Denmark has been one of the largest investors in central and eastern European markets.
Czech Airlines, meanwhile, became our first SkyTeam carrier. The airport has long since been a Star Alliance stronghold with the presence of SAS and its codesharing partners, so it was great to see the Prague service bring connectivity to both CSA's network and its alliance carriers. A new Delta Air Lines codeshare has been added, as well as that of partner SmartWings.
2018 will bring even more seamless connectivity via Prague to Budapest for example and, as Denmark has just qualified for the 2018 World Cup in Russia, I expect connections to Moscow are set to be popular too!
Top five routes from AAR in 2017 by capacity share:
https://infogram.com/untitled-1h9j6qjonpo54gz
Aarhus recently signed a new cooperation agreement with Scandinavian Airlines (SAS) to establish a number of new routes to European cities. What will the impact of this be?
In the grand scheme of things, this is pretty huge but we have everything in hand and are ready and excited about its investment. The new SAS international base opening here from April will see 90-seat CRJ-900 jets enter service double-daily to Oslo, daily to Stockholm Arlanda and Munich and about 20 percent more capacity to Copenhagen, as well as new A320 leisure operations to Malaga year-round and Palma in summer.
Split in Croatia is another first for us and just in recent days SAS announced Nice Côte d'Azur as its first French destination from Aarhus. The daily Munich service will perhaps be most notable; as a Star Alliance hub it provides a smooth and efficient bridge to about 30 new European destinations now marketed by SAS from Aarhus which are important for mainland Danish and overseas travellers.
It means SAS becomes an even more strategic and significant part of customers' wider European and global travel plans. However, SAS will also now offer one-stop service to around 20 points in Norway via Oslo and around 20 points in Sweden and Finland via Stockholm. That's new and improved connectivity to around 70 European destinations, in most cases every day – so quite a development!
Other impacts? Well, high growth has already been anticipated for some time with Aarhus being not only Denmark's fastest expanding city, but also among the most rapidly growing of all the major Nordic economies, top in Scandinavian tourism growth for over five years and high population expansion. The airport is already well placed and well-resourced to provide SAS with a very efficient and conveniently located home in mainland Denmark, with unrivalled access to a high share of the largest population base.
We have many large corporates here too and thus the applicable business demand for their new Aarhus services. It is a rapid growth curve, it translates at outset into about +72 percent average weekly capacity growth for us in 2018, or more than +125 percent weekly international capacity increase therein when you factor other airline activity.
In terms of customer experience we are naturally making the necessary elbow room with revisions and improvement to customer flows, facilities and amenities, security channel throughput and so on, but this is within our stride as the airport has existing room to grow within terminal and operating capacity.
There is no huge construction phase expected – more of an across-the-board revisit of the customer experience with focus on efficiencies and preventing sticking points. Our terminal can be enlarged and upgraded where required, while we have plans to adjust the food and retail proposition, improve the departure hall, gate and lounge capability and so on. Nothing too disruptive to our operations. We underwent initial upgrading in late 2016 including a new glass façade and check-in forecourt, so we are already in great shape for growth.
What are you next targets for route development and why?
The SAS initiative is a huge step forwards in our business plan and for alleviating the current difficulty in Aarhus getting its hundreds of thousands of residents and business travellers to a broader range of flights and connections within 40 or 45 minutes of downtown, hotels, conference centres and headquarters. The investment by SAS is exciting, but certainly not the only growth we are very ready and well prepared for.
Historic figures show we have the most under-serviced metropolitan population in Scandinavia – a region where there are very few major cities with a million or more customers in the area. Overall the number of weekly international air seats on offer to customers within say 50 minutes is far below the Nordic norm, so we have work to do – a lot of work – there is huge scope to develop routes with the right carriers in the right directions.
Aarhus has such a wonderful story to tell. Notably the non-Danish population of Aarhus is heading towards 20 percent and just this year Aarhus was listed at an EU level as being the second most tolerant and open large EU city for incoming foreigners, embracing 'internationals' as a hot-bed of opportunity. Becoming a fully equipped environment for more and more expats at fast-expanding corporates and a highly international community is important.
Aarhus is home to a high percentage share of many Baltic and eastern European communities in Denmark such as Latvians, Lithuanians, Romanians and Ukranians. There is growth among other Scandinavian nationalities, also from the Middle East and further afield. In some cases like the Italian, Spanish and Chinese populations, these have doubled in recent times while North America is a huge economic focus. So, we will continue to explore market connection opportunities that work best for all those demographic sub-sectors, both by way of direct service and by way of connectivity via strategically placed hubs.
It's continuous work. Many outside of Denmark wouldn't know that the market around Aarhus is equivalent in size to some much better known cities around Europe, or in fact larger. Think of Edinburgh or Cardiff in the UK, Bordeaux or Toulouse in France and Bologna in Italy. While Denmark is often considered a small country, Copenhagen is actually a 3 ¼ hour drive or train ride (the same as Gothenburg to Stockholm). Building awareness, conveying information, communicating are key – I have a wonderful job!
AAR's network map (Q1 2018):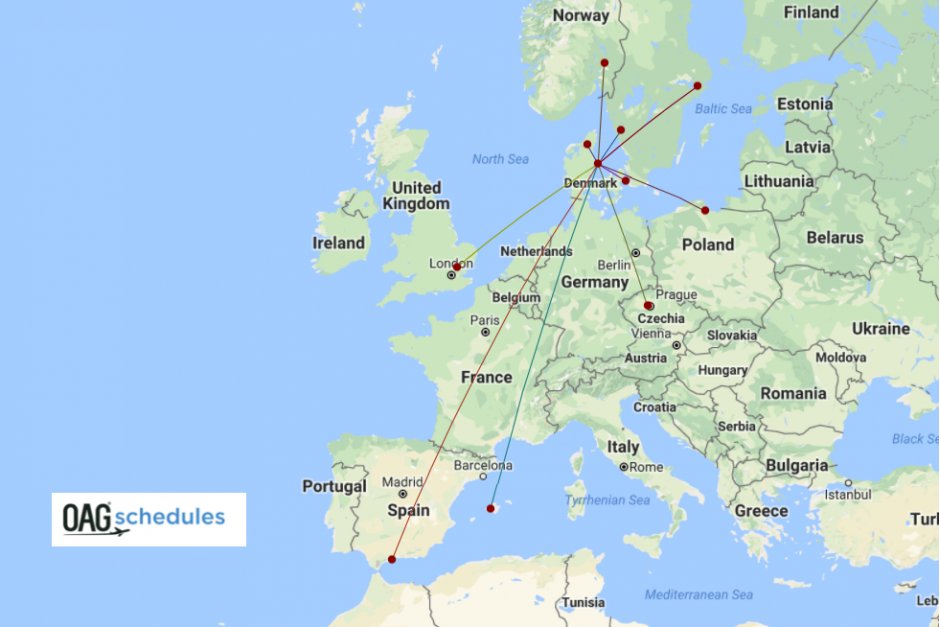 You have a mix of low-cost and full service carriers. What is your overall development strategy?
The majority of our movements are full-service, but we have welcomed the low-cost growth in recent year. We don't have a strategic plan to position ourselves as distinctly one way or the other and so will continue to offer a great market proposition for both.
We have a great business traveller proposition with a growing cluster of large global companies headquartered here and about 33,000 registered businesses, while our academic platform is the largest in Scandinavia with about 60,000 students. Aarhus University is a leader in international research.
We therefore have need for budget and leisure travel option. Inbound tourism has soared too, up +65 percent in just five years and Aarhus hotel capacity has climbed more than +50 percent. Growth in both conference and business tourism, as well as city-break travel, needs to be accommodated. As such, we need a balance of both value-based and traditional full-product air service.
I shouldn't leave out holiday traffic; Danes enjoy some of the most generous leisure time in Europe – the second most in fact – people usually get at least six weeks' vacation. There is good spend potential for growth in vacation-taking, and Aarhusians have a high average disposable income. We will welcome at least three new major Danish tour operators for summer 2018 and I expect this to be a continual growth market too. In 2017 we saw a +21 percent increase in charter passengers.
Has Aarhus' year as 2017 European Capital of Culture helped to boost traffic? What will its legacy be?
The obvious answer is a resounding "yes", but actually it is quite difficult to determine the exact volume of people passing through the airport who have been coming solely to participate in European Capital of Culture or one of its many events.
Inbound tourism has been developing sharply for some time, so I posed this question to our friendly expert Peer Kristensen, who is the CEO of VisitAarhus, and he told me this: "2017 has been a fantastic year for our city, being appointed the European Capital of Culture we have been given a great opportunity to tell the story about Aarhus as a modern world-class mini metropolis.
"We have utilised the possibility strategically to show the world that Aarhus is a must-see destination with plenty of gastronomic, cultural, city- and seaside experiences. The great response from both guests and media from all over the world has contributed to positioning Aarhus as a hip and vibrant second-city."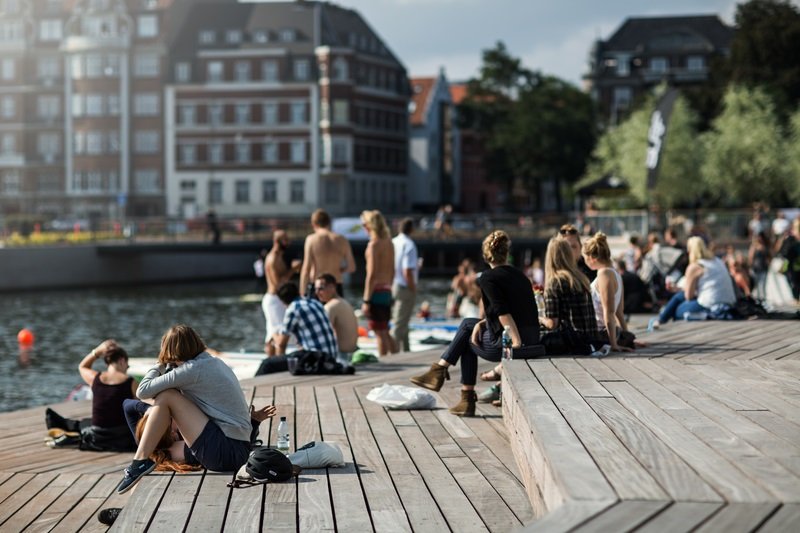 Danish statistics indicate that European Capital of Culture has been a significant growth driver, but as a continued upward trend on the last five years suggesting it is sustained organic growth. Data shows that hotel nights stayed have increased +9 percent domestically, but internationally by about +20 percent so far.
Germany and the UK are among the largest markets for Aarhus usually, but in 2017 have demonstrated heightened growth by around 90 percent from Germany and 25 percent from the UK. Data also shows high growth from Canada and Japan, about 50 percent increase from Spain and Greece, 80 percent from Australia.
The legacy will probably be having showcased the all-encompassing warmth, embrace and genuine welcome that greets visitors here. Aarhus is rightly referred to as the 'City of Smiles', not just by visitors, but also among those that live here. It is normal to be upbeat, can-do, smiling and positive; Aarhusians don't have to work at that!