Air Canada will this week launch passenger flights using its recently delivered Boeing 787 Dreamliner. The aircraft, the first of 37 it has on firm order, was delivered to the carrier's Lester B Pearson International Airport base on May 18, 2014 and will initially enter service on the domestic Toronto – Halifax route from May 23, 2014 for crew familiarisation before entering scheduled service on longer flights.
The Star Alliance member plans to utilise the 787 on routes to Tel Aviv and Tokyo, but as first revealed by our blog, Airline Route, will initially operate the aircraft on the Toronto – Halifax route from the end of this week to help bring flight crews up to speed on the modern generation airliner. The maiden passenger flight is due to depart Toronto at 08:00 on May 23, 2014 and arrive at Robert L Stanfield International Airport in Halifax at 11:05, replacing an Airbus A320 that usually serves this rotation.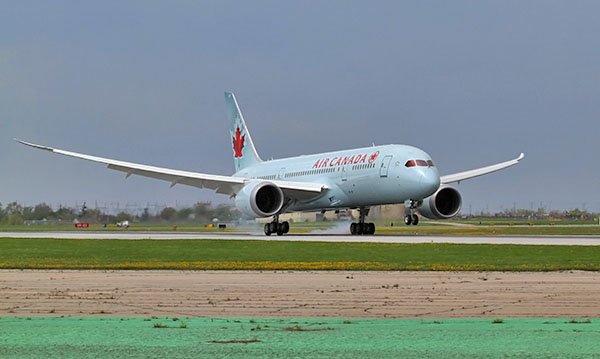 The initial tentative schedule shows the aircraft will operate twice daily on the Toronto - Halifax route from May 23, 2014 through to May 25, 2014 and then on various dates through to the end of June 2014. Alongside this domestic link, Air Canada also plans to use the aircraft on its flights from Toronto to Zurich (from May 25, 2014 to July 14, 2014) and London (from July 2, 2014 to July 13, 2014).
Air Canada's first scheduled destination to be operated with the 787 will be Toronto - Haneda, and the first existing route to be converted to Dreamliner scheduled operation will be its Toronto - Tel Aviv link. The airline will utilise the next generation airliner to launch daily flights from Toronto to Tokyo's Haneda Airport from July 15, 2014 (two weeks later than originally announced), complementing its existing services to Tokyo Narita International Airport from Toronto, Calgary and Vancouver. The new year-round service will be both the only non-stop flight between Canada and Tokyo-Haneda, located less than 30 minutes from downtown Tokyo, and the first daytime flight to Tokyo-Haneda from North America.

The new route will further strengthen Air Canada's Toronto global hub, where efficient connection processes and shorter elapsed flying times could make it an ideal option for travellers flying to and from destinations across the US north-east. It will also boost business connectivity into Japan and the wider Asian market through a wealth of onward domestic and international connections through All Nippon Airways (ANA) and Air Canada's other Star Alliance partners via the Japanese capital.
According to latest schedule data, the type will then be introduced on the Toronto – Tel Aviv route from August 6, 2014 before also being deployed on daily flights between Vancouver and Shanghai from October 26, 2014 and on a daily basis between Toronto and Paris from December 1, 2014. The Toronto – Tel Aviv route is a great example of a city pair where the enhanced operational performance of the 787 will significantly benefit the airline's efficiency.
"With the introduction of the 787 into the Air Canada fleet, we are set to further strengthen our position as one of the world's leading global carriers. The Boeing 787 Dreamliner with its range, passenger capacity and operating efficiencies is virtually custom-designed to allow us to grow in international markets on a cost-competitive basis, and our new on-board product will enhance our position as North America's leading airline," said Calin Rovinescu, president and chief executive officer, Air Canada, upon delivery of the aircraft.
Air Canada is due to take delivery of 37 787s from spring 2014 with an initial three aircraft due for delivery in the short-term. Each of them will be configured in three-class arrangement seating 251 passengers – 20 Business Class, 21 Premium Class and 210 Economy seats. The introduction of the 787-8s and larger 787-9 variants featuring Air Canada's new onboard product is a key component of its international expansion plans.
"The fuel efficient Boeing 787 aircraft will open up opportunities for Air Canada to serve new international destinations, and convert existing routes to Dreamliner service, as we continue to renew our fleet and develop Toronto Pearson into a preferred North American gateway and truly global airline hub," said Ben Smith, executive vice president and chief commercial officer, Air Canada.