New destinations, records and tackling legislation - what's next for BFS?
Wesley Charnock
March 14, 2017
Graham Keddie, managing director of Belfast International Airport, has 25 years' experience in the industry and has held roles in the UK, Abu Dhabi and Bahrain.
As the driving force behind the airport's resurgence, we spoke to him ahead of Routes Europe 2017, which will take place in Belfast, to hear the airport's major achevements, targets and challenges.
What were your major successes last year?
The headline growth figure is the single most important success. We exceeded 5.1 million passengers, generated in excess of 800 new jobs on our site, and opened new and important European routes. Established airlines added substantial capacity, and the decision by Ryanair to set up a base with us powered the growth we saw.
Nothing succeeds like success and increased passenger numbers are good for the business outlets in the Terminal. We have the 'fully let' sign up with all available units occupied. Now, we're looking at carving out sufficient space for three additional retail units to keep abreast with demand.
Re-establishing direct trans-Atlantic services after the decision by United to end its Belfast-Newark service was hugely important for us. The new Norwegian Air services to New York and Boston are the culmination of lots of hard work and we're absolutely delighted. We worked closely with Government to find a replacement airline and we were always optimistic that our efforts would bear fruit. The United States is incredibly important from both tourism and trade perspectives.
We will see Corporation Tax devolved at cut to 12.5 per cent next year and we need to have direct access to the most important international mobile investment market. Similarly, we need to have direct services for inbound American visitors if Northern Ireland, as a region, is to benefit to the maximum level.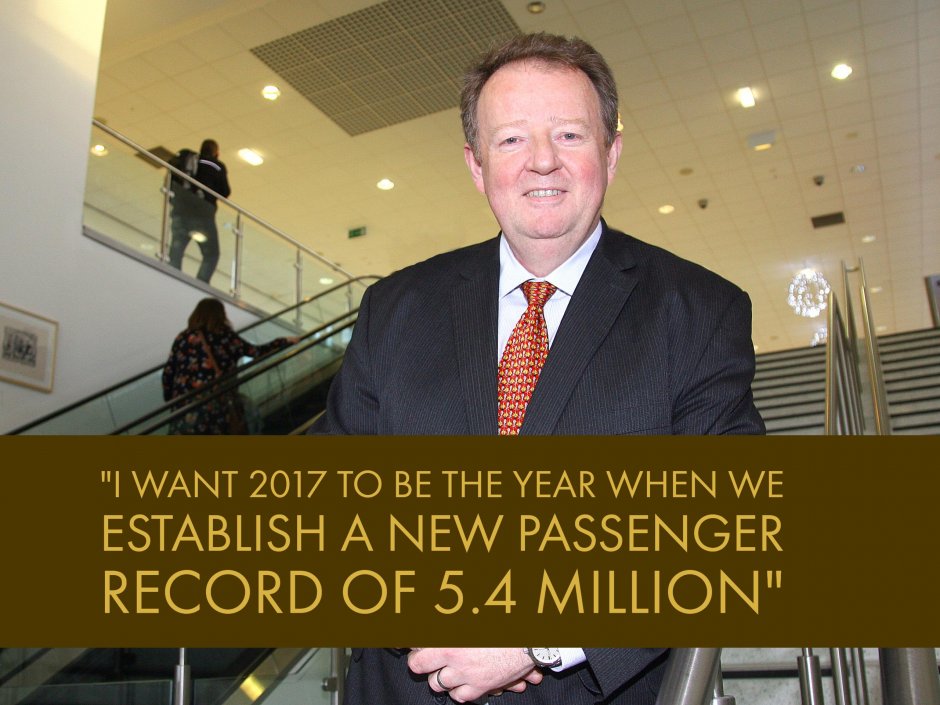 What are your next aspirations?
Apart from the United States and Canada, I would like to see our 'reach' extended in mainland Europe. The markets in Germany and Scandinavia are top of our list. we have also made no secret that we would like to reactivate our very popular Toronto service.
Increased coverage to important tourism markets will be good for the airport and if we prosper, then Northern Ireland will also benefit.
I want 2017 to be the year when we establish a new passenger record of 5.4 million. It's entirely achievable. And, of course, that will mean more job opportunities and further private sector investment.
How is the growth of low-cost carriers impacting on the airport?
Low-cost airlines have driven the growth at Belfast International which is having a huge impact in terms of passenger figures and range of destinations. We will continue to work with our main carriers; easyJet, Ryanair, Jetw.com and Wizz to strengthen these services and also develop routes into new markets.
What impact is APD having on your airport?
We secured the devolution of APD on long-haul some years back; the challenge now is to get APD consigned to the bin on short-haul. APD is a barrier to growth, a drag on economic advancement. We're doing quite well right now, but it is as nothing if the Government got rid of this appalling levy or devolved it to the local administration where it could be reduced or relegated to history.
What impact do you hope Routes Europe will have on your city, airport and country?
We cannot underestimate the importance of Routes Europe coming to Belfast – it will bring existing carriers and new carriers to our market where we can showcase all the best that Belfast has to offer. There is no substitute for having these decision makers on our doorstep to actually see and experience Belfast and Northern Ireland as a tourism destination and a place to do business.
Many attending Routes Europe will be in Northern Ireland for the first time and we want them to leave with a positive impression of the country and that we're progressive and open for business. The opportunities presented by Routes Europe are enormous which is why we will do everything we can to make it a memorable event and an outstanding success.
Are there any other issues you would like to discuss?
Investment in infrastructure in important. I'd like to see the local Assembly take some positive decisions to improve road access to and from the International Airport which, incidentally, also accounts for 44,000 tonnes of cargo per annum. I'd also like to see a new feasibility study undertaken on the reinstatement of a railway link from the airport to Belfast city centre.
---
Routes Europe provides organisations with an efficient platform to discuss new business opportunities with the region's leading airlines, airports and tourism authorities.
With 45 meeting slots and unlimited networking opportunities, the event is your opportunity to engage in business-focused discussions with Europe's key decision makers.
Up to 1200 aviation professionals
Over 100 airlines expected
Over 300 airports forecasted
Over 50 tourism authorities
More than 4800 meetings pre-arranged
Over 20 high level speakers
Don't miss your opportunity to connect with this influential audience of air service development professionals. Take advantage of the unique cost and time saving benefits that the event provides and register your place for Europe's most important route development event.