Developing and maintaining a route network - BHD shares the secrets of its success
Wesley Charnock
March 15, 2017
Katy Best has spent a decade at Belfast City Airport as commercial and marketing director, a period of significant change for the airport.
Ahead of Routes Europe 2017 wBHD hich takes place in Belfast, we asked Katy to share how the airport has achieved its recent successes including nomination for a World Routes Marketing Award in 2016.
What have been your major successes for 2016?
2016 has been another hugely successful year for Belfast City Airport, with new routes announced and a number of major accolades won. In early December, we announced a new three-times weekly flight to Reykjavik with Icelandair, which followed swiftly on the heels of our announcement in October of a new Aer Lingus chartered ski route to Salzburg, in conjunction with leading ski holiday operators Topflight and Crystal Ski Holidays.
In addition, Aer Lingus also introduced a new sunshine route to Alicante in the summer of 2016. We remain the only airport in Northern Ireland with links to London Heathrow through our partners British Airways and Aer Lingus.
In April, a Belfast Telegraph study named Belfast City Airport as the most convenient airport in the UK and Ireland, which we followed up in July by being shortlisted for a World Routes Marketing Awards - one of only two UK airports to make any shortlist.
By the end of August, we had smashed our annual international passenger record almost four months before the end of the year.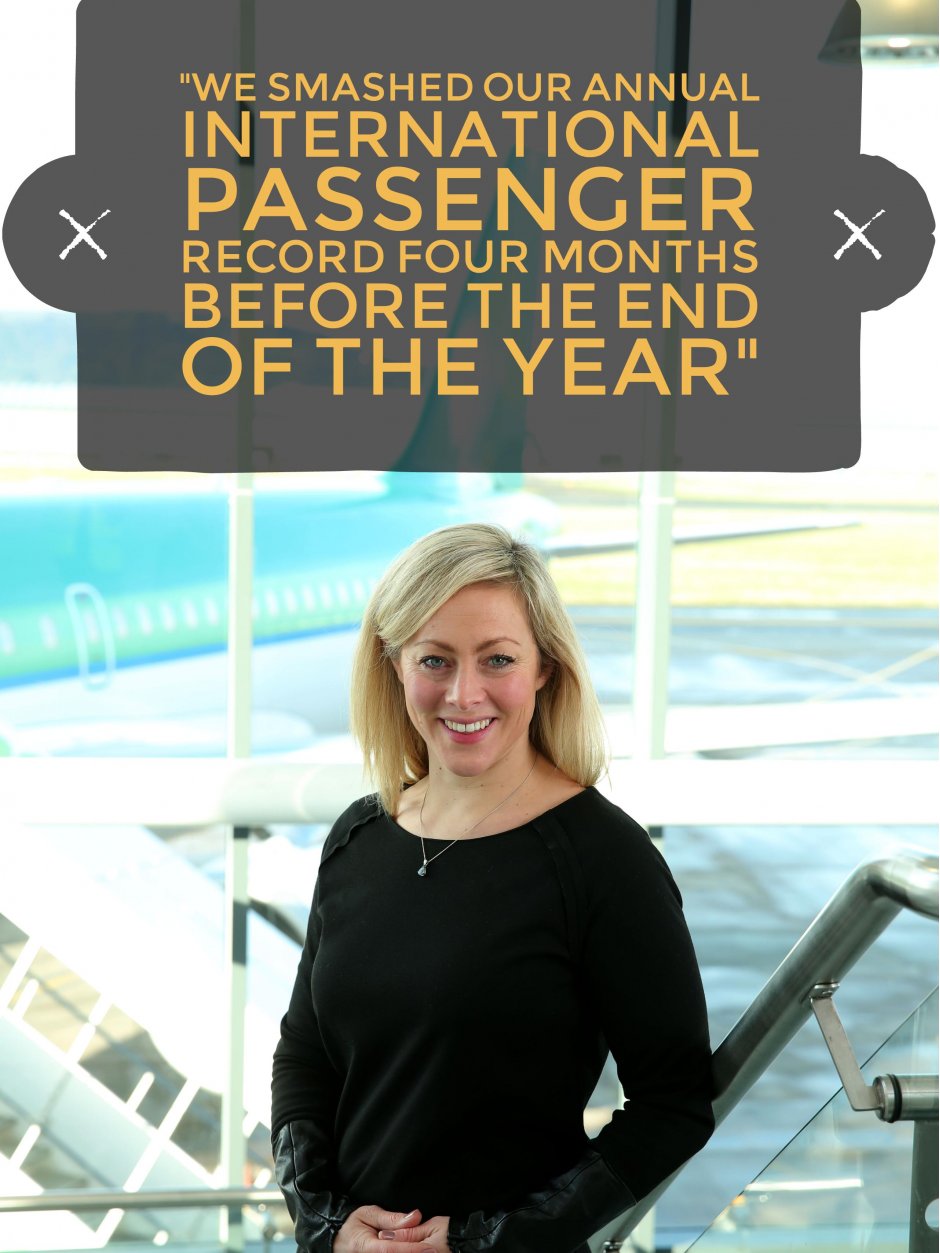 What challenges are you facing?
Air Passenger Duty (APD) disadvantages Northern Ireland as we aim to attract new airlines and routes, therefore we feel its abolition could have a net benefit to Northern Ireland as a result of increased traffic and related economic activity.
We will continue to work towards establishing an Air Route Development Fund which would partially offset the APD factor and, more importantly, provide airlines with a marketing fund to bed down new routes, hence significantly lessening the risk for airlines.
What are your aspirations for 2017?
Strategic air connectivity is key to maintaining the huge success which Belfast City Airport has enjoyed in recent years, and growing our route network will continue to be a major focus in 2017. There is a real demand in the region for direct connections to key destinations across Europe and it is our aim to continue to meet that demand. One of the most appealing aspects of our service from a passenger perspective is our network connectivity, not just our point-to-point services.
However, whilst growing our route network is an important focus for us, our key aviation development priority is always to our existing customers. We pride ourselves on the strength and depth of support that we provide to our airline partners, really acting as their partner in market in Northern Ireland, providing local knowledge and insight.
Are there any new routes you are particularly targeting?
European hubs will remain vitally important in facilitating travel for outbound passengers, but also in providing convenient access to Northern Ireland for overseas business and leisure passengers.
How is the arrival of KLM affecting passenger flows?
We have enjoyed robust passenger numbers on our KLM route to Amsterdam, which was a factor in Belfast City Airport breaking its annual international passenger record with over four months remaining.
What impact do you hope for when Icelandair arrives in 2017?
Icelandair has a huge international pedigree and we believe our partnership with the airline for this new service will be a hugely welcome addition to the local market for business and leisure passengers.
There are a fantastic range of cultural events, activities and historical sites which will appeal to our passengers, and the route offers passengers an extremely convenient connection to a host of destinations in the USA and Canada. With key cities such as Boston, Seattle and Toronto all served from Reykjavik, we believe the route will help fill a current gap in the market.
You were nominated for an award at World Routes 2016 – what do you think is behind this success?
We believe our in-depth understanding of the local market really appeals to our airline partners, as we are able to help them make sustainable and profitable route development decisions. Our location is a huge benefit as well – we are located just five minutes from Belfast city centre which is a huge draw for our airlines. Everything we offer our airlines is completely bespoke and designed for the specific airline and opportunity – we really try and put ourselves in our airline's shoes!
For each route development opportunity, we work directly with partners, from city-pair airports to tourism bodies, investment agencies and government departments, and our support doesn't stop after the launch. Airlines have commented on the high level of support they receive throughout our working relationship. We provide access to key local decision makers. We also pride ourselves on ensuring our airlines experience our product and get a feel for the city.
We advertise strategically, gaining and maximising on exposure where and when it matters!
What impact do you hope Routes Europe will have on your city, airport and country?
The Routes Europe conference is without doubt one of the most important commercial aviation events of the year, bringing influential aviation professionals from across the world all under one roof. It is an unrivalled forum for route development across Europe and an opportunity the Belfast City Airport team has taken full advantage of in recent years.
This face to face time with the decision makers of airlines from across Europe is crucial for any airport looking to expand its current route offering, and we expect to have lots of very exciting meetings with airlines for whom operations from Northern Ireland are highly viable.
One of the things airlines have commented on in the past is their uncertainty over what the Northern Ireland tourism product really is, but we've made huge strides in answering that question and we believe that, as hosts of the next Routes Europe, we will continue to do so.
The city's appeal as both a tourist and business destination has grown considerably over the last number of years, with the region hosting world-class events and attracting investment from international corporations which have set up bases in the city. 2016 was a record year for inward tourism for Northern Ireland and visitor numbers from all markets are showing double digit growth. The hosting of Routes will provide a further opportunity to showcase the city, and demonstrate why the region has seen international visitor numbers grow by 34 per cemt over the past five years.
---
Routes Europe provides organisations with an efficient platform to discuss new business opportunities with the region's leading airlines, airports and tourism authorities.
With 45 meeting slots and unlimited networking opportunities, the event is your opportunity to engage in business-focused discussions with Europe's key decision makers.
Up to 1200 aviation professionals
Over 100 airlines expected
Over 300 airports forecasted
Over 50 tourism authorities
More than 4800 meetings pre-arranged
Over 20 high level speakers
Don't miss your opportunity to connect with this influential audience of air service development professionals. Take advantage of the unique cost and time saving benefits that the event provides and register your place for Europe's most important route development event.