BA's Leeds Bradford route helps deliver Yorkshire connectivity
Richard Maslen
December 14, 2016
British Airways (BA) has this month celebrated the fourth anniversary of its domestic flight between its London Heathrow hub and Leeds Bradford Airport with the news that more than half a million passengers have travelled on the route since the up to three times daily service was launched on December 9, 2012.
The route is currently among its best performing domestic markets with data from the AirVision Market Intelligence tool from Sabre Airline Solutions showing traffic up 18.4 per cent over the first ten months of 2016 compared to the same period last year. Annual demand is estimated to exceed 165,000 passengers, bringing total passenger numbers since the route launched to more than 570,000.
When BA first announced its plans to serve Leeds Bradford many observers so the decision as little more than as an avenue to protect the carrier's pool of slots at the heavily-congested Heathrow Airport. However, the route did have a pedigree having been previously flown by UK carrier bmi british midland up until the end of the last decade when increasing competition from an enhanced domestic rail product between London and Yorkshire resulted in its closure from March 2009.
The bmi decision was at the time influenced by its need to use its limited London Heathrow slots to serve more lucrative European and North Africa routes. But, in its last full year of operation (2008), it carried over 125,000 passengers flew on this route, highlighting a strong market that could be stimulated by BA's stronger connecting network.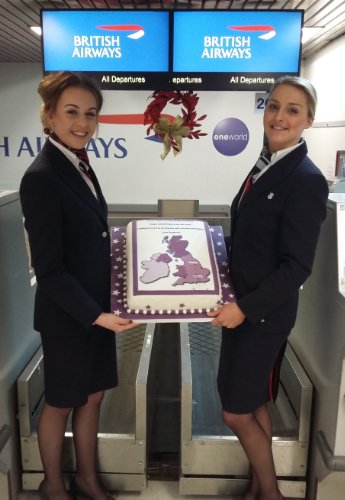 The competition with the railways is intense and attracting corporate travellers between Leeds and London away from the train was always going to be difficult for BA, but there has actually been a sizeable market that have used the air service for its local links though this has fallen from a high of 102,000 passengers in its first year of operation in 2013 to 52,000 last year. In the first ten months of 2016 the local traffic accounted for one in three passengers with a 33.2 per cent share of the total leg demand.
The success of this route was always about the connecting traffic with BA particularly targeting Yorkshire-based passengers flying to destinations across the world to destinations not currently available from Leeds Bradford.
"This important new service to Heathrow connects Yorkshire with the world. It provides our businesses with the access they need to emerging and established global markets, and enables those markets to easily come to Yorkshire, bringing their investment and inbound tourism direct into our region," Tony Hallwood, aviation development director, Leeds Bradford Airport told Routesonline ahead of the launch of the route.
Our analysis shows that North America and in particular the United States of America is the main destination for O&D traffic to and from Leeds Bradford, although other popular destinations include Hong Kong, Canada, India and South Africa.

So what does the future hold for the route given that the Heathrow capacity constraints show very little sign of being solved for at least another decade? "We remain fully committed to Leeds Bradford Airport and the fact that we have reached this milestone figure in four years is due to the loyalty and commitment of our customers in Yorkshire," said Simon Lea, airport manager at Leeds Bradford for British Airways.
"We work closely with the airport to ensure that we provide the high quality service our customers want and this year particularly we have concentrated on inbound customers and promoting Yorkshire as a destination for visitors from the south of England and even further afield," he added.