ASM demand analysis supports BA's tentative steps into New Orleans market
Richard Maslen
November 30, 2016
British Airways' (BA) announcement in October this year that it will introduce a direct link between London Heathrow and Louis Armstrong New Orleans International Airport was announced at the time as a "game-changer" by New Orleans Mayor Mitch Landrieu. The transatlantic service, one of two new long-haul routes linking New Orleans to Europe from next year will be operated four times weekly utilising a Boeing 787-8 Dreamliner.
New Orleans had been pursuing a key hub link to Europe for a number of years having been among the leading US cities by regional population not to be directly linked to Europe by regular air connectivity. But, there is always a major risk entering any new market and that can clearly be seen in BA's long-haul strategy which will also see it expand in 2017 to already established markets from London, namely Fort Lauderdale and Oakland International.
Data from air service development consultants, Airport Strategy & Marketing (ASM) now seems to confirm that BA is initially taking tentative steps into the New Orleans with a demand forecast for the route from the company outweighing the available capacity on offer from the UK carrier.
A passenger traffic route forecast is a key element to successful route development, providing evidence of a route's potential passenger performance and yield and the Forecast 1 tool from ASM has been developed as a cost efficient traffic forecast solution that takes all the elements of ASM's detailed passenger route forecast process into a simple easy to use model that allows the user to adjust the inputs to test various scenarios and assess the different forecast outputs.
Running the London Heathrow – New Orleans route through Forecast 1 to analyse the potential of the service, delivers some interesting insight. On the planned four times weekly 787 operation, the analysis suggests there is likely to be spillage right from the start of service. This would suggest that passenger demand will broadly meet capacity right from the launch.

The data also shows that approximately 60 per cent of passengers are expected to connect at BA's London Heathrow hub, with the service offering improved connections linking New Orleans to and from markets across Europe, Asia, Africa and the Middle East.
This explains why BA is launching the route from Heathrow rather than Gatwick, where many of its predominantly leisure markets are served, as it would seem unlikely that the route would survive based only on local demand.
Interestingly, Berlin, Bangkok and Aberdeen have been identified as particularly strong potential connecting flows due to the improved connection opportunities to New Orleans that the new operation creates.
The recent cancellation of BA's Chengdu service combined with the announcements of New Orleans, Oakland and Fort Lauderdale suggests that the airline sees stronger future growth potential in North America compared to the east. The arrival of additional 787s and its first A350-1000s will help facilitate this expansion.
"The strength of the Heathrow hub means that services into US markets which have limited alternative European connectivity can expect between 60 per cent and 70 per cent of traffic to connect in Heathrow, which is in line with our New Orleans forecast," said James Nicholls, senior analyst, ASM.
"New aircraft technologies such as the Boeing 787 makes routes such as New Orleans more economically feasible than ever and it is likely that this type of aircraft will be increasingly deployed on these types of routes," he added.
New Orleans is quite rightly proud to have secured the return of BA - it previously served London Gatwick - New Orleans - Mexico City three times weekly with a Lockheed L1011 TriStar back in the early 1980s – and it is a major development for the city. The BA air service development team would have weighed the destination up against many others before deciding on the deployment for this 787 capacity.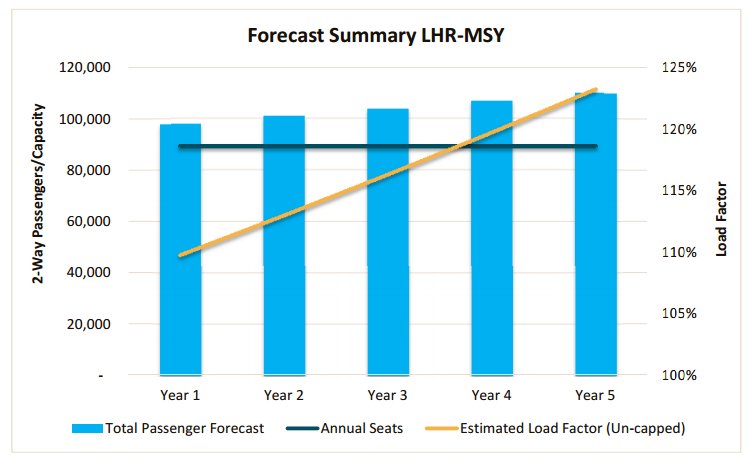 This is why route development forecasts are becoming an essential part of any airports strategy as airlines are more and more relying on the airports and tourist boards to assist in helping their evaluations through market updates and analysis. This is where a passenger traffic forecast can differentiate one airport from its competition and show the market potential under different scenarios and conditions.
Airlines want to know what the mix of traffic on a proposed services will be, what share is 'local' traffic travelling between the two markets and what is 'connecting' traffic at each end of the service connecting either 'beyond' the destination, 'behind' the origin or 'bridge' traffic that connects at both ends of the route, so traffic that originates "behind" the origin and connects "beyond" the destination.
Airlines also want to know what the optimum time of day to operate services is to capture the greatest share of this traffic whilst minimising ground time. They are interested in the anticipated average air fares and RASK to allow them to prioritise their own detailed analysis and evaluation when considering network changes and developments.
"Forecast 1 allows them to easily do this in an affordable manner," said Nicholls, "It allows for a number of variables to be tested to assess the impact on the passenger route forecast." These include the level of penetration of the local markets from competitor airports and the anticipated level of stimulation. The flight timings and connection windows can also be changed to see the impact on the forecast depending on the time of day of operation.
Selecting similar markets from both the origin and destination airports allows the tool to "benchmark how existing routes capture share in their markets", says Nicholls and this is then used "to replicate the level of penetration the proposed new market being evaluated might achieve," with different scenarios to be run with different types of carriers such as Low-Cost or Full Service operations.
You can view the full Forecast 1 analysis for the British Airways London Heathrow – New Orleans route or find out more information about ASM's new route forecasting tool from sales manager, Alex Cooper.